For the author of We Love You, Charlie Freeman, writing is as much an adventure of discovering new history as it is an act of creative expression.
---
The legacy of medicine, trauma, motherhood and marriage in Black American communities provides the groundwork for Kaitlyn Greenidge's second novel, Libertie, an engrossing study of a headstrong mother and her equally headstrong daughter. Speaking by phone from Massachusetts, Greenidge discusses her novel's deep roots in history and the literary traditions created by Toni Morrison, whom she describes as "the mother of everything."
Libertie was inspired by the true story of Dr. Susan Smith McKinney Steward, who in 1869 became the first Black female doctor in New York. She also co-founded the Brooklyn Women's Homeopathic Hospital and Dispensary at a time when homeopathy was considered state-of-the-art medicine. Greenidge learned about Dr. McKinney Steward and her family while working at the Weeksville Heritage Center, a historic site dedicated to a former settlement of free African Americans that flourished in the 19th century in what is now Crown Heights, Brooklyn.
"One of the most profound questions for a lot of art, and a lot of novels in particular, is how people explain [trauma] to themselves."
In the novel, Dr. McKinney Steward is transformed into the fictional Dr. Kathy Sampson, mother of Libertie, who studies homeopathic medicine under Dr. Sampson, drops out of college and falls in love with a man who moves her to Haiti, all while seeking a sense of identity, self-preservation and liberty.
Despite the fact that Libertie is freeborn, expectations related to race, class and gender start early, beginning with Dr. Sampson's insistence that Libertie follow in her medical footsteps, that it's Libertie's duty to carry on her mother's legacy. "All parents think that!" says Greenidge. "It's like, 'Oh, this person can do exactly what I did but without the mistakes.' With Libertie you can see how she's just like her mother but she's not, and she's trying to figure out how to be her own person."
---
ALSO IN BOOKPAGE: Read our starred review of Libertie.
---
Like Weeksville, Libertie's hometown is inhabited and run by African Americans, but the pressure of white supremacy is unavoidable. In one scene, Black children from orphanages across the river in Manhattan are ferried to Brooklyn to escape the rampaging white mobs of the 1863 draft riots.
In the first of many parallels to the work of Morrison, Greenidge's novel is deeply interested in how people deal with personal and generational trauma from such events. "One of the most profound questions for a lot of art, and a lot of novels in particular, is how people explain [trauma] to themselves," she says.
The Civil War- and Reconstruction-era setting of Libertie allowed Greenidge to investigate both the trauma of enslavement and the ingenious ways people escaped slavery. For example, she based a character from the novel's opening scenes on a woman who used her dressmaker's shop and funeral parlor to transport fugitive slaves on the Underground Railroad within the concealment of coffins. The freedom seekers had to pretend to be dead, but they looked good while doing it. "It's amazing," Greenidge says. "I can't not include that in the novel!"
The first of Dr. Sampson's patients is one of these casket escapees, Mr. Ben, who avoids his traumatic past by fixating on a woman he claims left him for another man. Another of Dr. Sampson's patients has lash wounds that refuse to heal. When Libertie leaves her small community to attend college, she meets a pair of silver-voiced singers who call themselves the Graces. They were enslaved for most of their lives but have achieved satisfying if somewhat precarious careers since becoming free. Yet they refuse to talk about their pasts.
"I wanted to give a sense of the different ways slavery would have affected people," says Greenidge. "Trauma is different depending on your gender or your race or your social class. I wanted to explore that with Mr. Ben being a man of a different class from Libertie and her mom, how he lives and experiences what happens to him."
Also like Morrison, Greenidge incorporates questions of colorism, or preference shown to people of color with lighter skin tones, into her narrative. She says she finds the topic uniquely fascinating for "how it affects and doesn't affect people's lives." Dr. Sampson's skin is light enough that she can pass for white, and though her hospital is open to women of all races, she's careful not to let her darker-skinned daughter have too much contact with white patients, which Libertie comes to resent.
"How [skin color is] talked about is so dependent on where you're from," Greenidge says. "We pretend it's universal, but it's not. There's no such thing as dark or light. People who are dark in one town are light in another because it all depends on who you're standing next to." Still, she admits, "it's very painful for a lot of people."
The Sampson women can't escape patriarchal forces either. Even Mr. Ben disdains Dr. Sampson because he feels a woman has no business being a doctor, and the women in town only grudgingly respect her. When Libertie moves to Haiti, she's initially optimistic about her new home in a country run by Black folks, but expectations about gender are so oppressive that when she becomes pregnant—expected to produce a son for her husband's prominent family—she has to move into the cooking shed.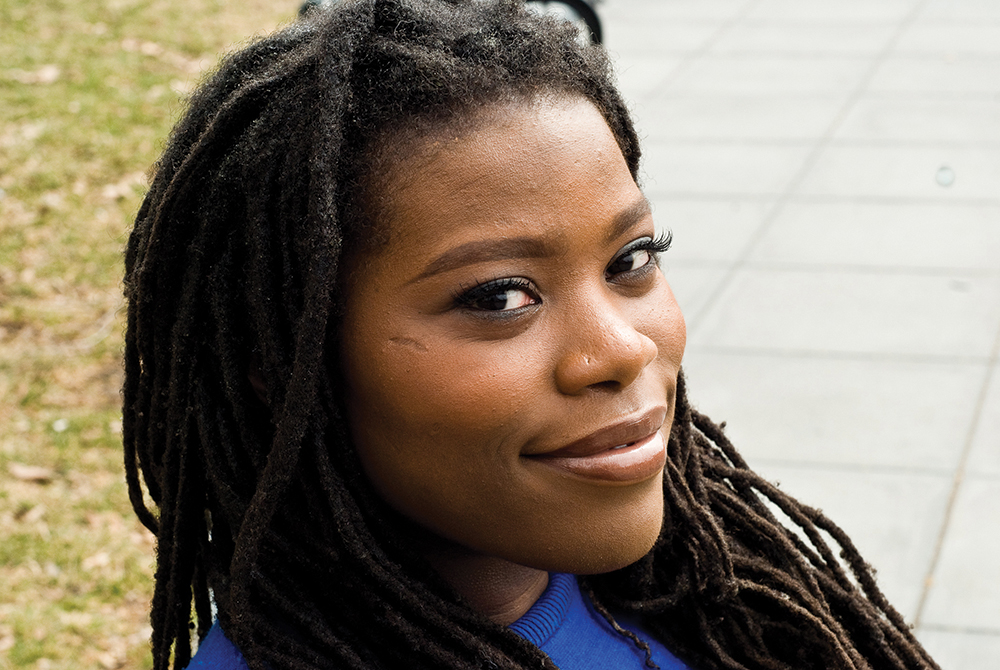 "The rest of the world tells us so much of how we're supposed to be, who we're not supposed to be, punishes us for walking a line."
Greenidge was pregnant during much of Libertie's creation, so it's no wonder marriage and motherhood are such prominent parts of the story. "I handed in the first draft the day I found out I was pregnant, the second draft when I went into the hospital to have [my daughter], and the final draft during the pandemic when she was about 6 months old," Greenidge explains as her daughter shrieks happily in the background.
As a new mother and an author, Greenidge is interested in the way Black female writers experience motherhood. She describes it as liberating, not something that's "oppressive or keeps one unhappily anchored to a way of life or even a place. For Black women, it's a place of self-determination. The rest of the world tells us so much of how we're supposed to be, who we're not supposed to be, punishes us for walking a line. In motherhood, Black women have the freedom to mold our children." She recalls reading an interview with Morrison in which "Toni talked about finding freedom in motherhood for a Black woman specifically and really enjoying motherhood. She found that motherhood expanded her understanding of the world and expanded who she was as an artist."
As for marriage, Greenidge was intrigued by the fact that one of the first things many Black people did after emancipation was get married. Formerly enslaved people had no property to protect through matrimony but entered into the tradition anyway. "I found that so fascinating and really touching and beautiful," she says. "It was an alternative understanding of marriage. It was about building a foundation with another person. It's closer to how we think of marriage in more modern times."
Both Libertie and her mother are free to marry the men they love, and Libertie's husband even imagines a marriage of equals, though the promise of a balanced relationship soon turns sour. But when Libertie becomes pregnant, motherhood offers her the type of freedom that Morrison spoke of—freedom from others' control over her and from the expectations of who she should become.
With its connections to a history that's illuminated more and more each passing day, Libertie is a superb novel that informs the present and perhaps even the future.
Editor's note: A previous version of this interview incorrectly stated that Greenidge was in Brooklyn during the call, not Massachusetts.
Author photos by Syreeta McFadden