Sun and Moon Have a Tea Party, a charming picture book about what we gain when we look at the world through someone else's eyes, is author-illustrator Yumi Heo's final book and was illustrated after her death by Naoko Stoop. BookPage spoke with Stoop about how she became involved with the project, finding inspiration during times of hardship and what she would serve at a tea party with Sun and Moon.
You have illustrated picture books that you've also written, and you've illustrated picture books written by other people. Is your illustration process different for each of those situations? What parts of the process are the same? What do you enjoy about each?
I appreciate both situations. Illustrating what's in my mind gives me more freedom in many ways because I don't have to guess what the author wants to express or emphasize in each scene. But I learn and discover more and stretch my drawing abilities further by illustrating stories written by others. I have been very lucky to be paired with wonderful authors including Patrick McDonnell, Kate Banks and Yumi Heo. Those experiences definitely gave my illustration skills more depth.
What was the experience of illustrating Yumi Heo's final book like for you? How did you get involved, and what did the project mean to you?
In the summer of 2017, I received a manuscript with a notation that the author, Yumi Heo, had passed away. Although I immediately knew I wanted to illustrate this beautiful story, I also knew that this was going to be challenging, because it was Yumi's final book.
I never met Yumi, unfortunately, but I did some online research about her work and watched videos of her interviews. I realized we had quite a bit in common. We both grew up in East Asia and started our art careers in New York City. In one interview, she talked about what it was like to be a foreigner in her early days in the city. I could relate to what she said. Maybe our shared experience of crossing cultural bridges brought us both to this place.
We have created a book that speaks to what it is like to not understand people who are different from us, but to learn about them and to reap the rewards of that understanding.
What was your favorite part of creating the illustrations for Yumi's story? Do you have a favorite image or spread from the book?
There is a spread showing a busy square in a city. I enjoyed drawing all kinds of people, giving it a sense of diversity—just like in my circle of friends here in New York City.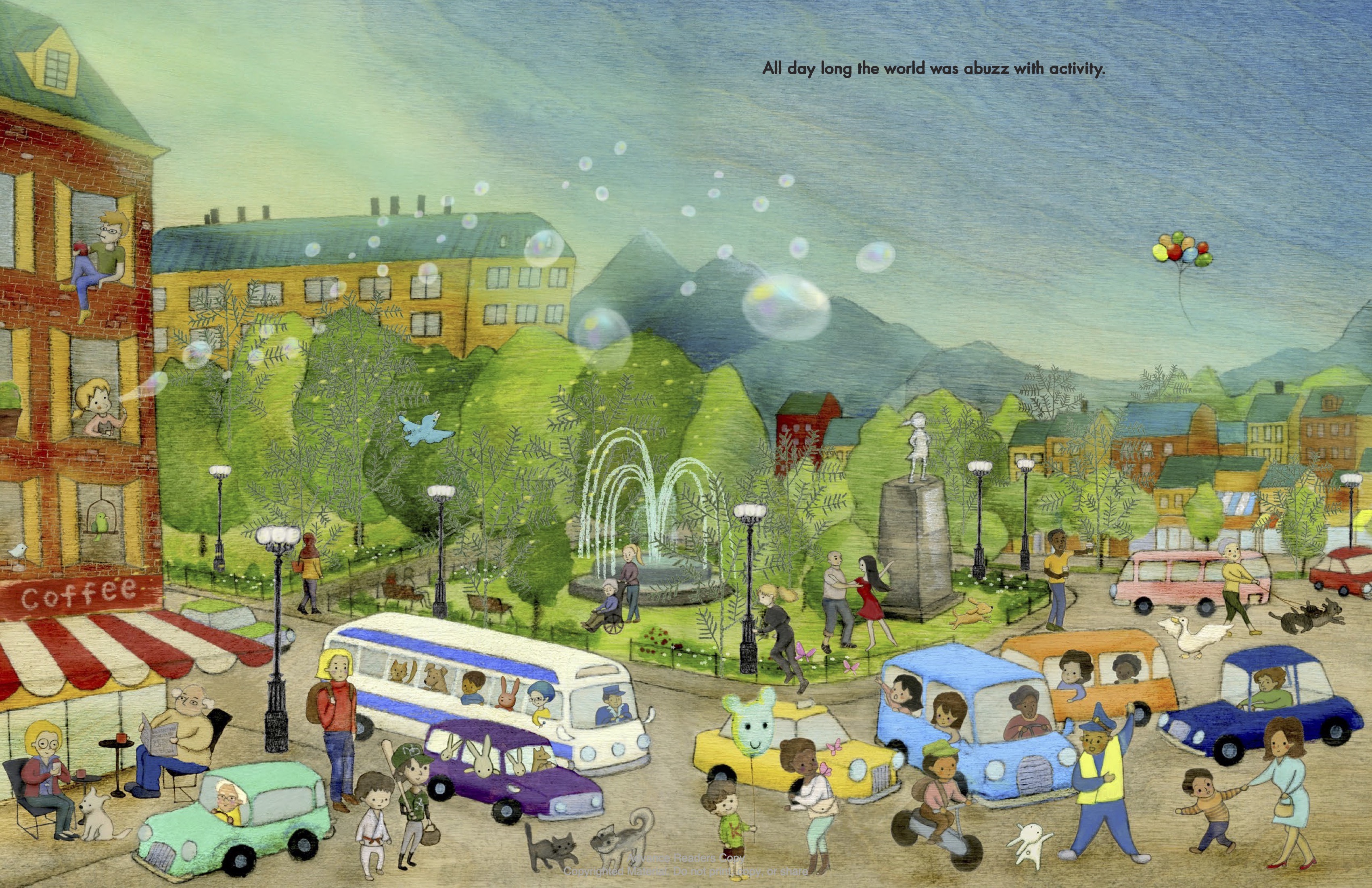 You often paint on plywood or brown paper bags. What do you like about painting with objects from everyday life?
I didn't have formal art education. As an adult, I was playing around with my art at the beginning, just for my own pleasure, so I didn't really need to worry about presentation. I painted on anything I could find. I especially loved drawing on brown paper bags from the grocery store and on leftover scrap plywood from a nearby factory. I think I just wanted to express myself, and those perfect materials were right there.
Authors and illustrators aren't able to visit schools right now—at least not in person—but when you are able to share this book with young readers, what are you looking forward to talking about with them?
It has been a strange time. It's hard to see children without school life. Although we are lucky enough to be able to keep communicating online, it's never the same. I hope they can go back to school and study with teachers and friends in the same room again soon.
This has been a good time to learn about different perspectives. We only know what we know, and we have a lot to learn. Sun and Moon get into an argument in this book. We learn that we should not judge others before we know their story.
---
ALSO IN BOOKPAGE: Read our review of Sun and Moon Have a Tea Party.
---
How do you find inspiration during times of challenge and hardship?
I have been really grateful that I have a roof over my head and food to eat, and that I am healthy and working. During times of challenge and hardship like this, fear and anxiety can easily take over, but I find that if I stay focused on what I have and how that makes me happy each day, I find inspiration everywhere in small things.
During the stay-at-home period, I started a no-soil veggie garden on my windowsill, I started walking with my cat daily, and I met some neighbors I never knew before through walking her. I started bird-watching in my urban backyard; I spotted a pair of cardinals, along with other birds I can't name. I now know how to cook more dishes, how to sew colorful masks and how to use new technology to connect remotely with people. . . . All of this inspires me.
What's next for you? Are you working on any new illustration projects that you'd like to share?
Currently, I am working on a storybook written by Donna Jo Napoli. It's about a Japanese girl who has recently come to America and begins a friendship with the girl next door. Children are open with each other, even without a common language or cultural heritage. We have a lot to learn from them.
If you could have a tea party with Sun and Moon, what kind of tea would you like to have? What kind of cookies would you bring?
Just like in the book, it would be an Asian-style tea party with green tea and seaweed rice crackers. There would be iced tea for Sun to cool down and strong coffee for Moon to stay wide-awake all night! And I would bake cupcakes decorated with the sun and moon on sugary whipped-cream clouds. Yummy!
---
Author photo by Rocco's Photo Tavern. Illustration used with permission of Naoko Stoop.