Fantasy romance has gone fully mainstream, some of the brightest new voices are taking surprising new directions and vampires might be back? This fall's science fiction and fantasy offerings are practically too good to be true.
Babel by R.F. Kuang
Harper Voyager | August 23
R.F. Kuang's standalone historical fantasy novel might be her most ambitious work yet—which is really saying something, since Kuang's acclaimed Poppy War trilogy was inspired by the life of Mao Zedong. Babel is set in an alternate version of Victorian-era Oxford and follows Robin Swift, a Chinese orphan training to become one of the translators who power the British Empire. Words that have been translated from one language to another often lose something along the way, and in Kuang's world, this dropped element can be manifested into magical silver bars. Both a celebration and interrogation of the dark academia aesthetic, Babel might be the most thinkpiece-friendly fantasy of the year.
The Spear Cuts Through Water by Simon Jimenez
Del Rey | August 30
The Vanished Birds, Simon Jimenez's marvelous and ambitious debut, fully embraced all the storytelling capabilities of science fiction. With his sophomore novel, he'll be providing his own spin on epic fantasy in a tale of imprisoned gods and wicked emperors filtered through Jimenez' metatextual approach to storytelling.
A Taste of Gold and Iron by Alexandra Rowland
Tordotcom | August 30
Alexandra Rowland's Conspiracy of Truths duology are the type of books that could become cult classics: funny, ambitious fantasy novels with a lot more on their minds than a simple good versus evil battle. For their third novel, Rowland will turn to fantasy romance, the uber-popular subgenre of the moment, while still diving into the type of government conspiracy plot that made their previous duology so unputdownable. All that and a lush, complex world inspired by the Ottoman Empire? We can't wait to get swept away.
Silver Under Nightfall by Rin Chupeco
Saga | September 13
Nostalgia cycles are faster than ever: We have just come to terms with Y2K trends being back in fashion (low-rise jeans, the horror!), but there are already rumblings of a 2010s reappraisal. In fantasy, that could very well mean that the vampire novel rises from the dead. Rin Chupeco's delightfully pulpy tale of a vampire hunter and the vampires who make him question everything he's been brought up to believe could be but the first in many a tale of the undead.
Nona the Ninth by Tamsyn Muir
Tordotcom | September 13
It's hard to talk about The Locked Tomb series without 1) sounding completely ludicrous or 2) spoiling all the surprises of Tamsyn Muir's formally ambitious gothic space opera. Suffice it to say, readers of the third installment, Nona the Ninth, will be a bit confused, then intrigued, then thrilled.
The Golden Enclaves by Naomi Novik
Del Rey | September 27
Naomi Novik's bestselling trilogy comes to an end with The Golden Enclaves, which finds El and her classmates finally free of the Scholomance, a magical school so deadly that its infamous graduation ceremony has a body count. But of course, nothing comes easy in a Novik novel, so they soon find themselves facing evil once again . . . and having to return to the school they thought they had escaped forever.
House of Hunger by Alexis Henderson
Ace | September 27
The Year of the Witching, Alexis Henderson's debut novel, mixed folk horror and religious extremism to marvelous effect, crafting a story that was in conversation with Robert Eggers' The Witch (2015) but also Margaret Atwood's The Handmaid's Tale. In her sophomore novel, Henderson turns to vampire mythology and the increasingly industrial world that spawned classics like Dracula to craft an alternate Europe ruled over by vampiric aristocrats.
The Spare Man by Mary Robinette Kowal
Tor | October 11
The Thin Man in space? Yes, please. Mary Robinette Kowal, author of the beloved and acclaimed Lady Astronaut series, will give a sci-fi update to the iconic mystery film, which bestowed upon audiences the gift of Nick and Nora Charles, a fabulous, wealthy and besotted married couple who party their way through solving crimes. Genius heiress Tesla Crane, Kowal's Nora Charles avatar, is hoping to enjoy her honeymoon on a luxury space liner. But when Tesla's new husband is accused of murder, she'll have to clear his name to enjoy their vacation.
Will Do Magic for Small Change by Andrea Hairston
Tordotcom | October 11
Andrea Hairston continues the magical family saga she began earlier this year in Redwood and Wildfire with the story of Cinnamon Jones, the granddaughter of the protagonists of the first novel in the series. Many have tried but few have succeeded at balancing fantasy, sci-fi and history the way that Hairston can. We can't wait to see what marvels she has in store.
The Atlas Paradox by Olivie Blake
Tor | October 25
Olivie Blake's Atlas series is one of BookTok's ultimate homegrown success stories. Blake originally self-published the books, which became so successful that Tor snapped them up and are now releasing them for a general audience. The Atlas Paradox continues the story begun in The Atlas Six, where six magicians compete for a chance to join a secret, world-shaping society.
The World We Make by N.K. Jemisin
Orbit | November 1
After becoming the only author in history to win the Hugo Award for best novel for every book in a trilogy (the masterful Broken Earth series), N.K. Jemisin shifted away from epic fantasy with The City We Became, a contemporary fantasy in which the great cities of the world have human avatars. It's the perfect arena for Jemisin, whose work blends social commentary and high concept to spectacular effect. The story continues in The World We Make, as New York City's six avatars (one for each borough) become involved in a mayoral campaign that's a proxy battle for the soul of the city itself.
Ocean's Echo by Everina Maxwell
Tor | November 1
Ocean's Echo is set in the same world as Everina Maxwell's critically acclaimed debut, Winter's Orbit, where she perfectly balanced a love story and fascinating space opera world building. This sequel will introduce two fascinating new elements: readers, who are people with telepathic abilities, and architects, who can control the minds of others. Powerful reader Tennalhin Halkana has been conscripted into the military and paired with architect Surit Yeni, who has been ordered to break the law by merging his mind with Tennal's, which will place him under permanent control.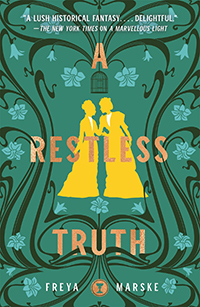 A Restless Truth by Freya Marske
Tordotcom | November 1
Marske's delightful debut, A Marvellous Light, was a gay romance set in a world that was basically "Downton Abbey" with magic. Her sophomore novel will incorporate more tropes beloved by period drama devotees, chiefly a luxurious ocean liner and a mysterious murder! When the woman Maud Blyth was serving as a companion for is killed, she teams up with scandalous, sexy Violet Debenham to solve the case, which is connected to a far-reaching magical conspiracy.
Wayward by Chuck Wendig
Del Rey | November 15
Chuck Wendig's hotly anticipated conclusion to the duology he began with 2019's Wanderers will finally hit shelves this November. Here's hoping Wendig can stick the landing and show readers the new world that'll be born out of the ashes of the world that fell apart during Wanderers.