Readers who revel in sweet and swoony stories will be won over by this trio of tales that celebrate adoration and affection.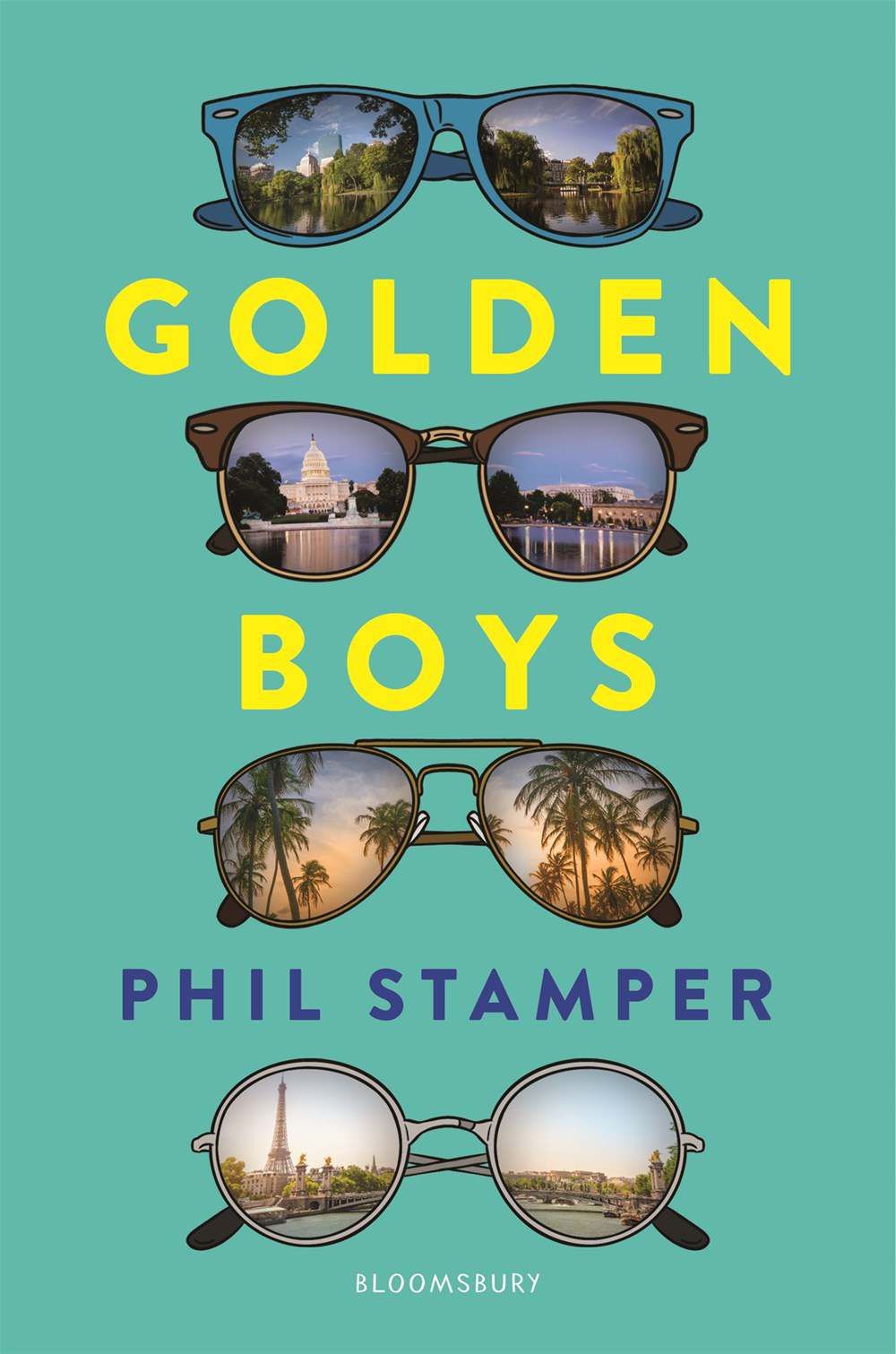 Golden Boys
Gabe, Sal, Reese and Heath have been best friends for as long as they can remember. They're all high achievers and the only openly gay boys at Gracemont High School. But the summer before their senior year, the Golden Boys are heading off in different directions for the first time. Gabe is volunteering with an environmental nonprofit in Boston; Reese is jetting off to Paris for graphic design classes; Sal's mom got him an internship with a U.S. senator in Washington, D.C.; and Heath is the newest employee at his aunt's arcade in Daytona Beach, Florida.
The summer holds plenty to look forward to—even for Heath, whose trip is also an escape from his parents' impending divorce. But as their group chats indicate, the boys' futures loom large and nerve-wracking. Might their travels help them figure out what they want to do with their lives, or at least with their last year of high school? Will their tightly knit bonds loosen, fray or even completely unravel?
As in his previous novels, The Gravity of Us and As Far As You'll Take Me, bestselling author Phil Stamper creates winningly realistic characters who earnestly explore the muzzy space between youth and young adulthood. Readers will root for the foursome to find joy and purpose. Stamper's detailed depictions of the boys' summer gigs are fascinating, and their interlocking stories give the narrative a buoyant momentum.
Naturally, there are romantic entanglements afoot as well. Gabe and Sal question whether their friends-with-benefits arrangement is sustainable, while unrequited crushes blossom into real love for . . . no spoilers here! Suffice it to say, there is some smooching amid all the moments of inspiration and revelation as the four boys make their way through a perspective-changing, horizon-broadening summer.
Fools in Love
Do you like your love stories fantastical, or perhaps futuristic? Are you a sucker for a superhero, tantalized by time travel or convinced that one day you'll have your very own meet-cute with a royal in disguise? Whatever your fancy, Fools in Love: Fresh Twists on Romantic Tales is sure to satisfy. It's a delightful assemblage of 15 swoonworthy short stories that put fresh spins on classic romance fiction tropes such as "mutual pining" and "the grumpy one and the soft one." The settings are refreshingly varied, ranging from a space station to a fairy-themed sleepaway camp to a sled race through snowy mountains. There are puppeteers, golf champions, novice magical investigators and an aspiring starship repair engineer, too.
The stories in this romantic treasury were written by a mix of acclaimed and up-and-coming authors including Natasha Ngan, Mason Deaver, Lilliam Rivera, Julian Winters and 2021 National Book Award winner Malinda Lo. Editors Ashley Herring Blake and Rebecca Podos also contribute a story each. The table of contents helpfully delineates not only each author but also the trope included in their story, so that readers can search out their favorites. Of course, they can also just dive right in and let themselves be swept along into the wildly creative worlds the writers have created.
And what worlds they are! In "Boys Noise" by Mason Deaver, two boy band members take an undercover trip to New York City, where they realize love songs just might be in their shared future. A modern-day annoyance—mistaking someone's car for your rideshare—sets the stage for a shyly sweet flirtation in Amy Spalding's "Five Stars." Time travel is both suspenseful and achingly beautiful in Rebecca Barrow's "Bloom," while cheesy takes on a hilariously adorable new meaning in Laura Silverman's "The Passover Date." Fools in Love truly has something to please anyone and everyone who loves love.
One True Loves
Lenore Bennett's parents are the epitome of Black excellence. They know the power of a plan and have instilled that ethos in their kids: Wally, their oldest, is going to law school; Lenore is off to New York University; and 10-year-old Etta is taking college classes.
But as Elise Bryant's One True Loves opens, Lenore, a talented artist with fashion sense to spare, has other things on her mind. First, there's senior prom, which she'll attend dateless while dodging her jerk of an ex. After graduation, her family is embarking on a European cruise, which sounds wonderful but also stressful. Lenore's parents already disparage her for trying lots of things instead of mastering one. What will they say if they discover that she's been concealing the fact that she is still (gasp!) undecided about her college major?
While on the cruise, Lenore guards her secret and fends off her irrepressible best friend Tessa's well-intended text-message advice about all things romance, which Lenore treats with great skepticism. She's also highly irritated when she meets handsome Alex Lee, whose parents hit it off with hers. Lenore's folks are, naturally, impressed by his carefully laid-out plans for medical school. As the cruise sails on, Lenore's secret weighs ever heavier on her mind, even as her eye-rolling at Alex turns into meaningful glances. Might there be hope for Lenore to find love and fulfillment?
One True Loves is a heartfelt look at what it's like to feel different from those closest to you and a cautionary tale about the ways in which people-pleasing affects mental health. It's a winning companion to Bryant's 2021 debut, Happily Ever Afters, that stands easily on its own, though fans will enjoy the glimpses into familiar characters' futures. One True Loves offers warm empathy and wise perspective to readers who, like Lenore, are trying to figure out where—and with whom—they might fit in the big wide world.