Educator Tiffany Jewell's book for teen readers, This Book Is Anti-Racist, became a #1 New York Times and indie bestseller in 2020. In her next book, The Antiracist Kid, Jewell brings her expertise as an antiracism and anti-bias facilitator to middle grade readers eager to discover how they can learn about and take action against racism. The book also includes illustrations by Eisner Award-nominated artist Nicole Miles.
Here's the official description from Versify, Jewell's publisher:
---
What is racism? What is antiracism? Why are both important to learn about? In this book, systemic racism and the antiracist tools to fight it are easily accessible to the youngest readers.
In three sections, this must-have guide explains:
Identity: What it is and how it applies to you
Justice: What it is, what racism has to do with it and how to address injustice
Activism: A how-to with resources to be the best antiracist kid you can be
This book teaches younger children the words, language and methods to recognize racism and injustice—and what to do when they encounter it at home, at school and in the media they watch, play and read. 
---
The Antiracist Kid hits shelves at libraries and bookstores everywhere on August 16, 2022, and BookPage is thrilled to reveal its amazing cover below! The cover was illustrated by Nicole Miles and designed by Samira Iravani. Be sure to check out our Q&A with Jewell after the reveal. Just scroll down!
How did you feel the first time you saw the finished cover for The Antiracist Kid?
I was totally excited to see this beautiful and fun cover! I immediately showed my children, who were equally as excited. Nicole Miles is brilliant and I'm so excited she's illustrating the book! I can't wait for everyone to see it!
After the success of This Book Is Anti-Racist, what drew you to create a book for younger readers? What excited you about the idea and was rewarding as you worked on it?
I've been wanting to write a book for younger readers since I first started working on This Book Is Anti-Racist! I love working with young learners and honestly, it's the group I feel most comfortable teaching, working and collaborating with.

One of the things I love most about this new book is that it's a series of questions that kids have asked me, their caregivers, teachers, librarians, other adults in their lives and each other. Questions like: Why do people have different skin colors? Where did race come from? Is it OK to talk about differences? Why do some people have more power than others? And so, so, so many more! This book is like a conversation between me and the reader where we get to do some big work around understanding what racism is and how to actively work toward a just community and world! I'm so excited there will be a book like this for younger kids, because you are never too young to learn about racism and to start the lifelong work of antiracism!
One of the things you bring to both of these books is years of experience in the classroom, working with young people. Can you talk a little bit about that experience and how it shaped The Antiracist Kid?
The Antiracist Kid grew out of the work I've done with kids for over almost two decades. Young children are curious. They want to know who they are, who the people around them are, what is happening in their lives (and beyond) and why things happen the way they do. They are so creative and such amazing problem solvers. They're great observers, but they don't always have the vocabulary and language to fully understand what it is they are witnessing and experiencing. 
In my classroom, we spent our time learning about our own identities and those of our classmates and peers, and building community. We did this alongside learning how to read and write, building our mathematics skills, exploring science and diving into history, and it was so exciting and purposeful and necessary! My students always shared with me what they wanted to know and it is because of them—and ALL the young people with big questions—that I continue to do this work. All of my years of teaching and working with children and their families have led me to the work I am doing now, and I'm so grateful I get to do this.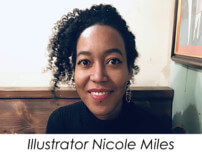 Can you talk a little bit about your hopes for this book? How do you hope a young reader who reads it feels when they turn that last page and finish reading it? What do you hope they do next?
I hope this book becomes a go-to book for all young readers and their caregivers! I hope they'll see themselves in this book and know that they are not too young to talk about, learn about, understand and stand up against racism. I hope The Antiracist Kid becomes a well-loved book and is in every home and classroom and library around the country. I hope all readers will pick it up without fear. I hope this book will inspire everyone who reads it to share it, to work collectively and to work together to eradicate systemic racism and injustice!
The Antiracist Kid will be published in August 2023. That's a long time from now! Can you recommend some books for kids to read in the meantime?
Yes! There are so many amazing books! I'll share some of our family favorites and the ones students I've been working with are enjoying right now too!
Eyes That Kiss in the Corners by Joanna Ho, illustrated by Dung Ho
Stamped (for Kids) by Jason Reynolds and Ibram X. Kendi, adapted by Sonja Cherry-Paul, illustrated by Rachelle Baker
Jo Jo Makoons by Dawn Quigley, illustrated by Tara Audibert
You Matter by Christian Robinson
I Am Every Good Thing by Derrick Barnes, illustrated by Gordon C. James
Where Are You From? by Yamile Saied Méndez, illustrated by Jamie Kim
What Will You Be? by Yamile Saied Méndez, illustrated by Kate Alizadeh
We Are Water Protectors by Carole Lindstrom, illustrated by Michaela Goade
Not My Idea by Anastasia Higginbotham
You Hold Me Up by Monique Gray Smith, illustrated by Danielle Daniel
Dreamers by Yuyi Morales
Black Boy Joy edited by Kwame Mbalia
The Day You Begin by Jacqueline Woodson, illustrated by Rafael López
My Two Border Towns by David Bowles, illustrated by Erika Meza
Change Sings by Amanda Gorman, illustrated by Loren Long
---
Photo of Tiffany Jewell © James Azar Salem.
Photo of Nicole Miles © Danielle Hamilton.