You know what improves most things? Kissing. And if you, dear Private Eye July reader, would like your mysteries and thrillers to be improved by kissing, romantic suspense is here for you. A subgenre of romance that invests just as much time in high-octane action or clever whodunits as it does in its central love story, romantic suspense often comes in series that follow the adventures of a team, or track characters through their many difficult cases.
And if you'd like your mysteries or thrillers to be improved by kissing and magic, then jump to the second half of our list for an introduction to the thrills of paranormal romance.
Romantic Suspense
If you wished classic action movies focused on romance and foiling bad guys in equal measure, these are the series for you.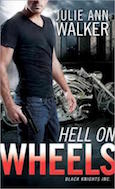 Black Knights Inc.
Author: Julie Ann Walker
Premise: The Black Knights are a black ops group on a mission from the government, and their cover is a motorcycle shop. These books are the literary equivalent of a delightfully ridiculous, globetrotting spy thriller.
Number of books: 12.
Where to start: Hell on Wheels, where Black Knights member Nate "Ghost" Weller risks blowing his cover when the love of his life, Ali Morgan, comes into town and needs his help.
---
Fatal
Author: Marie Force
Premise: Did you watch "Scandal" and wish that Olivia Pope and President Fitzgerald Grant would stop going back and forth and just get their lives together? This is the series for you. Sam Holland is a brilliant police detective, and Nick Cappuano is the fling from her past. Sam solves D.C. murders, which gets progressively more complicated as Nick climbs the political ladder.
Number of books: 16 (there's also a second series starring the same characters, First Family)
Where to start: Fatal Affair—the first book of the series starts when Sam is called in to investigate the murder of Senator John O'Connor, Nick's boss.
---
The O'Malleys
Author: Katee Robert
Premise: Do you want the thrills of romantic suspense without any pesky black-and-white morality? Then, my slightly scary friend, the Mafia romance is for you. This Boston-set series is outrageously sexy and features men and women of organized crime. Because feminism is for everyone.
Number of books: Six.
Where to start: The Marriage Contract, which starts when mob scion Teague O'Malley is ordered to marry Callista Sheridan in order to increase the family's influence.
---
Paranormal Romance
If you've never read a paranormal romance, you probably think most of the genre is like Twilight for adults. But actually, the vast majority of paranormals follow the same action-packed beats of traditional romantic suspense, just with added magical intrigue.
Anita Blake, Vampire Hunter
Author: Laurell K. Hamilton
Premise: One of the founding series of urban fantasy as well as one of the longest-running paranormal series, Hamilton's increasingly complex tales center on a vampire hunter/detective and her romantic entanglements. You'll want to start at the very beginning with these.
Number of books: 25, with the 26th coming out this August.
Where to start: Guilty Pleasures, which sees Anita take on her very first case and get entangled with a very sexy vampire master.
---
Argeneau
Author: Lynsay Sands
Premise: A modern family of vampires battle evil and find love in this series of loosely connected romances. If you're looking for a series that's a little more light-hearted than some of the angstier offerings, the Argeneau books are for you.
Number of books: 27, with number 28 coming out later this year.
Where to start: A Quick Bite, whose vampire heroine faints at the sight of blood (told you these were funny) and gave the series its name.
---
Kate Daniels
Author: Ilona Andrews
Premise: After an apocalyptic event, magic comes in disruptive waves. One moment, technology works, the next it fails, and magic has to take its place. Kate Daniels is a mercenary in chaotic Atlanta, where magical creatures run amok.
Number of books: 10, with the final book coming out next month.
Where to start: Magic Bites, in which Kate gets caught between necromancers and shapechangers, both of which blame each other for a series of murders.
---
Psy-Changeling
Author: Nalini Singh
Premise: Even if you don't read romance, you've probably heard of Singh's long-running series. The name comes from two races at odds, but frequently falling in Romeo and Juliet-esque love. The Psy rule the world with their frightening psychic powers, and disdain all emotion. Their rivals are the changelings, shape shifters who live in close family units.
Number of books: 17 so far.
Where to start: Slave to Sensation—a love story between Psy Sascha, who has to hide her emotions from the rest of her race, and panther shifter Lucas that blooms while their respective peoples are on the verge of war.