When the weather cools down, autumn's big releases start to heat up. Here are the titles BookPage's editors are most anticipating this fall.
---
Battle Royal by Lucy Parker
Avon, August 17
Lucy Parker is known for her absolutely gold-standard rom-coms, including the delightful London Celebrities series. Her latest, the first in a new series, combines two extremely popular trends—baking and royalty—in a story of rival British bakers competing for the opportunity to make a cake for a royal wedding.
---
Velvet Was the Night by Silvia Moreno-Garcia
Del Rey, August 17
One of the best things about Silvia Moreno-Garcia, the bestselling author of Mexican Gothic, is that she does something new with each book. Instead of a gothic novel, this is a loose, fun noir set in turbulent 1970s Mexico City.
---
The Heart Principle by Helen Hoang
Berkley, August 31
There's a lot of excitement around this one, as Helen Hoang's latest romance novel was delayed by a year and stars a fan-favorite character. Said character's name is Quan, and he is a sweet, adorable teddy bear in the body of a bad boy. We can't wait to see who he ends up with.
---
Beautiful Country by Qian Julie Wang
Doubleday, September 7
Debut memoirist Qian Julie Wang shares her story of growing up in New York City as an undocumented immigrant from China, coping with fear and precarity but also discovering joy in books. The writing is sparse, stylish, sometimes harrowing and sometimes humorous as she narrates experiences that are incredibly common but rarely captured with this level of artful control. It's shaping up to be one of the best memoirs of the year.
---
Matrix by Lauren Groff
Riverhead, September 7
It's been six years since Lauren Groff's previous novel, Fates and Furies. In Matrix, she's reimagined the life of 12th-century poet Marie de France, who transforms an impoverished abbey into a utopia. It's a common misconception that medieval women were powerless, but Groff has found their power here, as she celebrates nuns as the literary feminist icons that they truly were.
---
Never Saw Me Coming by Vera Kurian
Park Row, September 7
We love a sociopath character, but we hate cliche sociopaths. Thankfully, debut author Vera Kurian knocks it out of the park in Never Saw Me Coming. Her sociopath narrator, Chloe, is funny and endearing without losing her edge (and Kurian gets major bonus points for portraying a college atmosphere without being cringey).
---
Apples Never Fall by Liane Moriarty
Holt, September 14
You know her, you love her: Liane Moriarty, the Australian superstar author of Big Little Lies, The Husband's Secret, Truly Madly Guilty and more. We love a messy family drama, and Apples Never Fall fits the bill. It's an exploration of marriage and sibling rivalry that follows four grown siblings who grapple with the disappearance of their mother and the likely culpability of their father.
---
Fuzz by Mary Roach
Norton, September 14
Mary Roach wrote Stiff about cadavers, Gulp about human digestion, Bonk about the science of sex . . . and now Fuzz, about what happens when animals encroach on human civilizations and laws. She's one of the funniest science writers working today, as well as one of the best at making mundane topics fascinating and digestible enough that anyone can pick up one of her books, regardless of their interests, and become engrossed.
---
Harlem Shuffle by Colson Whitehead
Doubleday, September 14
A two-time winner of the Pulitzer Prize, Colson Whitehead is one of those gems who's prolific, consistently excellent and always trying something new. The protagonist of his new novel helps criminals launder their stolen goods and finds himself involved in several heists during the 1950s and '60s. After The Underground Railroad and The Nickel Boys, this is a real change of pace for Whitehead, and it's clear he had a lot of fun writing it.
---
Unbound by Tarana Burke
Flatiron, September 14
Activist Tarana Burke had been working with Black girls in her community who were recovering from abuse and sexual assault for years when she coined the phrase "Me Too" in 2006—long before it became a viral hashtag in 2017. Unbound is the story of Burke's own survival from sexual abuse, how she pieced herself back together and how her work to cultivate empathy for herself and others has empowered survivors everywhere.
---
A Soft Place to Land by Janae Marks
Katherine Tegen, September 14
Janae Marks' 2020 middle grade debut, From the Desk of Zoe Washington, received four starred reviews and became an indie bestseller. Her second novel, A Soft Place to Land, confirms Marks' status as one of the brightest new stars of contemporary middle grade. Whereas Zoe Washington explored injustice and systemic racism, A Soft Place to Land explores class in a story-driven way that never feels heavy-handed.
---
The Book of Form and Emptiness by Ruth Ozeki
Viking, September 21
It's been eight years since Ruth Ozeki published A Tale for the Time Being, which was a finalist for the 2013 Booker Prize, and her latest explores themes similar to those in her earlier novel. It's the story of a 14-year-old boy who, after his father dies, starts to hear voices emanating from objects. Eventually, he finds a Book that tells the boy the story of his life. It's certainly a great premise, one that perfectly captures how it feels to be a child falling into a lifelong love of reading.
---
Cloud Cuckoo Land by Anthony Doerr
Scribner, September 28
Anthony Doerr's bestselling novel All the Light We Cannot See won the 2015 Pulitzer Prize, the Carnegie Medal and the Alex Award. His latest is a novel of past, present and future that explores books as technology, delivering information and voices across generations. It follows the stories of five people in different eras who are connected by a fictional ancient Greek text. As stewards of this text, the characters are all, in a way, librarians. Fittingly, the novel is dedicated to "librarians then, now, and in the years to come."
---
The Man Who Died Twice by Richard Osman
Pamela Dorman, September 28
This is the sequel to Richard Osman's hit cozy mystery, The Thursday Murder Club, which was somehow both hilarious and, by the end, rather touching. In this installment, the sleuths of Cooper's Chase retirement village get tangled up in a diamond heist gone wrong.
---
The Matzah Ball by Jean Meltzer
MIRA, September 28
Jean Meltzer's romance is about a Jewish woman who has a secret life as a Christmas romance novelist, and who must rediscover the magic of Hanukkah when her publisher asks her to write a Hanukkah-themed romance. We're hoping this will be a trendsetter in holiday romances, a subgenre that sometimes feels like a collection of stale Christmas cookies.
---
Black Birds in the Sky by Brandy Colbert
Balzer + Bray, October 5
Brandy Colbert is a critically acclaimed and beloved YA and middle grade author whose novel Little & Lion won a Stonewall Book Award in 2018. It's exciting to see writers challenge themselves by working in new genres and categories, so Colbert's shift to YA narrative nonfiction is noteworthy. Black Birds in the Sky is expansive, well-researched and, at times, deeply personal as it brings vital history about the Tulsa Race Massacre to a teen readership.
---
The Lincoln Highway by Amor Towles
Viking, October 5
Our 2016 interview with Amor Towles about his novel A Gentleman in Moscow is one of our all-time most popular features, and in The Lincoln Highway, he once again brings his signature blend of freshness and old-fashioned charm to a cast of unforgettable characters. This novel is set in 1954, when two brothers plan to make a new life for themselves, with nudges from some tricksters along the way.
---
Taste by Stanley Tucci
Gallery, October 5
In addition to being everyone's favorite character in every movie he's ever been in, Stanley Tucci is the author of two cookbooks and now, with Taste, one memoir. From growing up in an Italian American family, to starring in food-centric films like Big Night and Julie & Julia, to cooking for his own family, Taste explores the ways that food has been an important presence during the high and low points of Tucci's life. There's plenty to savor here for any and all lovers of witty, heartfelt food writing.
---
Everybody in the Red Brick Building by Anne Wynter, illustrated by Oge Mora
Balzer + Bray, October 12
Oge Mora is one of the most exciting new picture book talents of the past five years. Her debut picture book as an author and illustrator, Thank You, Omu!, received a Caldecott Honor in 2019. Here she partners with debut author Anne Wynter for a cumulative story about one night in a very noisy apartment building. Together, they create the stuff that storytime dreams are made of.
---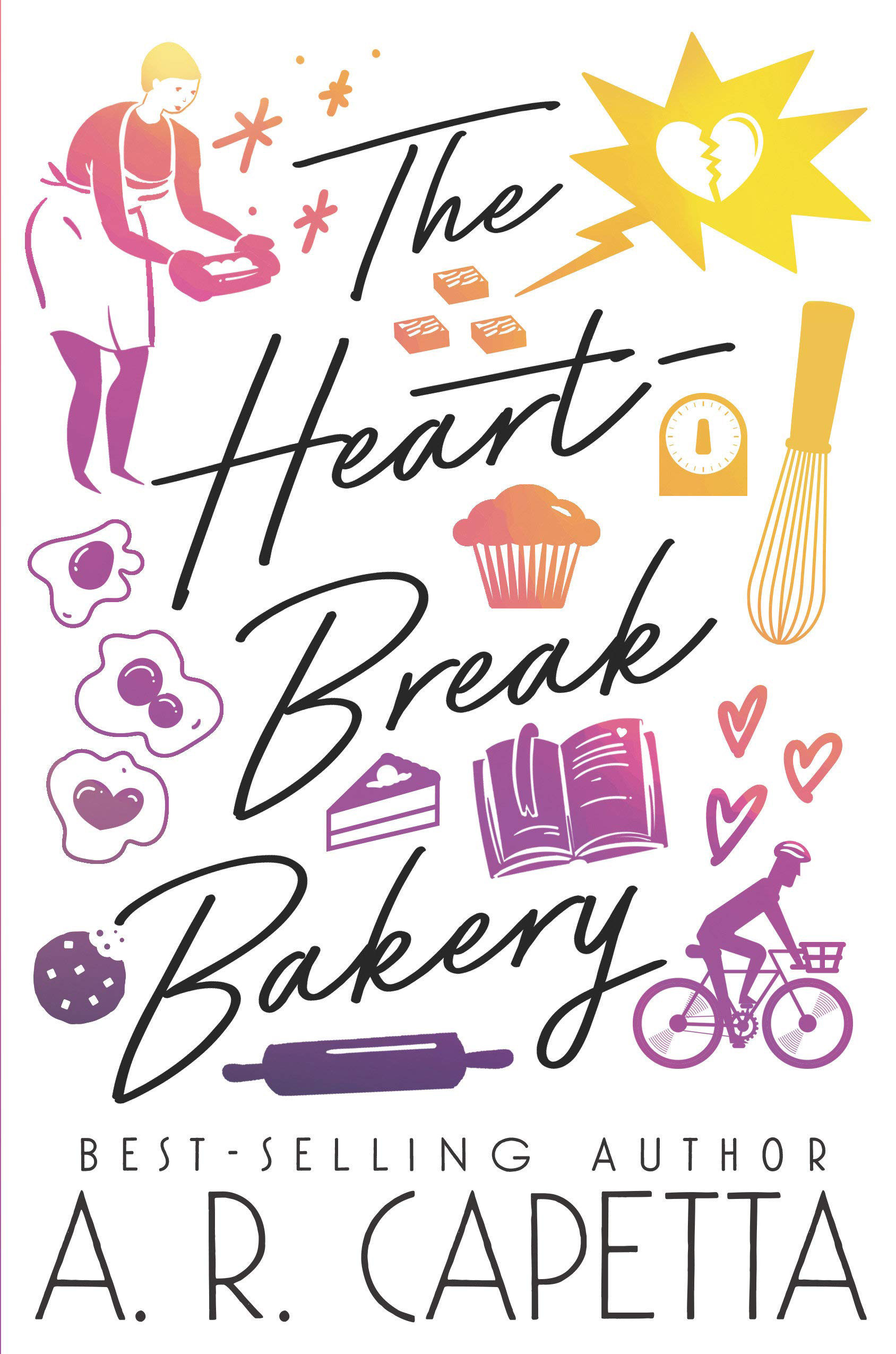 The Heartbreak Bakery by A.R. Capetta
Candlewick, October 12
In previous novels, A.R. Capetta has transported readers backstage at a prestigious New York theater, thousands of years into the future and light-years away from Earth and to a fantastical kingdom inspired by Renaissance Italy. Their latest YA novel, The Heartbreak Bakery, is an irresistible story of love and found family set against the backdrop of a quirky independent bakery in Austin, Texas. We don't recommend reading it if you are even the slightest bit hungry.
---
Jade Fire Gold by June CL Tan
HarperTeen, October 12
This debut fantasy will be catnip for YA readers who love expansive, immersive world building, slow burns, reluctant allies and character-driven fantasy. June CL Tan grew up in Singapore, and the novel is informed by Chinese mythology as well as martial arts folklore. It's not a short book, clocking in at almost 500 pages, but readers who love losing themselves in a fantastical adventure will see that as a positive.
---
The Troubled Girls of Dragomir Academy by Anne Ursu
October 12, Walden Pond
Anne Ursu is one of the most thoughtful and acclaimed middle grade fantasists working today. Her 2013 novel, The Real Boy, was long-listed for the National Book Award for Young People's Literature. Readers love Ursu because of her empowering fantasy stories, and The Troubled Girls of Dragomir Academy employs a perennially well-loved trope among middle grade readers: the boarding school story.
---
The Death of Jane Lawrence by Caitlin Starling
St. Martin's, October 19
Caitlin Starling is the author of The Luminous Dead, which was a perfectly crafted sci-fi horror thriller that proved she's pretty much a perfect choice to write this creepy, historical gothic novel, which was inspired by the inarguably fantastic film Crimson Peak.
---
Our First Civil War by H.W. Brands
Doubleday, November 9
H.W. Brands is known for histories that are timely, fascinating and beautifully written. His latest tackles the Revolutionary War, but rather than focusing on the conflict between the United States and Britain, Brands focuses on the conflicts between those in the U.S. who were loyal to England and those who supported independence. This slice of American history will especially resonate at a time when the United States is locked in another ideological struggle over which is the best path forward.
---
These Precious Days by Ann Patchett
Harper, November 23
These Precious Days is named for Ann Patchett's longform essay that was published in Harper's at the end of 2020, about her friendship with Tom Hanks' assistant, Sooki Raphael, who stayed with the author while undergoing chemotherapy treatments. The title essay is included in this collection, along with 21 other essays about Kate DiCamillo, Eudora Welty, knitting, dogs and so much more. This will certainly be a worthwhile read for lovers of poignant and masterfully crafted essays about life, love, death and everything in between.