When the BookPage editors finished creating our lists of the Best Books of 2020, we found we just couldn't stop! Here we've rounded up amazing 2020 books we love for very specific reasons. They're all Most Likely to Succeed in providing you with even more great reading experiences.
---
Most gasp-worthy prose
Luster
By Raven Leilani
Raven Leilani offered the most jaw-droppingly slick prose of the year in her debut novel, the story of a young Black woman who begins a relationship with a white married man and, after running into financial trouble, moves in with his family. Leilani looks right into the hearts of her complicated characters, and her writing can be cutting, cool and kind from one moment to the next, never giving the reader a chance to get too comfortable. This is a master prose artist at work.
---
Best book about books
Eight Perfect Murders
By Peter Swanson
Everyone loves a book about books, but maintaining the perfect balance can be surprisingly tricky. You want to pay proper homage to the classics you love, but you also don't want their enormous shadows to dwarf the story you're trying to tell. Peter Swanson gets it precision-point right in Eight Perfect Murders, in which bookseller Mal Kershaw's blog post on the eight best murders of crime fiction appears to be inspiring an equally literarily inclined killer.
---
Most stereotypes busted
A Measure of Belonging
Edited by Cinelle Barnes
The South's violent, regressive history looms large in America's popular imagination. But in truth, there's much more to this humid, deep-fried region than controversies over Confederate memorials and buttermilk biscuits. A Measure of Belonging breaks through stereotypes established by white Southerners by showcasing the perspectives, stories and voices of 21 writers of color from across the South. What emerges is a picture of Southern life that is vibrant, joyful, challenging and much closer to the truth.
---
Best sentient inanimate object
Bess the Barn Stands Strong
By Elizabeth Gilbert Bedia
Illustrated by Katie Hickey
Children's literature has a long tradition of books that give human qualities to ordinary objects, from forms of transportation and construction equipment to to art supplies and items of clothing. Bess the Barn Stand Strong is a luminous addition to this very specific canon. When we're young, the idea that the world existed before we were born and will continue to exist after we're gone can be a big and sometimes frightening concept to grasp. This simple tale of a beloved barn that falls into disrepair but still provides shelter is a beautiful reminder that although our journeys through life will be full of many changes, love can help us weather every storm.
---
Best breakup book
The Regrets
By Amy Bonnaffons
Everyone's got their own post-breakup remedy, but reading about a woman shaking herself free of a toxic relationship is a particularly great way to feel validated and seen. All the better that Amy Bonnaffons' debut novel has ghost sex, and that the protagonist is literally haunted by her ex. This is a completely different kind of love story, one in which fighting for yourself leads to the best kind of happily ever after.
---
Most creatively creepy villain
Emerald Blaze
By Ilona Andrews

One of the many joys of Andrews' paranormal romance series is its breathtaking creativity when it comes to the uses of magic. You've got elemental mages and telekinetics, of course, but also weapons mages and summoners, i.e., people who can bring creatures from other realities into our world. When a terrifying arcane hive mind is summoned and takes over an (also terrifying) automaton, it is truly the worst of both worlds. Think Annihilation but welded to magical technology controlled by a consciousness increasingly obsessed with our heroine, Catalina Baylor. Such is the stuff of nightmares.
---
Best book for millennials
Can't Even
By Anne Helen Petersen
Anne Helen Petersen's 2019 Buzzfeed article about millennial burnout sent a shudder through a generation trying to get their careers off the ground and hitting obstacle after obstacle. From the 2008 financial crisis to the rise of the gig economy to the ever-present messaging that our jobs should give our lives meaning, millennials' relationships with work have always been complicated. Petersen's book reveals that this strained relationship isn't a passing trend, however. It's the foundation on which their professional lives are all built, and the implications are damning. Well researched and totally engrossing, Can't Even will make every millennial (not to mention generations X and Z) reexamine their exhaustion in the struggle to get ahead.
---
Best graphic novel for young readers
Twins
By Varian Johnson
Illustrated by Shannon Wright
It's wonderful to see young readers devouring graphic novels with enthusiasm. To satisfy their seemingly insatiable hunger, pick up Coretta Scott King Honor author Varian Johnson and talented illustrator Shannon Wright's first foray into graphic storytelling. Twins is a fresh but classical-feeling story about the growing pains of sisterhood, set against the backdrop of the first year of middle school. It'll be irresistible to readers who love the relatable and authentic graphic novels of Raina Telgemeier, Shannon Hale and LeUyen Pham, and Newbery Medalist Jerry Craft. Be sure not to miss the fantastic childhood photo of Johnson and his twin brother, Brad, complete with matching baseball uniforms, on the author's acknowledgements page.
---
Best social media novel
Little Eyes
By Samanta Schweblin
Imagine a Furby on wheels that's being controlled by an unknown person somewhere else in the world. That's the fabulously "Black Mirror"-esque premise of Samanta Schweblin's latest novel. People can participate in this new trend in two different ways: You can buy a "kentuki" and let it live in your house, or you can sign up to control a random person's kentuki. There's a power imbalance to exploit from either side, and Schweblin reveals several different kentuki connections—and just how dark they can get. By the end, you'll feel especially grateful for that tiny piece of tape on your laptop's camera . . .
---
Deepest read
Thin Places
By Jordan Kisner
Jordan Kisner thinks deeply about the world, and her debut collection of essays reflects an experience of life that is beautiful, stimulating and complex. If you're looking for an exploration of faith, love, loss, science, psychology, religion, mental health and spiritual transformation—one that allows these things to be as difficult and complicated as they truly are instead of polishing their surfaces until they shine—look no further than Thin Places.
---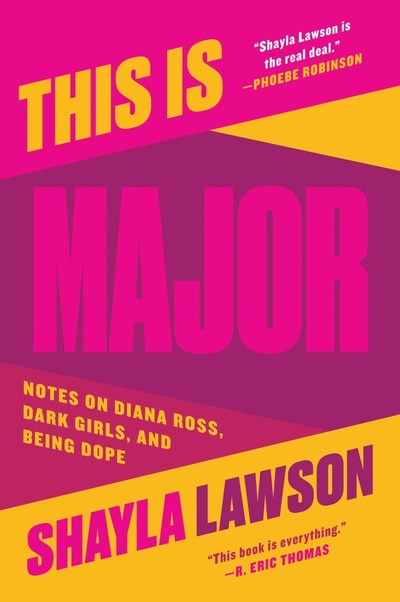 Dopest read
This Is Major
By Shayla Lawson
This book's subtitle says it all: "Notes on Diana Ross, Dark Girls, and Being Dope." Shayla Lawson's innovative style and sharp mind for cultural criticism complement each other perfectly in This Is Major, making for one of the freshest essay collections of the year. She drills down into popular tropes like "Black girl magic" and the "strong Black woman," rejecting ideas of Black womanhood that are rooted in an inherently supernatural or superhuman disposition and celebrating the more nuanced, grounded reality of being Black and femme.
---
Best series finale
The Burning God
By R.F. Kuang
R.F. Kuang's ambitious Poppy War trilogy came to a magnificent and fiery end in The Burning God. The author never shied away from the more devastating aspects of her war-torn world (inspired by 20th-century China) while creating characters that inspired love, hate and fascination.
---
Best novel with a time constraint
Today Tonight Tomorrow
By Rachel Lynn Solomon
In a letter to Fanny Brawne, the poet John Keats once wished "we were butterflies and liv'd but three summer days—three such days with you I could fill with more delight than fifty common years could ever contain." Rachel Lynn Solomon's third novel, Today Tonight Tomorrow, one-ups Keats as it packs a love story for the ages into just 24 hours on the last day of high school. In addition to depicting the best enemies-to-lovers romance of the year, it's also a master class in characterization and pacing.