Big names, big personalities and big legacies. The subjects of this fall's most captivating biographies need no introduction.
---
Mad at the World

By William Souder
John Steinbeck just might be the novelist for our time. In his sprawling epic The Grapes of Wrath, he captured Americans' peculiar yearning for a life not their own, the promise of wealth beyond the veil of desolation and the wretched impossibility of such a promise. Steinbeck's other epic, East of Eden, illustrates the ragged desperation of human nature, wreaking destruction rather than carrying hope. William Souder's bracing Mad at the World: A Life of John Steinbeck vividly portrays the brooding and moody writer who could never stop writing and who never fit comfortably into the society in which he lived.
Souder, whose biography of John James Audubon was a Pulitzer finalist, traces Steinbeck's love of stories to his childhood. As a teenager, Steinbeck immersed himself in Thomas Malory's Le Morte d'Arthur, which he translated later in life, and in adventure tales and classics such as Treasure Island, Madame Bovary and Crime and Punishment. This early reading gave him glimpses into the shadowy corners of the human heart and provided him with models for telling tales of people engaged in heroic struggles against the injustices of their eras.
Steinbeck was a born storyteller who was a bit out of step with his times; many of his social realist novels appeared during the innovations of modernism. But Steinbeck remains widely read and relevant today, as vibrantly illuminated by Mad at the World.
—Henry L. Carrigan Jr.
---
★ Eleanor

By David Michaelis
Fueled by 11 years of research, the new biography of Eleanor Roosevelt by David Michaelis (N. C. Wyeth) is both compelling and comprehensive, making use of previously untapped archival sources and interviews. Michaelis, who actually met Roosevelt when he was just 4 years old, trains his careful attention on virtually all aspects of her incredible life and times to craft a fast-moving, engrossing narrative.
Eleanor follows its subject from birth to her death in 1962. Roosevelt's life journey took her from a shy, often ignored child, whose mother shamed her with the nickname "Granny," to a dynamic first lady and then a "world maker" when, as one of the country's first delegates to the United Nations, she spearheaded the adoption of the first Universal Declaration of Human Rights in history. Of course, Eleanor Roosevelt's life was also entwined with that of Franklin Delano Roosevelt. Eleanor was so intrinsically linked with the New Deal and World War II, it's sometimes easy to forget that she was born in 1884 and was almost 36 years old when the 19th Amendment passed in 1920.
Michaelis never neglects the politics and history that marked the life of this remarkable, fascinating woman. At the same time, his impeccable storytelling and seamless integration of dialogue and quotations allow him to create an intimate, lively and emotional portrait that unfolds like a good novel. As America faces another challenging period in its history, there may be no better time for readers to turn to the life of one of our nation's truly great leaders for inspiration.
—Deborah Hopkinson
---
His Truth Is Marching On

By Jon Meacham
It's been only a few months since the death of civil rights giant John Lewis, and though eloquent tributes from leaders like Barack Obama have attempted to sum up his legacy, it will ultimately fall to future generations to fully assess his contributions to the cause of racial equality in America. One of our most prominent contemporary historians, Pulitzer Prize winner Jon Meacham, offers an appreciative early assessment in His Truth Is Marching On: John Lewis and the Power of Hope.
Meacham frankly admits that his book makes no attempt at a full-scale biography of Lewis. Instead, he focuses on the tumultuous period from 1957 to 1966, when Lewis rose from obscurity in a family of sharecroppers in Troy, Alabama, to national prominence in the civil rights movement. This "quietly charismatic, forever courtly, implacably serene" man was motivated by a fierce commitment to nonviolence and above all by his unswerving attachment to the vision he shared with Dr. Martin Luther King Jr. of a "beloved community"—in Lewis' words, "nothing less than the Christian concept of the kingdom of God on earth."
Meacham makes a persuasive case for his claim that "John Robert Lewis embodied the traits of a saint in the classical Christian sense of the term." At a moment when events have once again forced Americans to confront the evils of racism, His Truth Is Marching On will inspire both courage and hope.
—Harvey Freedenberg
---
★ The Man Who Ate Too Much

By John Birdsall
American cookery rests squarely on the shoulders of the late, great James Beard. His life and experiences are extremely well known and have been written about extensively. Yet in his new book, The Man Who Ate Too Much: The Life of James Beard, John Birdsall—a gastronomic expert in his own right, having twice won a James Beard Award—gives foodies a fresh, intimate look at Beard. He writes with candor, wit and vibrancy, as if Beard himself is speaking through Birdsall's pen, retelling his colorful life and inviting us into his world. And Birdsall doesn't mince words, delivering a raw, revealing look into how and why Beard had to tread cautiously as he navigated the world as a closeted gay man during the often unforgiving 20th century.
Birdsall's strength as a food writer shines, with mouthwateringly descriptive prose about cuisine peppered throughout the book. He also provides touchstones to what was going on globally, including both World Wars, the World's Fair of 1939, the Vietnam War, Watergate and the civil rights movement, giving context for the major events that affected Beard's life.
The Man Who Ate Too Much is meticulously researched. Additionally, Birdsall's insightful style allows readers to feel Beard's successes and failures, highs and lows, and revelations and discoveries as they become deeply familiar with the family, friends, colleagues and rivals who impacted his life.
—Becky Libourel Diamond
---
★ The Dead Are Arising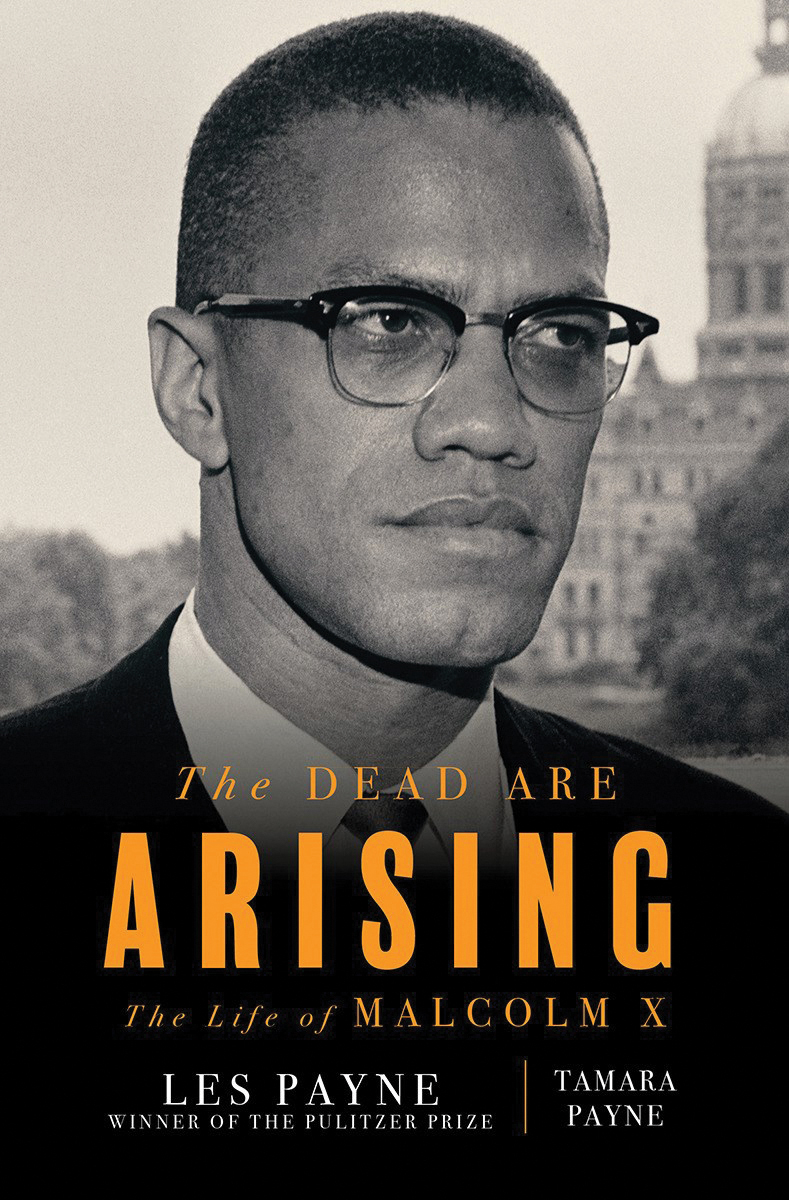 By Les Payne and Tamara Payne
Pulitzer Prize winner Les Payne's monumental and absorbing The Dead Are Arising: The Life of Malcolm X peers into the gaps left by Malcolm X's autobiography, taking us more deeply into the intimate details of his life, work and death.
In 1990, investigative reporter Payne began conducting hundreds of interviews with Malcolm X's family members, childhood friends, classmates and bodyguards, as well as with FBI agents, photographers, U.N. representatives, African revolutionaries and presidents and the two men falsely imprisoned for killing Malcolm X. Drawing on these conversations, Payne traces Malcolm X's story from his childhood in Omaha, Nebraska, through his teenage years in Lansing, Michigan, where Malcolm learned to resist the racial provocations of his white classmates. Payne chronicles Malcolm X's time in prison, where fellow inmate John E. Bembry challenged Malcolm X by telling the young prisoner, "If I had some brains, I'd use them." This encouraged Malcolm X to read all he could and to not only engage others with words but also support those words with facts from experts. In vivid detail, Payne retells the events leading up to Malcolm X's assassination, offering fresh information about those involved.
The Dead Are Arising is essential reading. Completed after the author's death in 2018 by Tamara Payne, Les' daughter and the book's primary researcher, it captures the vibrant voice of a revolutionary whose words resonate powerfully in our own times.
—Henry L. Carrigan Jr.
---
★ Red Comet

By Heather Clark
In Red Comet: The Short Life and Blazing Art of Sylvia Plath, biographer and Plath scholar Heather Clark lifts the poet's life from the Persephone myth it has become and examines it in all its complexity. Clark admirably identifies and resists the morbid tendency to look at every moment, every work, as a signpost on the way to Plath's tragic suicide. She also liberates the supporting cast of Plath's life from the damning and one-dimensional roles they often occupy as part of the death-myth of Plath's life. Her husband, Ted Hughes; his lover, Assia Wevill; Plath's mother, Aurelia Plath—they are not villains but people who created art of their own, who loved and fought with Plath, who were not always good or right.
Clark's detailed, multidimensional treatment infuses Plath's life and work with dignity, character and a sense of interiority. We get the full scope of Plath's incredible talent here, rightfully established as complicated, radiant and worthy of deep consideration. Plath was a genius. She was a woman living in a time of great social restriction for women. She had complicated and human relationships. She was mentally ill, and this mental illness both illumined her work and colored her perspective on the world. All of these things are held alongside one another without conflict in Clark's book. Red Comet allows Plath to emerge from the shadows, shining in all her intricacy and artistry.
—Anna Spydell