As you might guess from the title, bestselling author Renée Watson's next YA novel, Love Is a Revolution, is a love story—about loving another person, loving your community and, above all, loving yourself. Watson's 2017 YA novel, Piecing Me Together, received a Newbery Honor and a Coretta Scott King Award. Her picture book Harlem's Little Blackbird was nominated for an NAACP Image Award.
Here's the official synopsis of Love Is a Revolution from Bloomsbury, Watson's publisher:
When Nala Robertson reluctantly agrees to attend an open mic night for her cousin-sister-friend Imani's birthday, she finds herself falling in instant love with Tye Brown, the emcee. He'​s perfect, except . . . Tye is an activist and is spending the summer organizing events for the community when Nala would rather watch movies and try out the new seasonal flavors at the local creamery. In order to impress Tye, Nala tells a few tiny lies to have enough in common with him. As they spend more time together, sharing more of themselves, some of those lies get harder to keep up. As Nala falls deeper into her lies and into love, she'll learn all the ways love is hard and how self-love is revolutionary.
In Love Is a Revolution, plus-size girls are beautiful and catch the attention of hot guys, the popular girl clique celebrates strong friendships between women, and the ultimate love story is not just about romance, but showing radical love to the people in your life—including to yourself.
Pick up Love Is a Revolution from your local bookstore or library on February 2, 2021! In the meantime, you can see its stunning cover, which was illustrated by Alex Cabal, designed by Jeanette Levy and art-directed by Donna Mark, and read a Q&A with Watson and an exclusive excerpt of the book.
How did you feel when you saw the final cover of Love Is a Revolution for the first time?
The cover took my breath away. I love everything about it: Nala's bold stance, the expression on her face, the brown lipstick, the bright yellow shirt, even her nail polish and bangle bracelets. Every detail was intentional, and I'm very proud of it. I appreciate my editor, Sarah Shumway, who always invites my input and feedback when it comes to covers. So many times in literature, big bodies are erased or portrayed in defeated, downtrodden ways. I am intentional about having girls with big bodies on covers who are happy, content and fashionable. I truly believe that representation matters, and that includes body diversity as well.
Alex Cabal's art is always vibrant and striking. She did the U.K. edition of What Momma Left Me, and I was thrilled to work with her again for Love is a Revolution.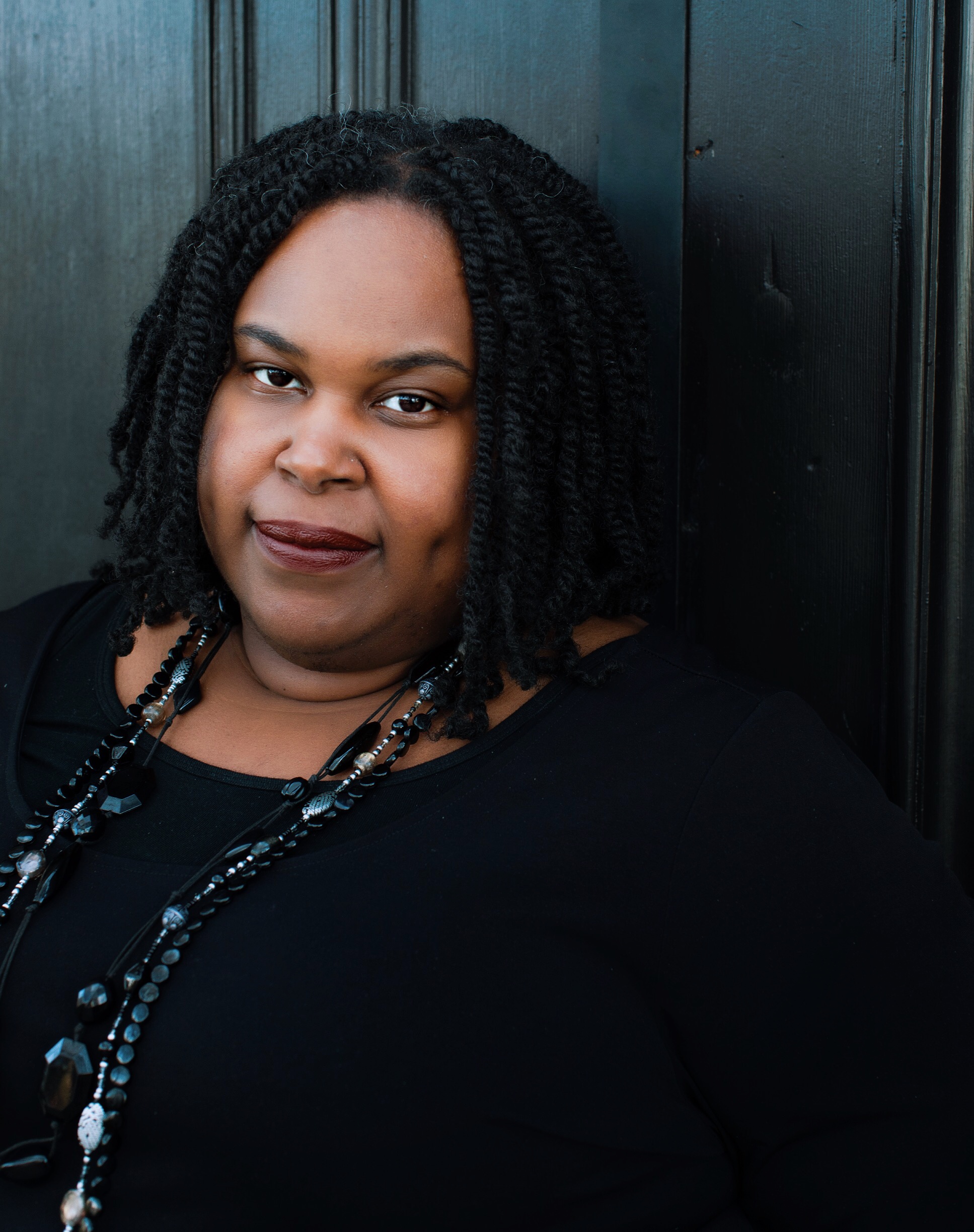 Could you give us a little introduction to Nala and share where she's at when readers meet her? What do you hope readers will love about her? Are there any pieces of you in her?
Readers meet Nala right when she's at the crossroads of figuring out what activism means to her and how she's going to show up in the world. She's pretty confident and sure of herself, but still, there are moments when she feels insecure because she fears that she is not "woke" enough. She's certainly an imperfect character—she exaggerates (and flat-out lies) to get the attention of a boy she has a crush on. She also loves her family fiercely, and I hope readers enjoy her sense of humor and her bold personality.
My temperament is very different from Nala's, but one thing I do have in common with her is being Jamaican. I'm really excited to share this part of my Jamaican heritage in a book. It's the first time I've written about a Jamaican American family.
Throughout the book, Nala talks about a (fictional) singer she loves. The song lyrics are in the novel, and they are all about loving your body, loving yourself. The lyrics really inspire Nala, and I hope readers are empowered by them, too.
There's such a need for stories of Black joy. What joys do you hope Love Is a Revolution represents to readers?
Nala understands that while it's necessary to bring awareness to social issues, it's equally important to spend quality time with loved ones, to enjoy simple things like listening to your favorite song on repeat or indulging in your favorite dessert. Harlem is the perfect backdrop for this summertime love story, and I really enjoyed the scenes where Nala is carefree, roaming the streets of her neighborhood and hanging out with friends. Even with all that's happening in our nation with conversations about equity and anti-Blackness, Black youth are still living their everyday lives, still laughing, still dancing, still loving, and I wanted that represented on the page.
Love is a revolution. What an awesome, powerful statement to choose for the title of a book! How did you arrive at it? How does it reflect what you hope readers experience when they read the book?
There's a scene when Nala's grandmother tells her, "The most radical thing you can do is love yourself and each other." After I wrote that sentence, the title came to me. I think the word love gets used so much that we forget how heavy of a word it is, how serious and hard it is. Love is patient, generous, forgiving. It's not easy to be patient, generous or forgiving. The definition of revolution is "a sudden, radical, or complete change, a fundamental change in the way of thinking about something." Love—true love, of self, family, neighborhood, romantic partner—changes you, pushes you to be better. Practicing that kind of love will bring about the change so many of us want in our daily lives. That concept is at the heart of the novel.
---
Imani walks over to us and sits next to me, in the middle of her birthday crew. The lights dim even more, and once it is completely blacked out, there is cheering and clapping. The stage lights are too dark at first, so I can't really see the person talking. "Good evening, everyone. We're here tonight to remember Harlem, to honor Harlem, to critique Harlem, to love Harlem . . . we're here tonight to Inspire Harlem."
There are shouts and whistles and so much clapping.
Then, finally, the lights rise.
And I see him.
"My name is Tye Brown, and I will be your host for the evening." While everyone is still clapping, he says, "Tonight's going to be a special night," and then I swear he looks at me and says, "Sit back and enjoy." I almost yell out I will! Oh, I will! but I keep it together and settle into my seat.
I whisper to Imani, "Who is he? I've never seen him before."
"Tye. He's new," she says.
And I turn to Sadie and whisper, "I mean, if I had known guys like that were a part of this, maybe I would have joined too."
Sadie laughs.
"Shh!" Imani scolds us.
I sit back, give my full attention to Tye. He explains what Inspire Harlem is and talks us through how the night will go. Then, his voice gets serious and he says, "Singer and activist Nina Simone said, 'It's an artist's duty to reflect the times in which we live.' This isn't your typical talent show. Each act has thought about the message in their art, the mission behind their performance."
A few people clap when he says this.
"This is a supportive, brave space—please only show love for everyone who has the courage to come to the stage," Tye says. And then, he smiles the most gorgeous smile I have ever seen and says, "Let's begin."
I don't believe in love at first sight. I don't even know if I believe that there's such a thing as a soul mate or one true love. But right now, in this moment, I am ready to profess my love for Tye Brown.
OK, fine, I don't really love him. I don't know him (yet), but there are some things I know about him in just the first 30 minutes of the talent show and those things, I love.
3 Things I Already Love about Tye Brown
1. I love his dark skin. The way his white shirt contrasts against his deep brown complexion. I love his style. How his shirt has the letters B L A C K across his chest, making him a living poem.
2. I love the way his deep voice bellows out, filling up the space, how his voice is electric shock waves when he needs to amp up the crowd, how it is a warm hug when he welcomes each person to the stage.
3. I love that when the fourth person gets choked up with tears because he can't remember the lyrics to his rap, Tye comes from back stage and stands next to him, putting his hand on his shoulder. I love how they just stand there for a whole minute and the audience is silent, how Tye asks, "Do you want to start over?" I love how Tye stands there while the boy performs, never leaving his side, bobbing his head and moving to the beat.
Yeah, those are the things I love about Tye. It was definitely worth coming out in the rain tonight.
The next person up is a girl named Gabby. Her hair is pulled back in a neat ponytail, and I can't tell if the glasses she is wearing are for necessity or fashion. She sings a song she wrote just for this event, and that alone should make her the winner. I feel sorry for the people coming after her.
The next performance is a group of steppers. They have the crowed hyped. By the time they are done, I think maybe they might beat Gabby. But if they do, it'll be close. I completely tune out during the next act. A girl is singing some type of Heal-the-World song, and I am bored and barely listening to her. It's not that she can't sing—the song is just corny. To me anyway. All I am thinking about is when will Tye be coming back to the stage. But once the girl stops singing, the lights come up for a short intermission.
Most people rush to the bathrooms. I walk over to the snack table—I want to get something to drink and also, I see that Tye is standing over there. I am trying to think of something to say to him, but I can't even get my mouth to open. Up close he is even more handsome and now I can smell his cologne. I just want to run away and look at him from across the room.
"Enjoying the show?" Tye asks. He is talking to me. To me.
"Um, yes, I—I'm really, yes, I'm enjoying it." Get it together, Nala Robertson. Come on.
"Are you new to Inspire Harlem?"
"Oh, no. I'm not a part of it. Hi, I'm Nala. Imani is my cousin. She invited me."
"Oh, Imani? That's my girl. I'm Tye." He shakes my hand, which I think is kind of formal, but holding his hand feels like holding silk and I want to hold on to him and never let him go. Tye lets go and fills his water bottle. He takes a long drink.
Say something, Nala. Say something. "Inspire Harlem is a great program. Imani really likes being in it."
"Yeah. I love it so far. I'm excited about what we've planned for this summer. Did Imani tell you about it?"
"No," I say. But of course she did. I just want to keep talking to him.
"All summer long we'll be having awareness events—I'm the team leader for our community block party. You should come," Tye says. I have never heard someone sound so excited about a community service project. Tye steps away from the table because we're holding the line up. I realize I don't even have anything in my hand, no water or plate of veggies and dip to play it off like I didn't just come over here to talk with him. "What about you? What are you up to this summer?" he asks.
"Oh, I'm, um, I'm . . . I volunteer for an organization that offers activities for elderly people in the neighborhood. We do, um, like arts and crafts stuff with them—nothing super important or at the magnitude of Inspire Harlem," I say. He doesn't need to know that really, I am just talking about the one time last month when I spent the day at Grandma's helping her put a puzzle together.
"That's great that you're doing that," Tye says.
"Yeah, some of them don't have family that come visit and just need to get out of their apartments and do something. We do all kinds of activities with them."
"Like what?"
"Um, well, like I mentioned, arts and crafts . . . um, knitting. We also have story time, not like kindergarten story time, but I read novels to them and sometimes we just play games and build puzzles."
All of this is a true-lie.
I've done these things with Grandma and her friends. Just not with a formal group of people or with an organization. But I had to say something. I mean, I couldn't tell him that I'm spending my summer watching Netflix and trying out the summer flavors of ice cream at Sugar Hill Creamery.
Ms. Lori, the director of Inspire Harem, walks over to us. "Tye, we're just about ready to start the second half," she says. "Five minutes."
"Okay." Tye refills his water bottle one more time. "Nice to meet you, Nala," he says.
---
Author photo by Shawnte Sims. Excerpt from Love Is a Revolution used with permission of Bloomsbury Publishing.