For years, audiobooks have been our constant companions while cooking, cleaning and gardening—and in the age of COVID-19, we're spending a lot more time doing those things than we used to. A few of the BookPage editors share the audiobooks that have been keeping us company in quarantine.
---
Cat, Deputy Editor
Of all the quarantine reading and listening I've done, no audiobook has inspired more people to ask me for more information than You Never Forget Your First, Alexis Coe's myth-busting biography of George Washington. Coe contextualizes and humanizes Washington's victories and losses on the battlefield, his many (many) illnesses, his politics and home life in a whole new way, and it's made all the more accessible by Brittany Pressley's wry, clear narration. Most importantly, you'll explore the hypocrisy in Washington's fight for liberation from British rule while keeping black people enslaved. For readers interested in thinking critically about American history, this is a good start.
I didn't think it was possible to be more chained to my phone—and thus, more uncomfortable with my relationship to social media—but here we are in a pandemic, and nearly all our social interactions are now on screens. Jenny Odell's How to Do Nothing has helped temper those feelings by providing guidance to resist the guilt of feeling unproductive and the demands on our attention. I find Rebecca Gibel's narration to be hypnotic in its dryness, allowing me to reprioritize and realign where I give my focus.
---
Stephanie, Associate Editor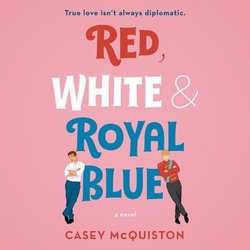 My thoughts have increasingly strayed to the week each year my family spends at a condo on the Florida gulf—specifically, to the books I read on last summer's trip, one of which was Casey McQuiston's Red, White & Royal Blue, which feels like an Aaron Sorkin production with the more melodramatic moments of "The Crown." When I decided to reexperience it via the audiobook, I'm not sure whether I was motivated by a desire to return to the world McQuiston's ebullient romance between the president's son and an English prince, to return to the beach itself or to transport myself to a happy moment in a simpler time. Probably a bit of all three. Regardless, the absorbing and rapid-fire story, paired with Ramón de Ocampo's warm, exuberant narration (and fantastic British accent, when performing Prince Henry's lines) made for the perfect, swoonworthy escape.
Ninth House is an addicting mystery set at a magical secret society at Yale University, author Leigh Bardugo's alma mater. Narrators Lauren Fortgang and Michael David Axtell alternate between Galaxy "Alex" Stern and Daniel "Darlington" Arlington; of the two, Fortgang is the standout. Her performance is as sharp as Alex herself, who's been through a lot before arriving at Yale. Scenes where Alex lets her rage and trauma surface are riveting as Fortgang snarls and performs through clenched teeth. Fortgang's visceral performance of Alex's anger makes the rare moments of genuine affection that Alex permits herself—particularly toward Hellie, a close friend, and Pamela Dawes, the society's in-house researcher—moving in their tenderness, as Fortgang softens her voice to convey Alex's vulnerability. Anyone looking to be swept up in a story of dark magic in which nothing is as it seems should give Ninth House a try.
---
Christy, Associate Editor
I read a hard copy of Kiese Laymon's memoir Heavy when it came out in 2018 and loved it—in that had-to-lie-down-for-two-and-a-half-hours-afterward kind of way. (The book is aptly named.) When my professor assigned it for a graduate class I took this spring, I decided to give the award-winning audiobook a try for my second reading. Hearing Laymon's words in his own voice was even more affecting than reading them on the page. In the audio version, you get the full playfulness of he and LaThon's middle school riffing on words like "galore" (gal-low), "meager" (mee-guh) and "y'all don't even know." You also hear the full tenderness of Laymon's conversations with his mother, in which they try to tell each other the truth about addiction, abuse, deception and love. When I finished listening to Heavy this time, I still had to lie down afterward to digest its contents—white supremacy, disordered eating and violence against Black Americans, among other things—but since a late afternoon stress-nap was already a staple in my quarantine routine, it turned out to be a perfect pandemic listen.
I was two chapters into my hardcover of Trick Mirror when the audiobook became available to check out from the library. (Apparently, I had placed it on hold during pre-COVID times and then, along with all the other trappings of normal life, forgot about it.) Jia Tolentino's nuanced essays are the sort of reading you want to absorb every word of, so I wasn't sure the audiobook would be the best fit. But out of curiosity (and a desire to make good on the library's monthslong waitlist), I checked it out and grabbed my headphones. Next thing I knew, I was three hours in and plumbing the depths of my to-do list for more things to work on so I could keep listening. With an engaging balance between the personal and the reported, Tolentino's exacting explorations of feminism, the internet and the self lend themselves nicely to audio, as it turns out. And as for my to-do list, her intellectual, no-frills narration provided the perfect soundtrack for taking a walk, doing the dishes, brushing the cats, making banana bread and mending that tear in my duvet cover.
---
ALSO IN BOOKPAGE: Discover more of our favorite audiobooks.