With each changing season, one truth remains: No matter the weather, it's always a good day for a book. Autumn's chill is the perfect companion to a hot cuppa—and a book. Howling winter winds hustle us inside to bundle ourselves in nests of blankets—next to a big old stack of books. Spring brings picnics, and what's better than sprawling in the sun with—of course—a book?
But for a bookworm, there's nothing quite like summer's long, lazy days for hours of reading. Here are the YA books we're most looking forward to discovering this summer.
Shop our full list of summer's most anticipated YA books here. Every purchase made through Bookshop.org benefits independent bookstores.
---
Felix Ever After by Kacen Callender
Balzer + Bray | May 5
There are books published during the summer, and then there are summer books, and Felix Ever After is the quintessential summer book. I recommend setting aside an afternoon on a slightly too-warm sunny day; it'll be perfect under the shade of your favorite tree. Felix captured my heart from the first page, and though I'm not often a reader left wanting more by novels designed to stand alone, I'd read more book about Felix and his friends in a heartbeat.
---
Last Girls by Demetra Brodsky
TorTeen | May 5
Feeling a desire to lean into this summer's uncertainty and upheaval? Pick up Demetra Brodsky's taut debut novel, Last Girls, the story of sisters who live together on a survivalist compound who discover that the danger they've been preparing for might be right in their backyard.
---
Aurora Burning by Amie Kaufman and Jay Kristoff
Knopf | May 5
Amie Kaufman and Jay Kristoff have written some of the most rip-roaring, page-turning science fiction in YA over the past few years, first with their Illuminae trilogy, each volume of which kept yours truly up WAY past her bedtime, and now with the Aurora Cycle. This second entry, Aurora Burning, sees the squad return to battle new evils, discover new powers and maybe even save the galaxy. I trust these two master storytellers to take me to the edge of the universe—they're just that good.
---
The Betrothed by Kiera Cass
HarperTeen | May 5
Kiera Cass fans have waited four long years for a new book, but the wait ends this summer with the release of The Betrothed, the first in a brand-new duology about a young king who thought he'd never settle down and the girl who catches his eye and captures his heart.
---
Forged in Fire and Stars by Andrea Robertson
Philomel | May 5
A decade ago, Andrea Robertson (then publishing under the name Andrea Cremer) wrote some of the most successful and enjoyable books during the paranormal fiction craze sparked by Twilight, beginning with 2010's Nightshade. Thankfully, Robertson will make her long-awaited return to shelves—and tackle a new genre, high fantasy—with Forged in Fire and Stars, a thrilling tale about a girl struggling with the fate she's inherited in a world she thought she knew.
---
By the Book by Amanda Sellet
HMH | May 12
OK, bookworms, listen up. I know your TBR is already taller than your head, but I need you to add a title to the top of the stack. Amanda Sellet's debut may just be the most charming thing you'll read all summer. I guarantee that while reading it, you will pause at least once and think, "Did Amanda Sellet write this book specifically for me?" This fish-out-of-water story about a girl who diagnoses her friends' romantic woes using lessons learned from classic literature had me cackling out loud within 30 pages. If that doesn't sound like a good time to my fellow bibliophiles, then maybe you need to check to see whether your library card has expired.
---
ALSO IN BOOKPAGE: Amanda Sellet assists literature's worst boyfriends in telling their sides of the story.
---
The Fascinators by Andrew Eliopulos
Quill Tree | May 12
Andrew Eliopulos is, by day, a senior editor at HarperCollins Children's Books, and it shows in the economy of his prose, the efficiency of his pacing and the effortlessness of his characters. But his new book, which is also his first YA novel, isn't on this list for any of those reasons. It's on here because I can't think of another YA book like it, and I read hundreds of YA books every year. If you added the contemporary-setting-but-magic-is-real of Rainbow Rowell's Carry On to Maggie Stiefvater's Raven Cycle's rural mysticism, then tossed in some of Becky Albertalli's heartfelt teenage friend-group dynamics, you'd get close to The Fascinators. That little something extra is all Eliopulos, and if he comes up with something this good on his first try, I can't wait to see where he goes next.
---
We Are Not From Here by Jenny Torres Sanchez
Philomel | May 19
Seasoned novelist Jenny Torres Sanchez, the author of five previous YA books, turns her attention to a story of three teens who must flee Guatemala and make their way north. We Are Not From Here took my breath away for two reasons: first, because of the gut-wrenching story Sanchez tells, and second, because her writing is so beautiful as to be almost blinding. In the novel's opening scene, one of the characters reflects on her mother telling her she has an artist's heart. Sanchez has a poet's heart, and it shows on every page.
---
ALSO IN BOOKPAGE: Jenny Torres Sanchez explains why the stakes of We Are Not From Here are personal.
---
Camp by L.C. Rosen
Little, Brown | May 26
Whether you're sleeping in your camp cabin bunk, a tent in the woods or your bed at home, you'll want to keep a copy of this hilarious and heartwarming book close by. Set at a camp for queer teens, it's the story of Randy, who's had a crush on Hudson for years. He decides that this will be the year he reinvents himself and finally catches Hudson's eye. Can you really fall for someone if you're pretending to be someone else? Camp explores big, messy questions about identity, sexuality and love, and Randy quickly earned a standing ovation from me.
---
The Paper Girl of Paris by Jordyn Taylor
HarperTeen | May 26
Escape to Paris this summer with Jordyn Taylor's debut novel, which unspools in two timelines. In the first, Alice spends the summer going through an apartment left behind by her recently deceased grandmother—an apartment no one in Alice's family knew existed. In the second, Alice's grandmother, Adalyn, is swept up with the Resistance when the Nazis occupy her beloved Paris. Inspired by true events, The Paper Girl of Paris is a lush and romantic work of historical fiction that's totally transporting.
---
Parachutes by Kelly Yang
Katherine Tegen | May 26
Kelly Yang's first book, the middle grade novel Front Desk, made waves when it was published two years ago, hitting bestseller lists and receiving numerous awards and accolades, including the Asian/Pacific American Award for children's literature. Yang will publish a sequel to Front Desk later this fall, but summer sees her try her hand at YA—and maintain her perfect batting average. Parachutes gets its title from a slang term for wealthy Chinese teenagers who attend American high schools in the hopes of earning admission to an American college and, ultimately, a brighter future. It follows the parallel stories of one such girl and the American girl whose family hosts her.
---
Out Now: Queer We Go Again! edited by Saundra Mitchell
Inkyard | May 26
On hot summer afternoons, sometimes a novel is just too much; you find yourself wanting your fiction bite-size, in a picnic-basket portion. Saundra Mitchell's latest anthology, Out Now, is perfect for this scenario. A follow-up to 2018's must-read All Out: The No-Longer-Secret Stories of Queer Teens Throughout the Ages, Out Now shifts its focus to stories set in the present but keeps All Out's track record of a contributor list that reads like a who's who of the best writers working in YA today, including Fox Benwell, Katherine Locke, Mark Oshiro, Tara Sim and more.
---
ALSO IN BOOKPAGE: Celebrate all the ways love keeps winning with a Pride parade for your bookshelf!
---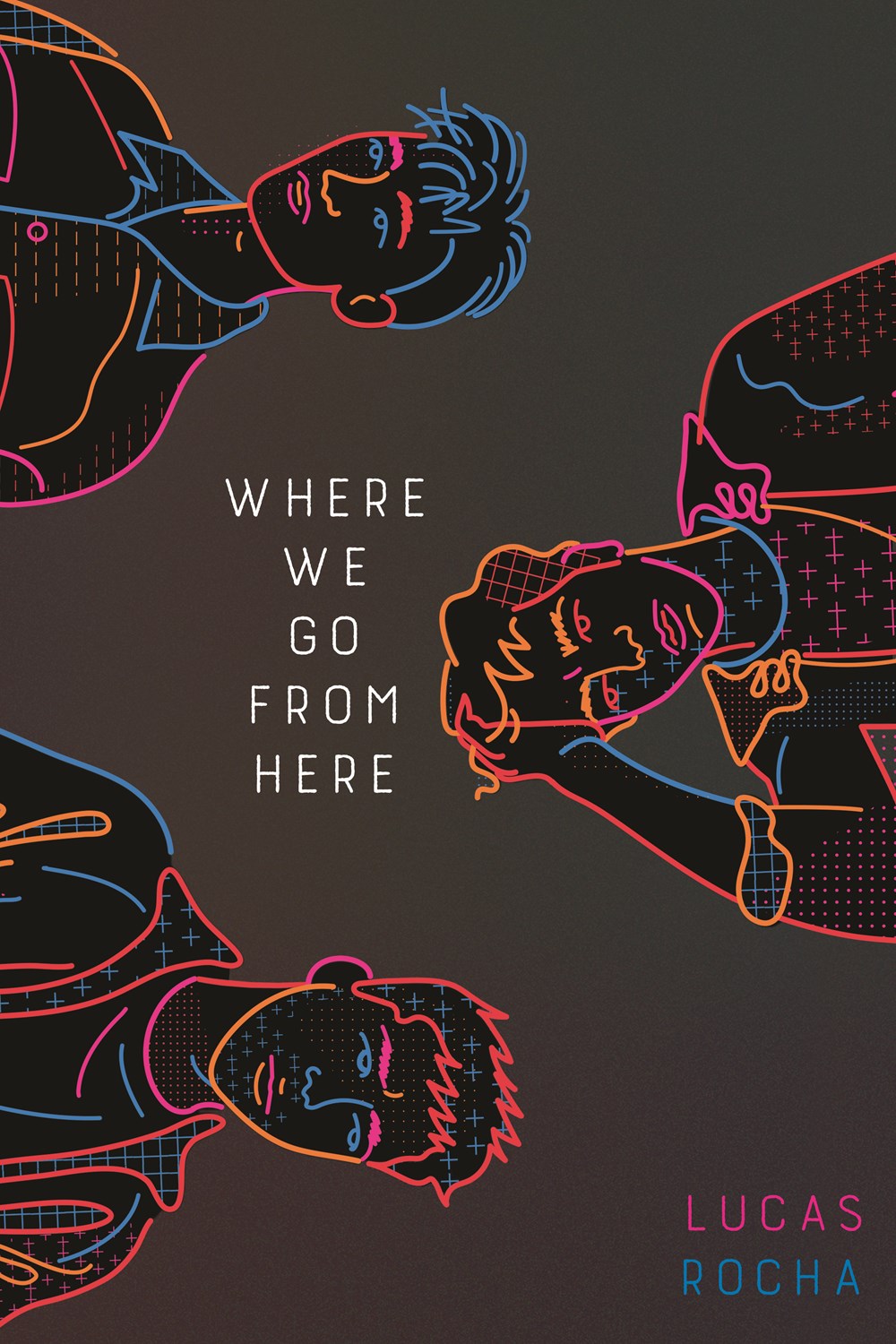 Where We Go From Here by Lucas Rocha, translated by Larissa Helena
Push | June 2
The American young adult book market is remarkably, well, American. Unlike other segments of the market (notably, picture books, where you're far more likely to find imported or translated books and publishers dedicated to bringing them to American shelves, as well as authors and illustrators who live and work outside the United States), YA tends to stay close to home. Here's hoping 2020 is the year that changes and that Brazilian author Lucas Rocha's Where We Go From Here, the story of three friends whose lives are changed forever by HIV, is the spark that ignites the flame.
---
The Court of Miracles by Kester Grant
Knopf | June 2
If you've ever read, watched or listened to Les Miserables and thought, "This is great, but what this story really needs is MAGIC," well, debut author Kester Grant has a book for you. Actually, The Court of Miracles is the first in a planned trilogy, so you won't have to dream your dream on your own anymore.
---
Again Again by E. Lockhart
Delacorte | June 2
E. Lockhart won my reader's heart more than a decade ago with The Disreputable History of Frankie Landau-Banks, her award-winning book that I can only describe as the funniest feminist novel I've ever read. Not one of Lockhart's books is ever quite like another. Her prose and storytelling ability are unparalleled in YA; she guides readers through her narratives like a masterful, seasoned director guides the viewer's eye in a film. At this point, I want to read every story she decides to tell.
---
The State of Us by Shaun David Hutchinson
HarperTeen | June 2
Readers who loved Casey McQuiston's Red, White & Royal Blue and Becky Albertalli and Aisha Saeed's Yes No Maybe So won't want to miss The State of Us, in which the sons of rival presidential candidates fall in love as their parents campaign against each other. Shaun David Hutchinson: giving YA readers everywhere the book they didn't know they always wanted.
---
A Song of Wraiths and Ruin by Roseanne A. Brown
Balzer + Bray | June 2
Confession time: If reading books weren't my job, I would read almost entirely fantasy (for all ages, from middle grade to adult). I discovered the uniquely transporting magic of Narnia and Tortall at a formative age, and that was that; I was like a baby bird who imprinted on Tamora Pierce, Susan Cooper, Lloyd Alexander and more. So when I tell you that Roseanne A. Brown's A Song of Wraiths and Ruin is one of the strongest debut YA fantasy books I've read all year, you know that I understand what a magical thing a good fantasy novel can be. Frankly, if you put this book in my hands and told me it was Brown's 20th novel, I would believe you—that's how utterly absorbing it is.
---
Burn by Patrick Ness
Quill Tree | June 2
By this point, I think Patrick Ness is an author whose books you either know and love, or whose books you just haven't read yet. Longtime fans and newcomers alike won't want to miss Burn, which, aside from being a characteristically rollicking good book, features maybe the best opening sentence I've read all year.
---
Agnes at the End of the World by Kelly McWilliams
Little, Brown | June 9
Author Kelly McWilliams received a mentorship from We Need Diverse Books in support of her debut novel, Agnes at the End of the World, and you'll only need to read a few pages to quickly see why: It's one of summer's most self-assured debuts. Readers looking for escapist fare may want to look elsewhere, as McWilliams seems positively prescient with this story of a strictly controlled society threatened by a mysterious virus plaguing the world outside their walls . . . and creeping ever closer to their borders.
---
You Say It First by Katie Cotugno
Balzer + Bray | June 16
Katie Cotugno's fans know that she ranks among the best writers of grounded, authentic YA romance and are baffled that she isn't a household name on par with Morgan Matson, Jenny Han or the O.G. herself, Sarah Dessen. You Say It First could be the book that changes all that, marrying (pun intended) Cotugno's signature complex and movingly flawed characters with a concept I find irresistible: Two teens fall for each other over the phone after one calls the other from the voter registration center where she works.
---
Rebel Spy by Veronica Rossi
Delacorte | June 23
If you still psych yourself up every morning with "My Shot," can't listen to "Quiet Uptown" without ugly crying and need something to tide you over until Hamilton hits streaming on July 3, may I suggest Rebel Spy, bestselling author Veronica Rossi's first foray into historical fiction? It's Rossi's imagined take on the backstory of the real-life spy known as Agent 355. The world never learned her name—her identity has never been determined—but her intelligence helped expose the treason of Benedict Arnold during the Revolutionary War.
---
Hunted by the Sky by Tanaz Bhathena
FSG | June 23
Author Tanaz Bhathena has given readers two acclaimed works of realistic fiction, A Girl Like That and The Beauty of the Moment. She makes an effortless shift to fantasy in Hunted by the Sky, the first book in a planned duology about two teens caught up by tides of rebellion and vengeance in a magical world inspired by medieval India.
---
Girl, Unframed by Deb Caletti
Simon Pulse | June 23
Deb Caletti's last book, A Heart in a Body in the World, won a Printz Honor, one of the most prestigious awards for young adult literature. It was also my favorite book of 2018, a powerful story of healing in the aftermath of unspeakable trauma. Caletti returns with a very different book: Girl, Unframed, a twisty, thrilling page-turner. But Caletti's prose, for which the term "masterful" seems to have been invented to describe, and her sharp attention to social expectations of young women underpin both. I'm calling it now: Girl, Unframed will be one of the best books of the summer.
---
Love, Creekwood by Becky Albertalli
Balzer + Bray | June 30
The impact of Becky Albertalli's 2016 debut novel, Simon vs. the Homo Sapiens Agenda, on the American YA publishing landscape can't really be overstated. Watching YA publishers embrace a wider, deeper range of queer stories and queer authors in the years since Simon has been a joy and a delight. Albertalli returns to the sprawling social web of Simon and his friends one more time in this novella-length epilogue, which checks in on the crew in their first year of college. Sniffle. I suppose even YA characters have to grow up eventually.
---
I Killed Zoe Spanos by Kit Frick
Margaret K. McElderry | June 30
For readers so inclined, summer is an ideal time for staying up into the wee hours, turning the pages of a mystery. There's no homework to feel guilty about, and no bus to catch the next morning at an hour no human ought to be awake. If your past obsessions have included such titles as We Were Liars and Sadie, you'll want to put Kit Frick's I Killed Zoe Spanos at the top of your TBR for this summer. It's the intoxicating and engrossing story of a girl arrested for murder and the podcast host determined to exonerate her, and it all unfolds against the delicious backdrop of the divide between the haves and the have-nots in a small town in the Hamptons.
---
The Voting Booth by Brandy Colbert
Disney-Hyperion | July 7
For some readers, just seeing Brandy Colbert's name on the spine is all they need in order to pull a book off the shelf. Readers less familiar with Colbert's consistently excellent ouevre should find all the convincing they need when they discover the premise of her latest book, The Voting Booth: Over the course of a single day, two teens meet, connect and start to fall for each other when, after standing in line to vote in their first election, one is turned away from the polls and the other is determined to help him exercise his rights. Read it—and then devour everything else Colbert has written.
---
The Damned by Renée Ahdieh
Putnam | July 7
Have you heard? Vampires are SO back! As someone who got to be a teen during one of the best waves of pop culture vampires (all hail, "Buffy the Vampire Slayer"), I welcome the new wave of bloodsucking YA fiction with open arms. Renée Ahdieh proved herself ahead of the curve with last year's The Beautiful, a lush, romantic tale set in the most vampire-friendly city in the U.S., New Orleans. The Beautiful ended on one of the most gut-wrenching cliffhangers in recent memory, so readers will be desperate to quench their thirst when its story continues in The Damned.
---
A Peculiar Peril by Jeff Vandermeer
FSG | July 7
Jeff Vandermeer is one of the biggest names in contemporary speculative fiction, thanks to the success of his Southern Reach trilogy, which formed the basis for the movie Annihilation, starring Natalie Portman. He makes his first foray into young adult with A Peculiar Peril, the opener to a duology called The Misadventures of Jonathan Lambshead. Readers looking to get lost in a sprawling, epic and singular vision should look no further; A Peculiar Peril clocks in at well over 600 pages, every one of them ambitious and uniquely magical.
---
The Princess Will Save You by Sarah Henning
TorTeen | July 7
Readers, I have four words for you: Gender-swapped A Princess Bride. I rest my case.
---
Burn Our Bodies Down by Rory Power
Delacorte | July 7
Rory Power's first novel, Wilder Girls, was one of the strongest debut novels of 2019. Burn Our Bodies Down is a very different book—trust me when I tell you that the less you know about it before you read it, the better—but it's immediately apparent that Power is the Arachne at the center of its web.
---
Mayhem by Estelle Laure
Wednesday | July 14
Estelle Laure's first novel, This Raging Light, was one of the most accomplished YA debuts of the 2010s. Laure followed it with a sequel of sorts, 2017's But Then I Came Back. Since then, it's been three long years of waiting for Laure's third book, and Mayhem promises to be well worth the wait. It's a complex tale of family, feminism and magic, filtered through the hazy lens of a 1980s California beach town. Laure's publisher describes Mayhem as The Lost Boys meets Wilder Girls. I'd describe it as fantastic.
---
Now & When by Sara Bennett Wealer
Delacorte | July 14
My friend Catherine's mom always used to tell her daughter, "Make good choices!" This is something adults say to teens because, with the benefit of hindsight, they know the choices teens make today can sometimes echo far into the future. But what if you could see the impact of your choices on your future—now? That's the premise of Sara Bennett Wealer's high-concept debut, in which Skyler starts receiving update notifications from a website that appears to host photos of her at her 10-year high school reunion. The catch? She appears to be married to her arch-nemesis, Truman.
---
The Extraordinaries by TJ Klune
TorTeen | July 14
Author TJ Klune made waves earlier this year with the publication of his well-received adult fantasy novel, The House in the Cerulean Sea. Klune's superpowered YA book, The Extraordinaries, will be just what teens who devour the CW's DC shows and Marvel's cinematic universe films need to tide them over as they await new seasons of superhero television and the release of Scarlett Johansson's Black Widow.
---
10 Things I Hate About Pinky by Sandhya Menon
Simon Pulse | July 21
Folks, we are living in a golden age of YA rom-coms, and its light shows no sign of waning. Sandhya Menon established herself as one of its brightest stars with 2017's When Dimple Met Rishi. 10 Things I Hate About Pinky sees her tackle another beloved rom-com trope, fake dating, with her usual swoonworthy aplomb. Talk about summer loving!
---
This Is My America by Kim Johnson
Random House | July 28
Readers who love authors like Nic Stone, Jason Reynolds and Walter Dean Myers won't want to miss Kim Johnson's searing debut, This Is My America. Inspired by the work of The Innocence Project, Johnson's book centers on a girl trying to save her father from being executed for a crime he didn't commit.
---
The Faithless Hawk by Margaret Owen
Holt | July 28
There's no way to avoid the fact that Margaret Owen's ambitious debut fantasy novel, The Merciful Crow, set against a backdrop of a plague-ravaged kingdom, reads a little differently this summer than it did last summer. But stories about slaying dragons show us that dragons can be slain, and I can't wait to see where Owen takes her story in its sequel, The Faithless Hawk.
---
Ever Cursed by Corey Ann Haydu
Simon Pulse | July 28
There are a handful of YA authors who, in recent years, have taken fairy tales—separate and distinct from the broader genre of fantasy—and, for lack of a better way to describe it, pushed at it. These heirs to the likes of Ursula K. LeGuin, Octavia Butler and Robin McKinley have spun stories of princesses and spells, castles and curses, that read with more contemporary urgency than many works of realistic fiction. Corey Ann Haydu joins the ranks of Elana K. Arnold, Margo Lanagan and Susann Cokal with Ever Cursed, a tale about a witch, a terrible spell and the kingdom, caught in its thrall, in which nothing is as it appears.
---
A Map to the Sun by Sloane Leong
First Second | August 4
2020 has been a good year for sports stories that aren't really about sports. Here's hoping Sloane Leong's dreamy-looking graphic novel, A Map to the Sun, about a ragtag group of girls who all join their school's basketball team, continues the streak.
---
Some Kind of Animal by Maria Romasco-Moore
Delacorte | August 4
A rural Appalachian setting: check. Prose so gorgeous it's almost vicious: check. Sisters who protect each other, possibly at all costs: check. The real enemy was the patriarchy we destroyed along the way: check. A cover I find somehow strangely unsettling and yet cannot stop looking at: check. It's not like I keep an actual checklist of elements I love in books, but if I did, Maria Romasco-Moore's Some Kind of Animal sure would check a lot of boxes.
---
They Wish They Were Us by Jessica Goodman
Razorbill | August 4
Jill's best friend, Shaila, was murdered by her boyfriend, Graham, during their freshman year at Gold Coast Prep, and Shaila's shadow has hung over Jill and her friends ever since. But now they're seniors, and they've all been accepted into Gold Coast's elite secret society, the Players. It's time to lay Shaila's ghost to rest and have the best year ever, but new evidence emerges that calls Graham's guilt into question and threatens to reveal long-held secrets. Jessica Goodman's debut mystery is a true page-turner, but it's her exploration of Gold Coast's high-achieving, socioeconomically stratified culture that sets They Wish They Were Us apart on the shelf.
---
Prelude for Lost Souls by Helene Dunbar
Sourcebooks Fire | August 4
Here's an approximate recipe for Helene Dunbar's Prelude for Lost Souls: Start with one cup of 300 Fox Way, the house of psychics from Maggie Stiefvater's Raven Cycle, sifted, and add three tablespoons of Stars Hollow, the quirky small-town setting of "Gilmore Girls." Gently fold in the should-I-stay-or-should-I-go dilemma that faces many of the young men in the later seasons of "Friday Night Lights." In a separate bowl, combine one stick of the musical prodigy protagonist of Jennifer Donnelly's Revolution, melted and cooled, with one teaspoon of the way you feel after you finish listening to Ludovico Einaudi's solo piano masterpiece "Oltremare." Stir until smooth; add a pinch of the first chill in the autumn air at night, to taste. Bake at 375 F in a greased 9- by 13-inch pan for 30 to 35 minutes, until golden brown on top. Let cool before slicing, and try to resist reading the whole thing in one sitting.
---
Sia Martinez and the Moonlit Beginning of Everything by Rachel Vasquez Gilliland
Simon Pulse | August 11
I've become somewhat desensitized to the "X meets Y" elevator pitch for books, but I sat up a little straighter when I read a description of Raquel Vasquez Gilliland's debut novel that called it Aristotle & Dante Discover the Secrets of the Universe meets Roswell by way of Laurie Halse Anderson. Having gotten a sneak peek at the book itself, here's all I want to tell you, because I really want you to discover it for yourself: This book is like nothing I have ever read and everything I hoped it would be, in the absolute best way possible.
---
Shop our full list of summer's most anticipated YA books here. Every purchase made through Bookshop.org benefits independent bookstores.