Congratulations to the winners of the 2020 Audie Awards! We're sending all the love to the incredible authors, narrators, publishers and producers who bring audiobooks to life, who make sure we don't have to endure a single waking moment without great literature. Check out some highlights below, and see the full list of winners and finalists here.
---
AUDIOBOOK OF THE YEAR
The Only Plane in the Sky: An Oral History of 9/11 by Garrett M. Graff, narrated by a full cast with Holter Graham (Simon & Schuster Audio)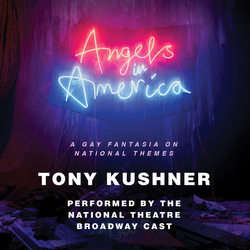 AUDIO DRAMA
Angels in America: A Gay Fanasia on National Themes by Tony Kushner, performed by the cast of the 2018 Tony Award-winning Broadway revival, including Andrew Garfield, Nathan Lane, Susan Brown, Denise Gough, Beth Malone, James McArdle, Lee Pace, Nathan Stewart-Jarrett, Bobby Cannavale & Edie Falco (Simon & Schuster Audio)
NARRATION BY AUTHOR OR AUTHORS
With the Fire on High, written and narrated by Elizabeth Acevedo (HarperAudio)
BEST FEMALE NARRATOR
Nothing to See Here by Kevin Wilson, narrated by Marin Ireland (HarperAudio)
BEST MALE NARRATOR
Kingdom of the Blind by Louise Penny, narrated by Robert Bathurst (Macmillan Audio)
FICTION
City of Girls by Elizabeth Gilbert, narrated by Blair Brown (Penguin Audio)
LITERARY FICTION & CLASSICS
The Water Dancer by Ta-Nehisi Coates, narrated by Joe Morton (Random House Audio)
THRILLER / SUSPENSE
The Institute by Stephen King, narrated by Santino Fontana (Simon & Schuster Audio)
ROMANCE
Devil's Daughter by Lisa Kleypas, narrated by Mary Jane Wells (HarperAudio)
FANTASY
The Ten Thousand Doors of January by Alix E. Harrow, narrated by January LaVoy (Hachette Audio)
SCIENCE FICTION
Emergency Skin by N.K. Jemisin, narrated by Jason Isaacs (Brilliance Publishing)
SHORT STORIES / COLLECTIONS
Full Throttle by Joe Hill, narrated by a full cast, including Zachary Quinto, Wil Wheaton, Kate Mulgrew, Neil Gaiman, Ashleigh Cummings, Joe Hill, Laysla De Oliveira, Nate Corddry, Connor Jessup, Stephen Lang and George Guidall (HarperAudio)
NONFICTION
Grace Will Lead Us Home by Jennifer Berry Hawes, narrated by Karen Chilton and Jennifer Berry Hawes (Macmillan Audio)
AUTOBIOGRAPHY / MEMOIR
Becoming, written and narrated by Michelle Obama (Random House Audio)
HISTORY / BIOGRAPHY
American Moonshot by Douglas Brinkley, narrated by Stephen Graybill (HarperAudio)
MIDDLE GRADE
Charlotte's Web by E.B. White, narrated by a full cast with Meryl Streep (Listening Library)
---
See the full list here, where you can listen to clips of all the award winners!