So . . . how was everyone's holiday? (If you are at all cognizant of romance news online, you know what I'm talking about.) If for no reason at all, nothing in particular, you find yourself desperate for news of good things to come from the romance world in 2020, please dive into this extremely long and gorgeous list of the books we're most looking forward to.
---
The Prince of Broadway by Joanna Shupe
Avon | December 30
Shupe returns with another Gilded Age romance—and early reviews say this is her best one yet.
---
Love Lettering by Kate Clayborn
Kensington | December 31
If you've been lucky enough to read Clayborn's NYC-set contemporary romance, I'll let you collect yourself, maybe wipe away a tear or two. As for the rest of you, know that a truly wonderful, empathetic love story awaits you.
---
Headliners by Lucy Parker
Carina | January 28
Two rival TV presenters. Forced to work together on a morning show. Written by the brilliant Lucy Parker. That's all we need to know.
---
The Worst Best Man by Mia Sosa
Avon | February 4
Sosa's series kickoff has a gold standard rom-com premise—a wedding planner has to team up with a man she absolutely hates, the brother of the man she almost married, in order to land a life-changing business deal.
---
Chasing Cassandra by Lisa Kleypas
Avon | February 18
Kleypas the Great is back with another delicious, astonishingly good historical romance. I snapped this one up like the perfect little cream puff it is.
---
Undercover Bromance by Lyssa Kay Adams
Berkley | March 10
This book is even funnier that Adams' debut, The Bromance Book Club. Case in point? It contains a scene where the all-male book club goes to buy romance novels in public to defy the patriarchy. Sold.
---
The Honey-Don't List by Christina Lauren
Gallery | March 24
We all love Christina Lauren, so it's basically a given that their next book shows up on this list. But I'm particularly excited for this one because of the delightful premise—the assistants for a HGTV-esque couple (basically fictional Chip and Joanna Gaines) fall in love while trying to keep their sanity and keep the couple from breaking up.
---
Badger to the Bone by Shelly Laurenston
Kensington | March 31
Honey badger shifter Max MacKilligan is insanely badass even for a Laurenston heroine, and that is really saying something. Prepare for absolute insanity.
---
To Have and to Hoax by Martha Waters
Atria | April 7
I audibly cackled when I read the premise for this historical romance, and it is my greatest wish that it lives up to its potential. To wit: an estranged Regency couple feign an increasingly ridiculous list of accidents and illnesses to get attention/punish each other/maybe fall back in love?
---
The Happy Ever After Playlist by Abby Jimenez
Forever | April 14
Jimenez's The Friend Zone was a surprise hit last year, and her next novel, wherein a mischievous dog brings together two strangers, is both very sweet and effortlessly funny.
---
Girl Gone Viral by Alisha Rai
Avon | April 21
Former model turned reclusive tech investor Katrina King was my favorite part of Rai's last novel, The Right Swipe, and this book is inspired by the absolutely absurd Plane Bae live tweet debacle of 2018.
---
Island Affair by Priscilla Oliveras
Zebra | April 28
A fake relationship romance set in the gorgeous locale of Key West, from the always solid Oliveras. Sounds like a pitch-perfect beach read to me!
---
The Rakess by Scarlett Peckham
Avon | April 28
It's no surprise that Peckham was snapped up by Avon after her fabulous Secrets of Charlotte Street series. If you haven't had the pleasure of reading one of Peckham's romances, get ready for a truly delicious blend of angst, wit and alpha heroines.
---
Deal with the Devil by Kit Rocha
Tor | May 12
Long live the fantasy romance! My nerdy heart is full to bursting that this subgenre seems to be on the rise, and Kit Rocha is going to give me the greatest present of all—a heroine who is a mercenary librarian. I don't really even know what that means, and I don't even care.
---
Real Men Knit by Kwana Jackson
Berkley | May 19
I mean, do you need more than the title? Fine—four brothers inherit their adoptive mother's knitting shop in Harlem, and one of them teams up with an employee to keep the store open.
---
Recipe for Persuasion by Sonali Dev
William Morrow | May 26
This will be Dev's second take on an Austen classic after last year's Pride, Prejudice, and Other Flavors, but more importantly this book will take place in the same universe as that last one, finally fulfilling my dreams of a shared Austen universe.
---
Something to Talk About by Meryl Wilsner
Berkley | May 26
Red, White & Royal Blue notwithstanding, LGBTQ romances are still rare in print releases. Let's hope Wilsner's debut, a Hollywood-set romance between a showrunner and her assistant, is a sign of more to come.
---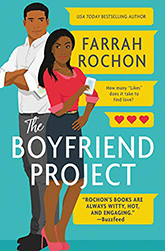 The Boyfriend Project by Farrah Rochon
Forever | June 9
Like Rai's Girl Gone Viral, Rochon's start to a new series also has a genius, ripped-from-the-headlines premise: three women become friends after realizing they've all been dating the same man, the discover of which goes viral on Twitter. They make a pact to stay friends and focus on themselves for six months, but what happens when one of them, Samiah Brooks, meets a guy who could be The One?
---
Conventionally Yours by Annabeth Albert
Sourcebooks Casablanca | June 2
The extremely popular Albert makes her print debut with this utterly wonderful idea for a contemporary romance, wherein two rival fans get stuck together on a road trip to a convention.
---
Take a Hint, Dani Brown by Talia Hibbert
Avon | June 23
I loved Get a Life, Chloe Brown so much that I would buy Talia Hibbert's next novel sight unseen. Even the synopsis of her next book is hilarious and charming. A select quote: "the walls around his heart are as thick as his . . . um, thighs." Never change, Talia.
---
Party of Two by Jasmine Guillory
Berkley | June 23
A lawyer starts secretly dating a famous politician, and there will competence and food porn aplenty, because it's a Jasmine Guillory romance.
---
Daring and the Duke by Sarah MacLean
Avon | June 30
MacLean likes herself a challenging, seemingly irredeemable hero, and she really has her work cut out for her with this one. Ewan, the Duke of Marwick, has loomed over the Bareknuckle Bastard series, threatening pretty much every other character with grievous bodily harm in his efforts to get revenge/not come to terms with the fact that he's acting like a jerk. I have no idea how MacLean is going to convince us all that he deserves Grace Condry, the swashbuckling, brothel-owning queen of my heart, but I'm very excited to find out.
---
The Devil of Downtown by Joanna Shupe
Avon | June 30
It's another Joanna Shupe Gilded Age romance! Hooray! And this time it's between a gangster and a philanthropic heiress.
---
You Had Me at Hola by Alexis Daria
Avon | July 7
Daria's hotly anticipated print debut has an insanely gorgeous cover and a glamorous telenovela setting. July cannot come soon enough.
---
The Care and Feeding of Waspish Widows by Olivia Waite
Avon Impulse | July 14
Waite's debut, The Lady's Guide to Celestial Mechanics, was a lushly written, deeply nerdy joy, so I was already excited for her next romance without even having seen a synopsis. But now I have and all I can do is shout about the highlights. Beekeeping! Satirical ballads! Naughty statues!
---
Wild Rain by Beverly Jenkins
Avon | July 28
Unconventional, kindhearted rancher Spring Lee was one of my favorite side characters in Jenkins' last series, so I am thrilled that she's going to be getting a love story of her very own this summer.
---
The Bride Bet by Tessa Dare
Avon | August 25
Prickly inventor Nicola has been engaged to a duke for 10 years, and never told any of her friends. I'm looking forward to the heroes of Dare's other Girl Meets Duke books, who have formed a hilariously over protective boy squad, attempting to protect her from her mysterious fiancé and probably getting the lecture to end all lectures from Nicola.
---
Emerald Blaze by Ilona Andrews
Avon | August 25
Andrews' Hidden Legacy series is the urban fantasy I always wanted as a shy, bookish teenager. Our heroine, Catalina, is a Siren with amazing sparkly wings that pop out when she uses her powers. A hot Italian assassin is totally into her. Her grandmother likes to fix up tanks. You get the gist.
---
Would I Lie to the Duke by Eva Leigh
Avon | August 25
As revealed on her Twitter account, Leigh's next romance will star a dirty-talking, sexually submissive duke. That's all we need to know.
---
A Rogue of One's Own by Evie Dunmore
Berkley | September 1
An aristocratic suffragette must make a deal with her nemesis in order to gain control of a publishing house in Dunmore's follow-up to her outstanding debut, Bringing Down the Duke.
---
Someone to Romance by Mary Balogh
Berkley | September 29
A new book in the Westcott series means more family drama, more buttoned-up emotions and more Austenesque joys from the always reliable Balogh.
---
Second First Impressions by Sally Thorne
William Morrow | September 29
Thorne's romances have a pitch-perfect blend of snarky wit and deep emotion, and the plot of her latest book sounds like a perfect match for her gifts as an author. The son of a wealthy property developer, Teddy Prescott is an underachieving, fairly hedonistic bad boy. But then he finds his true calling as a personal assistant to two elderly women, and maybe true love with the beautiful manager of their retirement home.