There is no happiness quite like going to the bookstore or library and picking up the sequel to a book you love. Your favorite YA stories continue in these 20 YA books hitting the shelves in 2020, so use this guide to mark your calendar!
---
All the Days Past, All the Days to Come by Mildred D. Taylor
Viking | January 7
There are not enough adjectives to convey the full magnitude of the conclusion of Mildred D. Taylor's Logan family saga, but here are a few: Groundbreaking, award-winning, bestselling, decades in the making. Taylor began chronicling the Logan family's story 45 years ago; 10 books later, the story comes to an end with All the Days Past, All the Days to Come, which will follow heroine Cassie Logan all the way up to the 21st century.
---
Shadowshaper Legacy by Daniel José Older
Arthur A. Levine | January 7
Sierra's adventures conclude in the final book of Daniel José Older's gripping Shadowshaper Cypher trilogy.
---
A Heart So Fierce and Broken by Brigid Kemmerer
Bloomsbury | January 7
Brigid Kemmerer's Beauty and the Beast-inspired A Curse So Dark and Lonely was one of the most deliciously romantic fantasy novels of 2019. She returns to the world of Emberfall in the sequel, A Heart So Fierce and Broken.
---
The Night Country by Melissa Albert
Flatiron | January 7
Readers have been eager to return to the dark and magical world of The Hazel Wood, and The Night Country will reveal the next chapter in the lives of Alice Proserpine and Ellery Finch.
---
ALSO IN BOOKPAGE: The most anticipated YA books of 2020.
---
The Map From Here to There by Emery Lord
Bloomsbury | January 7
It's been a wait of four long years for this sequel to Emery Lord's quietly wonderful The Start of Me and You. Lord is one of the best chroniclers of contemporary teen life writing today, so I have no doubt this book will be more than worth the wait.
---
One of Us Is Next by Karen M. McManus
Delacorte | January 7
Karen M. McManus returns to the scene of the crime with this follow-up to her page-turning bestselling thriller, One of Us Is Lying.
---
The Conference of the Birds by Ransom Riggs
Dutton | January 14
Ransom Riggs continues his bestselling Miss Peregrine's Peculiar Children series with this fifth title, which will continue to explore the story of Jacob Portman and the world of the peculiars in America.
---
The Hand on the Wall by Maureen Johnson
Katherine Tegen | January 21
Maureen Johnson's Truly Devious trilogy comes to its page-turning finale with The Hand on the Wall. You'll laugh. You'll gasp. But will you solve the mystery before Stevie? There's only one way to find out!
---
The Storm of Life by Amy Rose Capetta
Viking | January 28
This sequel to The Brilliant Death returns readers to the kingdom of Vinalia, inspired by medieval Italy, and the adventures of Teo and Cielo as they attempt to take down the cruel and cunning Capo.
---
ALSO IN BOOKPAGE: The most anticipated YA debuts of 2020.
---
Deathless Divide by Justina Ireland
Balzer + Bray | February 4
Justina Ireland's Dread Nation featured one of the most irresistible premises of 2018: What if, after the Battle of Gettysburg, the dead didn't stay dead? Jane and Katherine's struggle to survive in their brave new world continues in this sequel.
---
The King of Crows by Libba Bray
Little, Brown | February 4
It's been eight long years since Printz Medalist Libba Bray published The Diviners, which to this day is the only book that's ever creeped me out so much that I couldn't read it after dark. She brings the four-book series to a thrilling and epic conclusion with The King of Crows, in which the future of the world itself may be at stake.
---
We Unleash the Merciless Storm by Tehlor Kay Mejia
Katherine Tegen | February 25
Tehlor Kay Mejia's We Set the Dark on Fire was one of 2019's most gripping and accomplished debut novels, so Mejia has set a high bar for this sequel. I have every confidence she'll soar over it.
---
Chain of Gold by Cassandra Clare
Margaret K. McElderry | March 3
Blockbuster author Cassandra Clare welcomes her legions of readers back to the world of Shadowhunters with Chain of Gold, the first book in a brand-new series called The Last Hours.
---
Ruthless Gods by Emily A. Duncan
Wednesday | April 7
I'm sure that I've encountered cliffhanger endings as brutal as the one in Emily A. Duncan's debut novel, Wicked Saints, but none are coming to mind right now. I'm on the edge of my seat to find out what will happen to Nadya, Serefin and Malachiasz in this sequel—and hoping Duncan doesn't leave me hanging again until the third and final book in the trilogy.
---
The Deck of Omens by Christine Lynn Herman
Disney-Hyperion | April 21
Fans of spooky supernatural tales ate up Christine Lynn Herman's 2019 debut, The Devouring Gray. Herman returns to the small town of Four Paths with this sequel.
---
The Ballad of Songbirds and Snakes by Suzanne Collins
Scholastic | May 19
It's hard not to overstate the impact that Suzanne Collins' Hunger Games trilogy had on YA and popular culture writ large. A decade after concluding the story of Katniss Everdeen, Collins will return readers to the world of Panem on the morning of the reaping ceremony for the 10th Hunger Games. Collins' publisher, Scholastic, is keeping further details about The Ballad of Songbirds and Snakes tightly under wraps, but it seems fair to say that it's sure to be one of the most discussed books of the year.
---
Igniting Darkness by Robin LaFevers
HMH | June 2
Raise your hand if you enjoy any of the following in a book: little-known periods of history, kick-butt assassins filled with righteous vengeance, heart-stopping romances (sometimes literally), complicated imperfect girls who look out for each other. If you raised your hand and you haven't read Robin LaFevers' His Fair Assassin trilogy and its companion duology, Courting Darkness, boy do you ever have a treat waiting for you! Catch up on your reading to get ready for Igniting Darkness before it is published in June.
---
10 Things I Hate About Pinky by Sandhya Menon
Simon Pulse | June 30
We are living in a new golden age of YA romantic comedies, and When Dimple Met Rishi author Sandhya Menon is among its very best voices. Menon returns to Dimple and Rishi's group of friends for 10 Things I Hate About Pinky, which employs one of my favorite rom-com tropes ever: fake dating.
---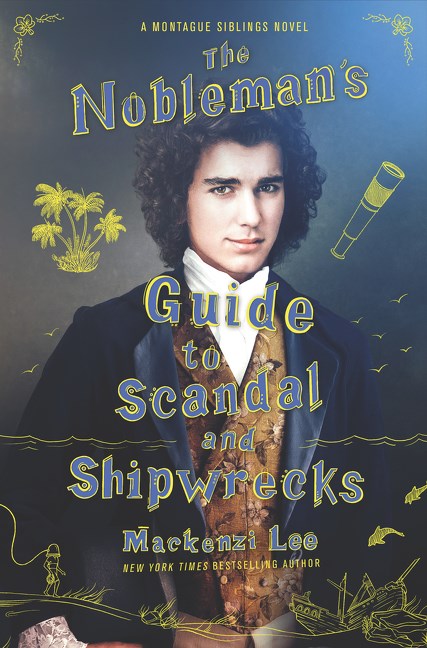 The Nobleman's Guide to Scandal and Shipwrecks by Mackenzi Lee
Katherine Tegen | August 18
Mackenzi Lee revisits the Montague family, whose elder siblings' stories she chronicled in A Gentleman's Guide to Vice and Virtue and A Lady's Guide to Petticoats and Piracy, for this third but hopefully not final volume, which will follow Monty and Felicity's younger brother, Adrian.
---
Return of the Thief by Megan Whalen Turner
Greenwillow | October 6
In my experience, there are two kinds of YA fantasy readers: those who have not read Megan Whalen Turner's Queen's Thief series, which began with 1996's Newbery Honor book The Thief and continued in five more glorious volumes, and those who firmly assert that they're among the best fantasy novels ever written. I'm in the latter group, which is why the thought that Return of the Thief will bring the story of Eugenides to a close fills me with a bittersweet longing comparable to the way I felt the night before the publication of Harry Potter and the Deathly Hallows or the release of the final episode of "Game of Thrones." I'm desperate to know how the story will end, but also desperate for it to not be over.