Bestselling author Karen White knows how it is: We all love reading, but that love can sometimes be indirectly proportional to the amount of time we have available to read. Fortunately, we have audiobooks.
---
I was raised with three brothers. All I ever asked my parents for was for a sister to share the twin canopy beds my mother had placed in my bedroom when she was pregnant with baby number four. And then Steven was born.
My nickname growing up was Blarin' Karen because all I did was scream as my brothers chased me with an insect or reptile or other vile objects. When, at age 9, a librarian placed Nancy Drew's The Secret of the Old Clock into my hands—my first book ever—she changed my life. I suddenly had something with which to occupy myself for endless hours while hiding from my brothers. A voracious reader was born.
For the duration of my childhood and into my adult years, I always had my nose stuck in a book. Then I became a mother. My need to read was still strong, but I no longer had the time to read anything else besides Goodnight Moon and Where the Wild Things Are. Great literature, yes, but I missed my books and the adventures we'd go on together.
A friend suggested I try audiobooks. There were times when I was alone in my car after preschool drop-off or folding laundry or exercising—activities during which I could multitask by listening to an audiobook, but did I want to? Wasn't being read aloud to something for children?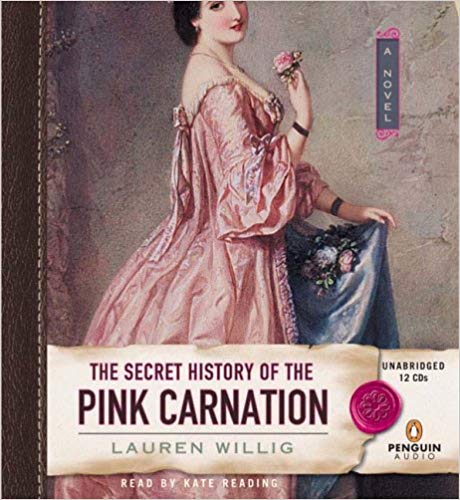 But I was desperate for books and willing to give it a try. So I ordered an audiobook catalog (it was the early 1990s, before downloads or online ordering was a Thing) and called to place my first order. I wish I could tell you what the book was, but I no longer remember. What I do remember is getting a box in the mail containing a thick cassette case with about 24 cassettes. I didn't realize it at the time, but my life was about to change.
Suddenly, I looked forward to folding laundry or unloading the dishwasher. I soon upgraded to a Discman and no longer had to lug all those cassettes, just a rather large and square CD binder. I found myself running a little farther and looking forward to doing errands in my car. It was problematic changing CDs while driving, but I somehow managed without veering off the road. I sometimes found myself driving the long way home just so I'd have more time to listen.
Audiobooks gave me back my reading life and enabled me to find new authors. One of my earliest audiobooks was The Secret History of the Pink Carnation by Lauren Willig—a new author to me at the time—and read by Kate Reading. I was thrilled to learn the whole series existed on audio!
---
RELATED CONTENT: BookPage's favorite audiobooks of 2019
---
This is the part where Nancy Drew saved my life again. I am like a baby in a car when it comes to falling asleep. My husband hates traveling with me because he's always the driver; I'm usually passed out by the time we get to the end of the driveway. Even when I'm the driver, it's just as bad. There's something about the lulling rhythm of tires against asphalt. Happily, I rarely have had to drive long-distance so it hasn't a problem. Until my publisher started sending me out on book tour.
The events and meeting readers was wonderful. The driving between tour stops not so much. I'd drink gallons of coffee, blast myself with icy cold air, even loudly sing opera, but nothing kept me reliably alert. Neither did my trusty audiobooks.
That's when I remembered Nancy Drew. I recalled how as a child I'd stay up long past bedtime, regardless of how tired I was, because I couldn't stop reading. I needed to know what happened, and so I kept turning the pages until I'd reached the end where Nancy figured out all the clues and solved another mystery.
I went back to that audiobook catalog and ordered a mystery—possibly a Lee Child, something I hoped would have the equivalent effect as reading a Nancy Drew book past bedtime. And it worked! Instead of exhaustion, I found myself on high alert, waiting for the proverbial turn of the page. I missed highway exits, sure, but I was alert enough that I could find my way back on track. The important part was that I no longer dreaded getting behind the wheel for an extended length of time.
All these years later, I'm still addicted to audiobooks. Except now I'm a little more high-tech than my bright red Discman. I now have an iPhone! And Bluetooth! I download books (on an alarmingly regular basis) and listen everywhere I have a speaker or my earbuds, which varies from walking the dogs to taking a shower and everything in between.
As I type, I've already loaded up The Broken Girls by Simone St. James (read by Rebecca Lowman) and Big Little Lies by Liane Moriarty (read by the amazing Tamara Lovatt Smith) for my next long drive. I actually find myself looking forward to the endless road ahead.
And all because of Nancy Drew.
---
Karen White brings holiday cheer, buried treasure and a ghostly past to her lastest novel, The Christmas Spirits on Tradd Street, the sixth book in her Tradd Street series. Fortunately for the busiest readers, it's available on audiobook from Penguin Audio, read by Aimée Bruneau!
Visit www.karen-white.com, and find the author on Facebook, Twitter and Instagram.
Author photo by Marchet Butler