The winter holidays are a time when traditions feel especially significant. The days, short and cold, keep us indoors. We're surrounded by people we may not see other times during the year. As another year winds to a close, our thoughts turn to reflections on the past and hopes for the future.
Although my family has its share of holiday traditions, the one I appreciate most now that I'm an adult is one that didn't last very long. My little sister is five years younger than me, so my mom had a golden window of just a few years when she could read aloud to us both. Each winter, we'd go to the library and check out a big stack of holiday books, and she would read one each night before we went to bed. I suspect some of the appeal to kid-Stephanie was the postponement of bedtime, but now that I'm grown, I look back on those nightly occasions and feel all the things literacy experts say reading together with children should instill: Pleasure in the act of discovering a story together, affirmation that time spent together was valued, and a love of books and reading.
But also? A belief that there is something deeply powerful about gathering together on the shortest, coldest, darkest nights of the year to share stories.
There's no time like the present to start a new tradition in your family. Below I've gathered some of my favorite winter holiday picture books, with input from my fellow editors on their treasured titles.
---
The Birds of Bethlehem by Tomie dePaola
This tender tale provides a bird's-eye view of the Nativity tale with a distinct sense of quiet drama, accompanied by dePaola's rich illustrations.
---
The Nutcracker in Harlem by T.E. McMorrow, illustrated by James E. Ransome
An inspired reenvisioning of E.T.A. Hoffman's beloved story, The Nutcracker in Harlem is illustrated by James E. Ransome in vibrant watercolors that brim with the mystery of Christmas.
---
Auntie Claus by Elise Primavera
My mother had an entire box of Christmas picture books, and I remembered exactly none of them until I saw the jacket of Auntie Claus recently and had a full-on Proustian moment. I loved this book as a child, even while being faintly frightened by it, most likely because of how impossibly fabulous the title character is. The mysterious Auntie Claus, who disappears on a "business trip" every year from Halloween to Valentine's Day, is old Hollywood glam by way of Dr. Seuss. Sophie, her little brat of a niece, doesn't know how good she has it—which is, of course, the point of this cheeky, whimsically illustrated tale. —Savanna, Assistant Editor
---
Red & Lulu by Matt Tavares
This story of two cardinals who live together in a evergreen tree until they are suddenly separated is illustrated with detailed, epic spreads that convey the scope of their quest to be reunited.
---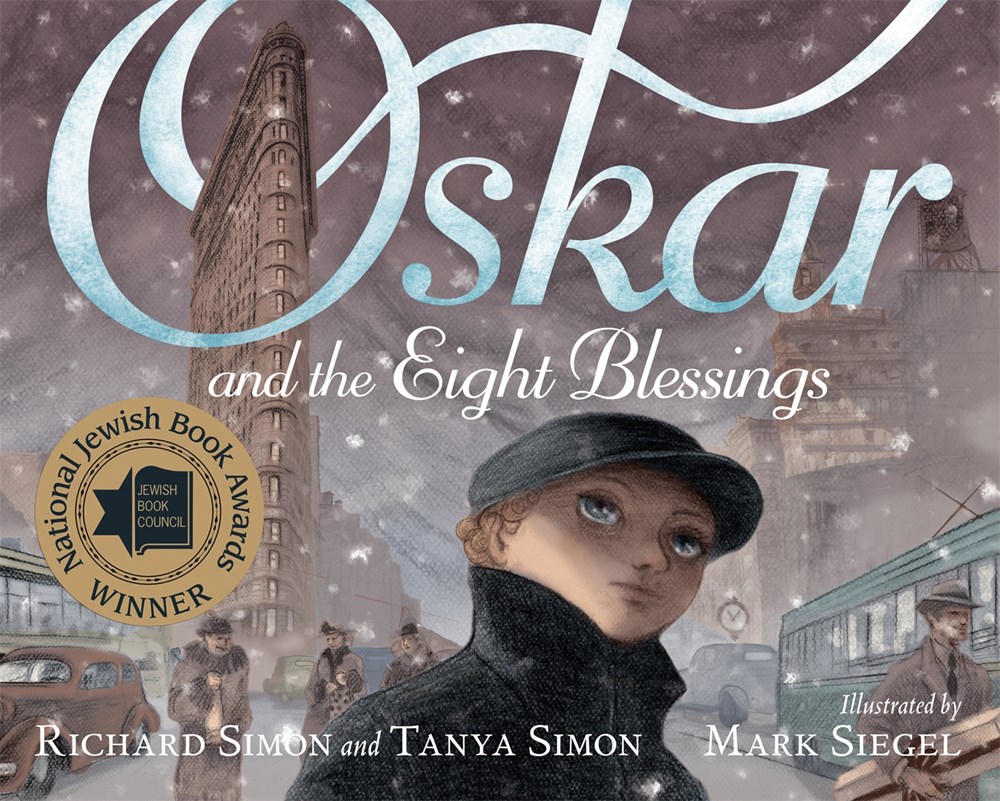 Oskar and the Eight Blessings by Richard Simon and Tanya Simon, illustrated by Mark Siegel
Oskar, a refugee from Nazi Germany, must walk nearly the length of Manhattan to get to his aunt's house but is helped on his way by eight acts of kindness from strangers in this gorgeous and moving historical tale.
---
The Sweet Smell of Christmas by Patricia Scarry, illustrated by J.P. Miller
My favorite part of Christmas is bringing out all the cherished keepsakes I haven't seen since the previous year—the mug with a ceramic teddy bear hiding inside, whose head pokes out once you drink enough hot chocolate; the glass kitten ornament my Grandma gave me. But my favorite keepsake of all is The Sweet Smell of Christmas, about a young bear taking in the season's sights and smells on Christmas Eve. As Little Bear inhales the aroma of his mother's apple pie, their crisp pine tree, the bright orange in his stocking, I scratch and sniff each treat with him—a ritual I performed as a child until the stickers were scraped and faded. Luckily, you can order replacements for these beloved scented stickers, and as an adult I have—twice. —Christy, Associate Editor
---
Pick a Pine Tree by Patricia Toht, illustrated by Jarvis
In buoyant rhyming stanzas, Toht recounts one family's tree's journey from selection at the tree farm to being crowned with a star. Jarvis' bright illustrations capture the merriment of the occasion.
---
Sleep Tight Farm: A Farm Prepares for Winter by Eugenie Doyle, illustrated by Becca Stadtlander
Imagine Donald Hall's classic Ox-Cart Man crossed with the ritualized refrain of Margaret Wise Brown's Goodnight Moon and you'll come close to the quiet appeal of this tale of a farm family preparing for winter.
---
Who Built the Stable? by Ashley Bryan
Ashley Bryan's lushly illustrated poem explores its titular question in simple text that will encourage young readers to imagine some of the unseen players in the nativity story.
---
Hanukkah Hamster by Michelle Markel, illustrated by André Ceolin
When a cab driver discovers a little hamster left behind in his cab, he tries to find its owner but, in the meantime, begins his no-longer-solitary Hanukkah celebrations in this heartwarming tale of unexpected friendship. Did I mention he names the hamster Chickpea?
---
The Polar Express by Chris Van Allsburg
There is a reason Chris Van Allsburg's wintry tale is widely considered a classic: It's absolutely perfect, from its large-scale, expressive images to its gently nostalgic narrative voice. It is the only book on this list to have won a Caldecott Medal, and you'll see why when you read it.
---
The Wild Christmas Reindeer by Jan Brett
This list could very easily be composed of about 50% Jan Brett titles, but I'm limiting myself to just one, because it was far and away my favorite as a child. The Wild Christmas Reindeer is the story of a girl who has one of the most enviable jobs ever: She gets to take care of Santa's reindeer. But none of her preparations for the big night are going the way she planned, and her frustration only seems to make everything worse. This fable about slowing down and listening to what's really important is accompanied by Brett's characteristically detailed illustrations. I never did get a pet reindeer for Christmas, but this book was the next-best thing.
---
The Christmas Eve Tree by Delia Huddy, illustrated by Emily Sutton
This distinctive story of a homeless boy who rescues a forlorn little fir tree fated for the trash is a testament to the way Christmas can create a sense of community.
---
Great Joy by Kate DiCamillo, illustrated by Bagram Ibatoulline
This masterful fable of compassion and, yes, joy from Newbery Medalist Kate DiCamillo features exquisite and luminous illustrations by Bagram Ibatoulline that capture both the chill of snowy nights and the warmth we find when we open our hearts to others.
---
Last Stop on the Reindeer Express by Maudie Powell-Tuck, illustrated by Karl James Mountford
Featuring dazzling illustrations, interactive elements and a plucky heroine, this story of a girl determined to deliver a special card to her grandfather in time for Christmas is a thrilling holiday adventure.
---
Li'l Rabbit's Kwanzaa by Donna L. Washington, illustrated by Shane W. Evans
This touching story is a warm and wonderful introduction to the Nguzo Saba (the seven principles of Kwanzaa). Readers join Li'l Rabbit on his quest to find a special treat for Granna Rabbit so she can celebrate the Karamu feast.
---
Before Morning by Joyce Sidman, illustrated by Beth Krommes
This contemplative, evocative poem is illustrated by Caldecott Medalist Beth Krommes with spellbinding images full of texture and pattern. It's a sweet but never saccharine tale of family and the wish for snow.
---
A Hat for Mrs. Goldman by Michelle Edwards, illustrated by G. Brian Karas
Sophie's neighbor, Mrs. Goldman, is always knitting hats for others and never keeps any for herself, so Sophie sets out to knit her a hat all by herself in this charming story that will delight anyone who has ever tried to make something special for a friend.
---
Christmas Is Here by Lauren Castillo
This warm and artful story follows a young family as they walk through a live nativity and imagine the story for themselves. Lauren Castillo's ink and watercolor illustrations are fresh, simple and accessible, making this a wonderful introduction to the nativity narrative.
---
The Little Reindeer by Nicola Killen
This jolly tale delivers a sleighful of Christmas charm as little Ollie goes for a ride on the back of a reindeer through a sky full of stars. Nicola Killen's illustrations feature fun cutouts that give readers a peek of what's on the next page.
---
All-of-a-Kind Family Hanukkah by Emily Jenkins, illustrated by Paul O. Zelinsky
Based on Sydney Taylor's classic tales of Jewish life on the Lower East Side, this heartfelt family story features illustrations by Caldecott-winning illustrator Paul O. Zelinsky and brims with old-fashioned warmth.
---
The Story of Holly & Ivy by Rumer Godden, illustrated by Barbara Cooney
A few years ago, The Atlantic published an article about illustrator Barbara Cooney, and I think it was shared with me by close to 10 people. "Have you seen this?" they'd say, or, "I just read the most interesting thing about a picture book illustrator." To all of them I wanted to say, "Welcome to the Barbara Cooney Fan Club. I'm Steph, and I'll be your membership liason." During her long career, Cooney won two Caldecott Medals (for Chanticleer and the Fox and Ox-Cart Man) and a National Book Award (for Miss Rumphius), and her deceptively simple and painterly illustrations have been among my favorites since my elementary school librarian, Mrs. Arnold, read Ox-Cart Man to my kindergarten class during storytime. The Story of Holly and Ivy is too long to read aloud in one sitting, so you'll want to spread it out over a couple of nights, depending on attention spans and your own vocal endurance. Don't blame me, though, if you don't want to stop reading this classic story of unforeseen gifts once you start.