It's been a fantastic year already, but there's still more to come for the good citizens of Romancelandia. Here are the 11 titles that are already making waves.
---
Sapphire Flames by Ilona Andrews
Avon | August 27
The top-notch Hidden Legacy series continues, but with a new couple at its heart. Andrews is once again using the three-book structure that made Nevada and Rogan's story so rich, but this time with Nevada's younger sister Catalina. A Siren who's been brought up to fear and avoid using her powers, Catalina is now the head of her family and dealing with a magical conspiracy and a very handsome Italian assassin.
---
How to Love a Duke in Ten Days by Kerrigan Byrne
St. Martin's | August 27
I believe it was on Smart Bitches where I first saw the term crazysauce, and I don't know how I went through life explaining my reading tastes without it. Crazysauce simply means anything that is so outlandish, so ridiculous that it goes all the way around and ends up being great by sheer nerve. Byrne is one of the finest brewers of crazysauce working in the genre today—her books are high drama and high romance, reaching gothic heights of sensuality and old-fashioned storytelling. Balancing her signature excitement with some very weighty themes, How to Love a Duke in Ten Days looks to be her most ambitious novel yet.
---
Well Met by Jen DeLuca
Berkley | September 3
An enemies-to-lovers romance set at a Renaissance Faire—I've sold a lot of you just by telling you the premise (it certainly sold me), but in case you're on the fence, know that DeLuca's lovely debut is very sweet, very smart and takes place at a charmingly low-key, low-budget local fair.
---
No Judgments by Meg Cabot
William Morrow | September 24
Yes, the beloved author of The Princess Diaries is writing a romance! (Also, look at that adorable cover—wow.) It's a small-town romance that's anything but idyllic. Little Bridge Island is in the path of a massive hurricane, and Bree Beckham is out to save the island's pets with the help of her boss' very handsome son.
---
Royal Holiday by Jasmine Guillory
Berkley | October 1
A new Jasmine Guillory is always exciting, but this latest romance looks particularly delightful! Inspired by Meghan Markle's mother, Doria Ragland, Royal Holiday will follow 50-something Vivian Forest as she falls in love while accompanying her stylist-to-the-royals daughter to a British palace for Christmas.
---
The Widow of Rose House by Diana Biller
St. Martin's | October 8
This gothic historical has rapturous early reviews on Goodreads and sounds like a total blast. Alva Webster is trying to restore her estate and her reputation, and so she turns to an eccentric genius to help dispell rumors that the building is haunted.
---
Twice in a Blue Moon by Christina Lauren
Gallery | October 22
The beloved author duo consistently turns out smart, funny and extremely charming contemporary romances. Their latest seems to be a bit more contemplative than the summer romp that was The Unhoneymooners, and follows an up-and-coming actress as she unexpectedly reconnects with her first love.
---
The Bromance Book Club by Lyssa Kay Adams
Berkley | November 5
A secret romance book club? Sure. A secret romance book club composed of the most powerful men in Nashville? Shut up and take my money.
---
Get a Life, Chloe Brown by Talia Hibbert
Avon | November 5
Hibbert's been a self-published gem for years due to her hilarious, very sexy contemporaries. Get a Life, Chloe Brown is her first novel with a traditional publishing house. It follows a chronically ill computer geek as she sets out to broaden her life experiences and finally move out of her family's home.
---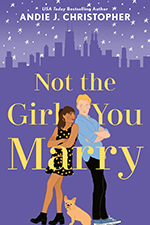 Not the Girl You Marry by Andie J. Christopher
Berkley | November 12
This millennial take on How to Lose a Guy in 10 Days genderswaps the roles—this time, it's the guy who will be trying to lose the girl, and the girl who needs to keep dating the guy.
---
My Fake Rake by Eva Leigh
Avon | November 26
Is there anyone better at twisting the tropes of historical romance than Leigh? Her latest takes the rake archetype and the somewhat dusty Pygmalion plot and smashes them together. Lady Grace Wyatt needs a fake fiancé, so she turns to her fellow shy academic Sebastian and attempts to transform him from a modest anthropologist to a dashing and dangerous rake. And of course they fall in love, and it will all be very hot and smart and snarky and I can't wait.