Ah, February. Otherwise known as my month-long bacchanal of overpriced chocolate, books with kissing in them and movies with kissing in them. With the steadily increasing popularity of the romance genre, I bet a lot of people will be either picking up their first romance this month or exclusively reading books that end with an HEA (that's Happily Ever After for you newbies). Therefore, I am here to help you coordinate your reading and watching efforts with this list of recommendations based on beloved romantic comedies!
---
For fans of . . . The Princess Bride (1987)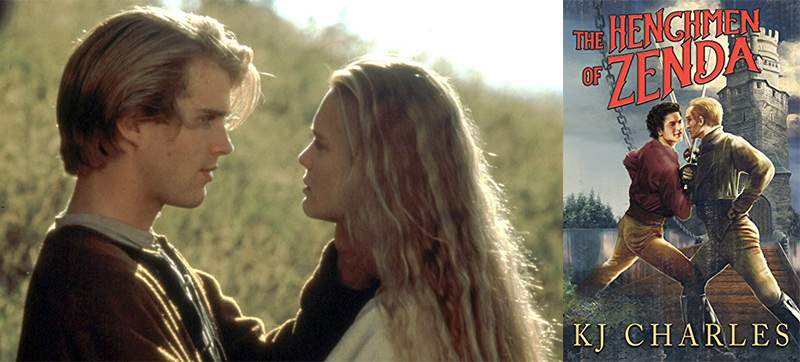 The Henchmen of Zenda is KJ Charles' recent queer take on the 1894 adventure novel The Prisoner of Zenda, which is absolutely the type of story The Princess Bride was both telling and spoofing. Full of derring-do and witty repartee, The Prisoner of Zenda is also regrettably quite sexist and, if you dig just a little bit beneath its spunky surface, basically a British superiority fantasy. Leave it to Charles to turn that tale on its head and write a romance between two of Prisoner's villains that takes shots at the pitfalls of the original while still lovingly co-opting its adventurous verve. In Charles' retelling, dastardly henchman Jasper has to deal with his attraction to the charming, self-centered Rupert of Hentzau. Rupert is one of the most appealing antagonists ever written, and Charles clearly had an absolute ball bringing her joyously amoral version to life. The Henchmen of Zenda has snark aplenty, white-hot sex and biting feminist commentary, and I loved every page of it.
---
For fans of . . . You've Got Mail (1998)
This was an easy one—My Favorite Half-Night Stand is the latest take on the secret pen pals trope that began way back in the 1940s with the film The Shop Around the Corner and reached its adorable '90s height in You've Got Mail. Christina Lauren—the rom-com dream team made up of authors Christina Hobbs and Lauren Billings—gives this plot a friends-to-lovers twist with the tale of Millie Morris and Reid Campbell. Since they're both professors in the same close-knit group of friends, Reid and Millie decide not to pursue a relationship after unexpectedly hooking up. But soon after, both of them join the same dating app, and Millie inadvertently starts a digital relationship with Reid as "Catherine."
---
For fans of . . . Moonstruck (1987):
This movie and book matchup was a bit difficult: While romance has absolutely improved in a lot of areas, representation of older couples is not one of them. And yes, even heroines as young as Moonstruck's 37-year-old Loretta Castorini are few and far between. I was at a loss until I remembered Mary Balogh's Westcott series, which not only features two older heroines but also has similarly close-knit family dynamics (and ensuing drama). Someone to Care's Viola Kingsley is a somewhat disgraced 40-year-old widow who's experiencing the joys of full intimacy and romantic love for the first time, and Someone to Trust's Elizabeth Overfield defies convention to be with the younger man who adores her, overcoming her own fears from a previous abusive marriage in the process.
---
For fans of . . . Bridget Jones' Diary (2001):
Bridget Jones' Diary is one of my favorite rom-coms of all time because its titular character is a legitimate mess, not a studio-mandated concoction of a woman whose only flaw is that she topples over sometimes (but in a cute way). Bridget drinks and smokes a bit too much, her career is going nowhere, she jumps to conclusions about people and she has a chronic lack of self-confidence, but that doesn't mean she doesn't deserve love and happiness. Alyssa Cole's A Duke by Default has probably the best hot mess heroine I've read in a while, and like Bridget Jones, her relationship with herself is just as important as her eventual HEA.
---
For fans of . . . (500) Days of Summer (2009):
If you mention the Manic Pixie Dream Girl, this movie is sure to pop up in most people's minds as a key example, perhaps the high point of that trope. But it's also a deconstruction of it, given that one of the key problems in Tom and Summer's relationship is his inability to see her as a complex person, rather than a collection of sexy quirks. Hazel Bradford of Josh and Hazel's Guide to Not Dating is impulsive and kooky, and she knows that most men either see her as a fun fling or will eventually tire of her personality. The romance between Hazel and her good friend Josh is a deeper, more complicated version of the "free-spirited woman meets buttoned-up straight man" trope, livened up by author Christina Lauren's aces banter and simmering sexual tension.
---
For fans of . . . Breakfast at Tiffany's (1961):
I love a party girl (or boy) with a heart of gold and unforeseen depths, what can I say? But my tolerance (and ability to fast-forward) waxes and wanes for Breakfast at Tiffany's, which is fatally marred by a truly lazy, racist caricature of a performance by Mickey Rooney. The scandalous Lord Courtenay in Cat Sebastian's The Ruin of a Rake is a very Holly Golightly-esque character who finds himself turning to the prim and proper Julian Medlock when his bad reputation threatens his relationship with his beloved nephew. Like the best parts of Breakfast at Tiffany's, this is a romance between two lonely souls who don't realize how lonely they are until they fall for each other.
---
For fans of . . . Much Ado About Nothing (1993):
Much Ado basically invented the enemies-to-lovers trope, and Born to be Wilde by Eloisa James has a superb sparring pair—Lavinia Grey has been making fun of business-minded Parth Sterling for years, and he doesn't make a secret of how frivolous and shallow he finds her. Of course, they're also both wildly attracted to each other and have very good reasons for their behaviors. As Lavinia proves, there's nothing wrong with loving fashion, especially if it's your only way to make a mark on society. And Anglo-Indian Parth has to be serious because the consequences for failure are so much steeper for him. James, who is a Shakespeare professor by day, has a particularly Bard-like touch when it comes to wordplay.
---
For fans of . . . It Happened One Night (1934):
The road trip is a time-honored rom-com trope, and it all started with Frank Capra's gold standard, Depression-era masterpiece (which I have elected to let stand for all road-trip rom-coms because I like looking at Clark Gable's face). Jenny Holiday's Three Little Words is a fantastic modern take on the road trip plot with food porn galore and a wonderfully paced evolution from enemies-to-lovers. If you're wanting something a little more fantastical, Mackenzie Lee's YA romance The Gentleman's Guide to Vice and Virtue is both an absolute blast and a sensitive, emotional portrayal of gay love in the 18th century.
---
For fans of . . . The Philadelphia Story (1940):
It's harder than it looks to make something like The Philadelphia Story, a fluttery comedy with razor-sharp wit, complicated characters and a dazzling, decadent setting. Striking a perfect balance between escapism and emotion is a very difficult thing to do, and if you do it perfectly, the audience doesn't even realize how hard it was. Elizabeth Kingston's House of Cads is a champagne-fueled romp with two empathetically constructed, vulnerable characters at its center, both of whom are refreshingly adult about their attraction to one another. And Lady Gone Wicked by Elizabeth Bright is a very emotional second-chance romance wrapped in a pretty, witty package. Despite the catastrophic end of their previous relationship, Nicholas Eastwood and Adelaide Bursnell still adore each other and don't know how to express it, leading to both sarcastic repartee and sweet gestures of care. Also, there's an incredibly hot love scene where the heroine is covered in cake. (There was a cake fight. Don't worry about it.) It is decadent, sexy and funny but also meaningful, and if that isn't The Philadelphia Story to a tee, I don't know what is.
---
For fans of . . . Pretty Woman (1990):
This is another fairly obvious one—if you liked Pretty Woman, you'll probably love The Kiss Quotient by Helen Hoang. But I will also say that if you, like me, do not like Pretty Woman, you will also probably love The Kiss Quotient. And this is because Hoang's debut has a lot of the things that are fun about that classic rom-com, and improves on a lot of the things that are incredibly uncomfortable about it. Do you wish the main couple had a bit more personality beyond being played by Richard Gere and Julia Roberts? Both Michael and Stella have complicated lives and other problems beyond their relationship with each other. Queasy about how even the best rom-coms can fail in terms of sexual consent? The Kiss Quotient is so good in that area that it should be taught in schools. Not delighted about the incredible economic disparity between the two leads? Michael and Stella talk all about that, as it's a key engine for the drama going forward and she's the rich one, not him.
---
Magic Mike, but you turn it off before it gets depressing (2012):
Want all the fun of the first half of Channing Tatum's iconic (yes, I said it) film, plus a more central romance? Stripped is here for you. Zoey Castile's delightful debut is also about a super hot male stripper, and just like Magic Mike, it doesn't treat his job like either an exotic fantasy or a moral failing. He's a stripper, he's very good at it and he's a person just like anyone else.
---
For fans of . . . The Lady Eve (1941):
My name is Savanna, and I love romances where one character is trying to con the other character. I will not be taking questions about what this implies about me at this time. The Lady Eve is one of the all-time great examples of this trope, excelling at both sex appeal (not hard when you cast Barbara Stanwyck) and sweetness (not hard when you cast Henry Fonda). Cat Sebastian's The Lawrence Browne Affair takes that formula and adds a dash of Jane Eyre. Georgie Turner's latest mark is the reclusive, brilliant Earl of Radnor, an inventor who is convinced he's going mad. Some very hot manor house encounters ensue . . .
---
For fans of . . . Clueless (1995):
First of all, I am fully aware that the first book in Maya Rodale's Keeping Up with the Cavendishes series, Lady Bridget's Diary, is based on Bridget Jones' Diary. However, Rodale's adorable book and its sequels take place in a much kinder, lighter world than its filmic inspiration, which is haunted by the fear of midlife mediocrity under all its delicious shenanigans. The other three books in the series are based on Roman Holiday (Chasing Lady Amelia), She's All That (Lady Claire Is All That) and The Princess Diaries with some "Grey's Anatomy" thrown in (It's Hard Out Here for a Duke). With its giddily meta spin on historical romance, perfect blend of snarky and silly humor, and just general good-hearted aura, the Keeping Up with the Cavendishes series is a perfect match for director Amy Heckerling's masterpiece.