Ambitious historicals, creative rom-coms and a new wave of angsty romances are ready for their meet cute with readers in 2023.
Georgie, All Along by Kate Clayborn
Kensington | January 24
Kate Clayborn's gorgeously written romances are a perfect counterbalance to the current wave of high-concept rom-coms. Down-to-earth and achingly realistic, her novels catch people in the moments when their lives are starting to change for the better. Her latest book follows Georgie Mulcahy who, after being uprooted from her life in Los Angeles and returning to her small hometown, decides to check off all the items on her teenage self's wishlist.
Do I Know You? by Emily Wibberley and Austin Siegemund-Broka
Berkley | January 24
After making their adult debut with The Roughest Draft, YA author duo Emily Wibberley and Austin Siegemund-Broka are back with another multilayered second-chance romance. This time, it's between unhappily married couple Eliza and Graham, who, while on a weeklong trip for their fifth anniversary, find themselves enjoying each other's company once again when they pretend to be strangers.
Secretly Yours by Tessa Bailey
Avon | February 7
After completing the Pacific Northwest-set Bellinger Sisters duology, which earned her a spot as one of BookTok's favorite authors, Tessa Bailey is taking her magic touch down to Napa, California, for A Vine Mess, a series that follows two heirs to a family winery. First up is Julian Vos, a buttoned-up professor who finds himself falling head over heels for gorgeous gardener Hallie Welch.
Radiant Sin by Katee Robert
Sourcebooks Casablanca | February 7
Katee Robert's marvelous Dark Olympus series, which reimagines and remixes the most famous love stories of Greek mythology, continues with Radiant Sin, a modern take on the story of Apollo and Cassandra. Apollo is the secret-keeper of the isolated city of Olympus, and he goes on an undercover mission with his employee Cassandra—and they have to pretend to be a couple. That's right, it's a workplace romance plus fake dating!
The Secret Lives of Country Gentlemen by KJ Charles
Sourcebooks Casablanca | March 7
A highly prolific, critically adored self-publishing phenomenon, KJ Charles writes gay historical romances that vary in tone, genre and era, but all display her signature wit and cunningly constructed characters. Her first novel with a major publisher in several years is, therefore, a cause for celebration in itself. Add a plot described as "Bridgerton" meets "Poldark," and we might just be looking at the next romance phenomenon.
Something Wild & Wonderful by Anita Kelly
Forever | March 7
Anita Kelly's cooking show rom-com, Love & Other Disasters, was one of the most impressive debuts of 2022 and one of our favorite romances of the year. But it looks like Kelly might outdo themself with their more emotional sophomore novel, which follows two men who fall in love while hiking the Pacific Crest Trail.
The Portrait of a Duchess by Scarlett Peckham
Avon | March 7
It's been three whole years (an eternity in Romancelandia) since Scarlett Peckham released The Rakess, a formally ambitious Regency romance starring a fiery proto-feminist. The long-awaited follow-up will return to the radical Society of Sirens, a group of convention-defying heroines advocating for women's rights, and tell the love story of radical painter Cornelia Ludgate and Rafe Goodwood, a man who's just inherited a dukedom and intends to use his new fortune and position to advocate for social reform.
Infamous by Lex Croucher
Griffin | March 21
If we are to have a wave of "Bridgerton"-esque takes on historical fiction that play fast and loose with accuracy, please let some of them be as entertainingly nasty and gleefully unrestrained as Lex Croucher's Reputation. Her sophomore novel, Infamous, sounds like a chaotic spin on a beloved historical romance trope: the house party. When Edith "Eddie" Miller and her best friend, Rose, get an invite to scandalous poet Nash Nicholson's country estate, Eddie finds herself torn between dreams of literary success and her friendship with Rose, all while struggling to untangle her increasingly complicated feelings for both Rose and Nash.
Hotel of Secrets by Diana Biller
Griffin | March 28
Diana Biller's lush and intricately detailed books are especially notable for their unique settings. Rather than the familiar milieu of Regency or Victorian England, Biller has given readers a gothic love story in Gilded Age New York City, a second-chance romance in late 19th-century Paris and now Hotel of Secrets, an exciting tale of spies and luxury hotels in 1870s Vienna.
Romantic Comedy by Curtis Sittenfeld
Random House | April 4
During the COVID-19 pandemic, some of us got into baking; Curtis Sittenfeld got into "Saturday Night Live." Following on the heels of her bestselling Rodham, her latest novel wonders: What would happen if "SNL" had a female writer who wrote a sketch that lampooned the generations of male writers who have brought their female celebrity girlfriends on as hosts? And what if the female writer ended up falling for a male host in turn?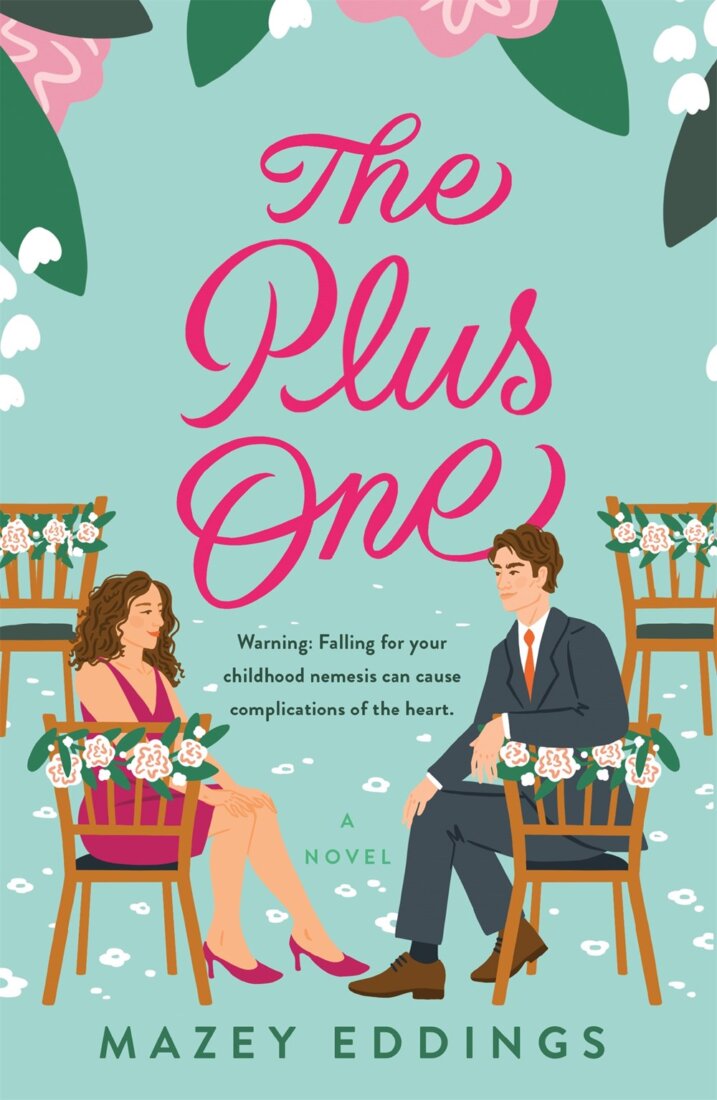 The Plus-One by Mazey Eddings
Griffin | April 4
The wedding from hell drives two childhood enemies into each other's arms for a round of fake dating in the new rom-com from Mazey Eddings, the author of A Brush With Love and Lizzie Blake's Best Mistake. It sounds very hijinks-heavy, but based on Eddings' previous novels, there will be a lot of heart underneath all the shenanigans.
To Swoon and to Spar by Martha Waters
Atria | April 11
Viscount Penvale thinks he has established an excellent marriage of convenience with Jane Spencer. But unbeknownst to him, Jane is plotting to stage a haunting of Trethwick Abbey, the home they just inherited together, to get him to abandon the property and let her live her life as she pleases. This plan will obviously go very well, and Penvale and Jane will not in any way fall in love.
Verity and the Forbidden Suitor by J.J. McAvoy
Dell | April 11
J.J. McAvoy's Aphrodite and the Duke introduced readers to her "Bridgerton"-inspired take on the Regency and the delightful Du Bell family. In Verity and the Forbidden Suitor, the Du Bells play host to the titular character, a duke's sister who falls in love with a dashing doctor who's unfortunately a deeply unsuitable match for her on account of his being an illegitimate child.
Yours Truly by Abby Jimenez
Forever | April 11
The marvelous Abby Jimenez writes romances that strike a seemingly impossible balance between sweet comedy and emotional angst. Her latest follows two doctors who overcome a truly terrible first impression to become workplace besties and maybe something more.
The Fiancée Farce by Alexandria Bellefleur
Avon | April 18
After completing her fan-favorite Written in the Stars trilogy, Alexandria Bellefleur is giving her readers a delightfully genre-specific literary love story between a bookseller and a romance cover model.
Happy Place by Emily Henry
Berkley | April 25
What is there to say about Emily Henry that hasn't already been said? Her gorgeously written, achingly sexy romances live up to the hype and then some (even that feels like an understatement). This spring will see her pen her first second-chance romance, between a married couple who haven't told their close-knit friend group that they've broken up and must now endure one last summer vacation to Maine while trying to keep their secret under wraps.
The True Love Experiment by Christina Lauren
Gallery | May 16
The beloved author duo behind The Soulmate Equation and The Unhoneymooners are heading to Hollywood! Romance novelist Felicity "Fizzy" Chen has a terrible secret: She's never actually been in love. But filmmaker Connor Prince thinks that's actually the perfect hook for a dating show, one that, in a twist that will thrill reality TV fans and romance readers alike, Fizzy demands be cast according to romance novel archetypes.
Once More With Feeling by Elissa Sussman
Dell | May 30
Speaking of Hollywood, Elissa Sussman's adult debut, Funny You Should Ask, was one of the best Los Angeles-set love stories we've seen in years. In the same style as her first novel, her follow-up will move back and forth in time in the lives of a pop star and a boy band member, from the height of their fame to when they're reunited years later, when both blame the other for destroying their career.
Unfortunately Yours by Tessa Bailey
Avon | June 6
That's right, Tessa Bailey fans—you're getting not one but two new books this year! The second A Vine Mess romance will center on a modern marriage of convenience between Napa heiress Natalie Vos and vineyard owner August Cates. It can be difficult to create meaningful stakes in a marriage of convenience in a world where women have, you know, rights and the ability to more easily divorce their husbands, but Bailey is a pro at crafting rom-com hijinks underpinned by relatable emotion.
We Could Be So Good by Cat Sebastian
Avon | June 6
You'd think that the 1950s would be a prime setting for historical romance, especially given that today's romance authors are just as interested in unpacking intersections of race, class and sexuality as they are in reveling in glamorous period trappings. It's still a sea of Regency and Victorian love stories out there, but maybe Cat Sebastian, who is also in the midst of a series set in the Georgian era, can start a trend with We Could Be So Good, a love story between two men who both work in midcentury New York City's newspaper industry.
A Dish Best Served Hot by Natalie Caña
MIRA | June 27
Natalie Caña's absolutely marvelous debut, A Proposal They Can't Refuse, left us hungry for more. Thankfully, she'll soon be back with another romance featuring the restaurant-owning Vega family. This time, oldest brother Saint is the one about to fall—for his young daughter's teacher.
It Happened One Fight by Maureen Lee Lenker
Sourcebooks Casablanca | July 11
Maureen Lee Lenker's column in Entertainment Weekly is one of the best places (other than here, obviously) to read romance reviews, so it's especially intriguing to see that she'll be writing a love story of her very own. It Happened One Fight is set in the golden age of Hollywood and follows two movie stars who, after accidentally getting married during a prank gone wrong, head to Reno, Nevada, to both complete their latest film together and get a divorce.
Say Yes to the Princess by Charis Michaels
Avon | July 11
Charis Michaels finished her absolutely adorable, fairy tale-inspired Awakened by a Kiss series last year, and her next series will have another theme near and dear to historical romance fans' hearts: royalty! Say Yes to the Princess, the first book in the Hidden Royals series, will follow a French princess who escaped the French Revolution and the fixer who falls in love while trying to keep her from uncovering the British government's secrets.
How to Tame a Wild Rogue by Julie Anne Long
Avon | July 25
Despite its grandiose name, the Grand Palace on the Thames is more snuggly than sophisticated, a cozy boarding house where rogues and nobility alike can let their guard down, sink into a comfortable chair and maybe find love. The latest star-crossed pair is privateer Lorcan St. Leger and Lady Daphne Worth, who must pose as a married couple to find refuge in the boarding house's only available suite.
Kiss the Girl by Zoraida Córdova
Hyperion | August 1
The Meant to Be series has already given readers Julie Murphy's take on Cinderella (If the Shoe Fits) and Jasmine Guillory's take on Beauty and the Beast (By the Book), and now Zoraida Córdova will take a turn with Kiss the Girl, a modern spin on The Little Mermaid. In her reimagining, Ariel is a world-famous pop star who runs away to join an up-and-coming singer on the road for his latest tour.
Codename Charming by Lucy Parker
Avon | August 15
Beloved, critically acclaimed rom-com author Lucy Parker will continue her Palace Insiders series with Codename Charming, an opposites-attract romance between a prince's stoic royal bodyguard and that same prince's happy-go-lucky personal assistant.
---
---