The cozy renaissance is upon us, gothic thrillers are about to be everywhere and historical mystery lovers are going to have a truly fantastic year.
The Goodbye Coast by Joe Ide
Mulholland | February 1
Modern master of mystery Ide will be updating one of the most iconic detectives of all time: Raymond Chandler's Philip Marlowe. It's a perfect pairing—a figure that couldn't exist anywhere but Los Angeles, brought to the present day by one of the city's most acclaimed writers.
A Game of Fear by Charles Todd
William Morrow | February 1
The Inspector Rutledge series represents the best of what historical mystery has to offer, and A Game of Fear, Rutledge's 24th case, has a particularly intriguing hook: Lady Benton claims she witnessed a murder, carried out by Captain Nelson. But there's no body, no blood and Captain Nelson has been dead for several years. Charles Todd is a mother-son writing duo, and the death of Caroline Todd last year gives this mystery an extra poignancy.
Cherish Farrah by Bethany C. Morrow
Dutton | February 8
Morrow—who has shown so much range as a writer, from her bestselling contemporary YA fantasy with sirens (A Song Below Water) to her reimagining of Little Women (So Many Beginnings)—makes her adult debut with this slow-burning tale of power and manipulation, following a Black girl who ingratiates herself to her Black best friend's adopted white family.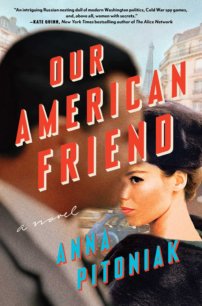 Our American Friend by Anna Pitoniak
Simon & Schuster | February 15
After writing a novel (The Futures) and a thriller (Necessary People), Pitoniak is splitting the difference with her third book, a decades-spanning espionage thriller that follows glamorous, mysterious Lara Caine, a Russian model who eventually becomes the first lady of the United States (Remind you of anyone?).
The Paris Apartment by Lucy Foley
William Morrow | February 22
Foley's big breakout, The Guest List, was absolutely everywhere in 2020. The Paris Apartment is another glamorous mystery with a sprawling, secretive cast—namely, the inhabitants of the titular apartment complex.
This Might Hurt by Stephanie Wroebel
Berkley | February 22
I will never, ever get tired of complicated sister relationships or cults, and lucky for me, the Darling Rose Gold author's sophomore thriller goes all in on both. Natalie Collins' sister, Kit, has been sucked into Wisewood, a cult operating on a private island off the coast of Maine. When Natalie receives a threatening email from someone in the cult, she sets out to save Kit.
Tripping Arcadia by Kit Mayquist
Dutton | February 22
All I have ever wanted is a revival of the romantic, gothic thriller, and thanks to the incredible success of Silvia Moreno-Garcia's Mexican Gothic, I may have finally gotten my wish. 2022 is replete with creepy tales of degenerate families in crumbling manors, and Mayquist's is one of the most promising of the lot. In this modern take on the subgenre, med school dropout Lena takes a job as an assistant to the rich and powerful Verdeau family. But when she learns that they are the ones ultimately responsible for her family's poverty, she decides to get revenge.
The Verifiers by Jane Pek
Vintage | February 22
A particularly pleasing recent development is that publishers seem to have finally realized the allure of the cozy, or cozy-adjacent, mystery. Could the cozy be due for a critical reevaluation a la the romance novel? (Please say yes!) All this to say, we expect more books like Pek's hilarious, utterly winning debut in the near future. Claudia Lin has stumbled into what she believes is her perfect job: working at an online-dating detective agency. She's content with her duties of ferreting out catfishers and tracking down ghosters, but when a client disappears, the mystery novel-obsessed Claudia jumps at the opportunity to solve a real case.
The Club by Ellery Lloyd
Harper | March 1
There are a lot of thrillers out there that incorporate social media and try to have Something to Say about our current digital reality. But very few of them were as smart or nuanced as Lloyd's 2021 debut, People Like Her. For their next trick, the husband-and-wife writing duo tackles the world of exclusive celebrity clubs. Set on a private island off the English coast, this is the thriller for you if you're anxiously awaiting the next season of "The White Lotus."
Give Unto Others by Donna Leon
Atlantic Monthly | March 15
Commissario Guido Brunetti is one of those urbane, witty sleuths that people want to be as much as they love to read about. See also: Martin Walker's Bruno and Louise Penny's Gamache. A new case with Leon's clever Venetian sleuth is always cause for celebration, but this one is especially intriguing as it purports to contain new and startling information about Brunetti's past.
Under Lock & Skeleton Key by Gigi Pandian
Minotaur | March 15
Is it too early to hand out the award for most creative cozy premise? Because I highly doubt anyone's going to come close to Pandian's new Secret Staircase mysteries. When Tempest Raj returns home to San Francisco after losing her job, she ends up working for the family business, Secret Staircase Construction, which makes hidden passageways, incredible treehouses and any other whimsical creation a client's heart desires. And then, of course, someone is found dead in a supposedly sealed passageway.
Nine Lives by Peter Swanson
William Morrow | March 15
Swanson has a gift for not only crafting a killer premise, but also creating characters that are just as intriguing. In his latest mystery, nine people receive a list of names, and one of those names is their own. And then those nine people start getting picked off, one by one.
Secret Identity by Alex Segura
Flatiron | March 15
A mystery set in the comic book industry in 1975? Say no more! Billed as a mash-up between The Amazing Adventures of Kavalier & Clay and the novels of Patricia Highsmith, this book sounds like the coolest, nerdiest neo-noir you'll ever read.
Shadow in the Glass by M.E. Hilliard
Crooked Lane | April 5
Hilliard's Greer Hogan series started with a bang last year; The Unkindness of Ravens was "moody and tense, literary and urbane, and an edgy delight to read," according to our cozy column. This time around, librarian Greer faces that most iconic of cozy scenarios—a wedding disrupted by murder, with an entire guest list's worth of suspects.
Insomnia by Sarah Pinborough
William Morrow | April 12
You may have heard of Pinborough due to a little book (and later Netflix miniseries) entitled Behind Her Eyes, which boasts one of the most go-for-broke, completely wild final twists of, honestly, maybe all time? So who even knows what's going on in her next thriller, which follows Emma, a woman whose mother committed a horrible act when she turned 40. Now on the cusp of her own 40th birthday, Emma is consumed with fear that the same fate awaits her.
Blood Sugar by Sascha Rothchild
Putnam | April 19
Something about me that I am very comfortable admitting is that I love a charismatic murderer. You want to tell me how you got away with it and why they had it coming for an entire novel? I'm all ears! So I'm especially excited for Rothchild's debut, which introduces readers to Ruby, who is being accused of her husband's death. She didn't do it (and she's not a sociopath, okay?), but she has killed three other people before.
The Mad Girls of New York by Maya Rodale
Berkley | April 26
An acclaimed romance author, critic and advocate for the genre, Rodale is one of several authors who recently made the Gilded Age one of historical romance's hottest and most interesting settings. She's bringing all that expert knowledge to bear in her mystery debut, the launch of a series that follows trailblazing female journalist Nellie Bly. Rodale's first mystery starring Nellie will depict one of her most famous real-life stunts: going undercover at an insane asylum.
Harlem Sunset by Nekesa Afia
Berkley | May 3
The Harlem Renaissance-set Dead Dead Girls was one of last year's best mysteries, and it looks like amateur sleuth Louise Lloyd's next case will not only delve into the secrets of her own past, but also jeopardize her future with her girlfriend, Rosa Maria.
The Hacienda by Isabel Cañas
Berkley | May 10
This historical gothic thriller has a priest who is also a witch, and I don't really think there's anything else to be said. But, if you insist: Cañas' debut is set right after the Mexican War of Independence and boasts a creepy house, a handsome but mysterious man and what just might be the ghost of his first wife.
The Murder Rule by Dervla McTiernan
William Morrow | May 10
The acclaimed author of the Cormac Reilly mystery series is releasing her first standalone novel, which follows a young law student who seems like a passionate anti-death row advocate, but is really out to get one of the supposedly innocent men her organization is defending.
Renovated to Death by Frank Anthony Polito
Kensington | May 31
HGTV shows leave me completely cold, but even I think this book sounds like the coziest thing imaginable. Peter Penwell is a bestselling mystery author and his husband, JP, is an actor who used to star on a cop show. The couple recently became reality TV stars while chronicling the renovation of their home, but their second season gets off to a murderous start when they find one of the owners of their new project dead at the foot of a staircase.
A Rip Through Time by Kelley Armstrong
Minotaur | May 31
Armstrong is the acclaimed writer behind the gritty, addicting, yet still somehow heartwarming Rockton series, which is set in an off-the-grid town in the Canadian wilderness. She's one of the last authors you'd expect to write an Outlander-style timeslip mystery. Which only makes her new series, where a modern-day homicide detective wakes up in the body of a Victorian maid, all the more intriguing.
Last Call at the Nightingale by Katharine Schellman
Minotaur | June 7
The author of the Regency-era Lily Adler mysteries jumps forward to the (very hot right now) 1920s, and will hopefully bring her previous series' perfectly balanced blend of escapism and social commentary to this tale of a working-class woman who stumbles upon a dead body at her favorite speakeasy.
The Lies I Tell by Julie Clark
Sourcebooks Landmark | June 21
Clark's second novel, the runaway bestseller The Last Flight, was exactly what you want in a summer thriller: snappy but smart, fast-paced but with characters that felt like real people. So my expectations were high even before I learned that Clark will be taking on one of my very favorite crime novel archetypes—the con artist. Meg Williams ruined Kat Roberts' life, and Kat's been bent on revenge ever since. But when she finally catches up to Meg 10 years later, she begins to doubt everything, including whether Meg really should be the target of her ire.
The Half Life of Valery K by Natasha Pulley
Bloomsbury | June 28
In my humble opinion, one of the most underrated historical settings for a mystery or thriller is Soviet Russia. It's bleak, it's cold and almost everyone has a reason to lie or a secret to keep. So I was delighted to learn that acclaimed, idiosyncratic historical fantasy author Pulley's first thriller would be set in 1963 Siberia. The Half LIfe of Valery K will follow a former nuclear specialist who is freed from a gulag, only to be taken to a mysterious town that seems to be absolutely suffused with dangerous radiation.
The Ruins by Phoebe Wynn
St. Martin's | July 5
The last gothic on our list, Wynn's sophomore novel takes its cues from Patricia Highsmith as much as it does from Daphne du Maurier. You've got wealthy, messed up people, the disgustingly gorgeous backdrop of the Mediterranean coast and a creeping suspicion that something is about to go terribly wrong. But in an intriguing little twist, The Ruins seems to wed those Ripley influences with the more modern template of a feminist coming-of-age tale.
Omega Canyon by Dan Simmons
Little, Brown | November 1
It's been seven years since the acclaimed author of The Terror released a novel, and this new historical thriller sounds heartbreaking and addicting in equal measure. Paul Haber fled Nazi Germany and has devoted his scientific abilities to the American quest for the atomic bomb. But when a German spy tells him that his wife and child, whom he thought died in a concentration camp, are actually still alive, he's faced with the terrible choice of whether to save his family or betray his newly-adopted country to fascism.