True stories are often the most inspiring. These four exciting picture book biographies focus on real-life teachers, leaders and innovators and their remarkable roads to success. Their stories are sure to leave permanent, positive impressions on young readers. Don't give up on that dream!
In Firebird, the soaring debut picture book by American Ballet Theater star Misty Copeland, a young black girl who wants to dance professionally struggles with feelings of uncertainty. Illustrator Christopher Myers' whimsical torn paper and paint collages provide a dreamy backdrop as the girl receives encouragement from Copeland herself, who takes center stage to offer advice and to explain the challenges she faced as a young ballerina. Reflecting on the demands of her vocation, Copeland passes on invaluable words of wisdom in brief, poetic lines. "Even birds must learn to fly," she reminds the young girl. Dominated by flaming hues of orange, red and blue, Myers' extraordinary artwork captures the mystique of the Firebird ballet and Copeland's indomitable spirit. This is a tale that will inspire all up-and-comers.
DESIGNING A DREAM
Kathryn Gibbs Davis and Gilbert Ford's magical Mr. Ferris and His Wheel is a classic beat-the-odds bio set at the end of the 19th century. Invention and innovation are in the air as Chicago prepares to host the 1893 World's Fair. Hoping to outdo the razzle-dazzle of the previous Paris-based fair, where crowds were wowed by the Eiffel Tower, event officials issue a challenge to American engineers: Design a structure that will top the City of Light's iconic edifice. Flooded with submissions—all of them underwhelming—the judges find themselves running out of time. Enter George Washington Gale Ferris Jr., whose proposal for a mighty steel wheel (circumference: 834 feet!) earns their skeptical go-ahead. Davis provides an accessible account of how Ferris brought his daring project to completion despite doubters, time constraints and a lack of funding. Ford's atmospheric illustrations, rendered in purples and greens, capture the sense of spectacle surrounding Ferris' beloved invention. This is an enchanting ride from start to finish.
CREATION OF A CLASSIC
With its spirit of old-fashioned inquiry and cabinet-of-curiosities charm, Jen Bryant's The Right Word: Roget and His Thesaurus is a delightful tribute to a man of genius who changed the way the world looked at language. Born in London in 1779, Peter Mark Roget was an avid reader with a proclivity for making lists—of Latin words, of weather data, of facts about the natural world. He pursued a medical career in London, indulging his preoccupation with classification and his love of words along the way. Roget's habits culminated in the 1852 publication of his now-ubiquitous Thesaurus, a reference volume listing words and their synonyms that sold briskly at the time and has never gone out of print. Featuring lists copied from Roget's own notebooks, antique papers, type blocks and other ephemera, Melissa Sweet's breathtaking mixed-media illustrations reflect the great man's intellect—roving yet selective, inclusive but discerning. Young readers will love poring over this book of wonders.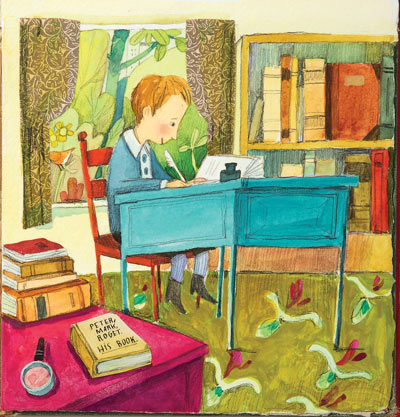 LABOR OF LOVE
History comes alive in Suzanne Slade and Nicole Tadgell's With Books and Bricks: How Booker T. Washington Built a School, an engaging overview of the life of the legendary educator. Washington's dreams begin early, during his boyhood as a slave. A glimpse of sentences on a chalkboard in the white kids' classroom sparks his desire to learn. Washington pursues his goal as slavery ends, teaching himself to read and graduating from an institution in Virginia. From there, his dreams get bigger, as he sets out to build a first-class school for blacks from scratch—literally—out of Alabama clay. With the help of students and supporters, he makes his vision a reality, establishing the world-renowned Tuskegee Institute. Tadgell's softly realistic pencil and watercolor illustrations add special appeal to this tale of a tireless leader whose legacy can still be felt today.
Illustration from The Right Word, © 2014 by Melissa Sweet. Reprinted with permission of Eerdmans.
This article was originally published in the September 2014 issue of BookPage. Download the entire issue for the Kindle or Nook.