2022 gift ideas from the editors of BookPage
The BookPage editors share their favorite gift books for the 2022 holiday season.
★ Essentials of Classic Italian Cooking
An Italian-born friend, who is a very fine cook, once texted me a recipe for Bolognese sauce. The recipe, she explained, was by Marcella Hazan, and the meal we made from it was a gorgeous triumph. You can find that recipe on page 210 of the new edition of Essentials of Classic Italian Cooking, a classic tome now outfitted in cheerful bright yellow for its 30th anniversary. Hazan, who died in 2013, is often credited as the most significant teacher of northern Italian cooking in the United States, and her guidance on fresh pasta, sauces and vegetables is without match, her objective "not to astonish, but to reassure." Hazan's cooking is unfussy, powered by good, fresh ingredients (which she explains in loving detail) and firmly rooted in family memories.
A Dish for All Seasons
A Dish for All Seasons: 125+ Recipe Variations for Delicious Meals All Year Round is a collection of 26 recipe templates and suggestions for how to mix them up for each season—in other words, a brilliantly useful concept. For example, quesadillas: an easy weeknight favorite, but possibly a bit boring? Not so when stuffed with steamed root veggies in winter or grilled corn kernels in summer. Or consider pesto four ways, depending on what's in season. Kathryn Pauline, a Saveur award-winning writer, provides a meal-making approach suitable for all levels of kitchen wizardry. Beginners can develop fluency through repeating familiar go-tos with simple twists, while those with kitchen skills will jump at the opportunity to improvise within constraints. "Use what you've got" is advice that never grows old, and this book puts a clever, adaptable spin on it.
For something uniquely comforting, check out these four cookbooks perfect for browsing while you're snug as a dormouse.
I Am From Here
In Vishwesh Bhatt's cooking, the flavors and foodways of Mississippi and India converge in dishes like okra chaat, saag-style collards and succotash with garam masala. Until now, one had to visit Snackbar in Oxford, Mississippi, where Bhatt is executive chef, to experience that fare. Now, I Am From Here: Stories and Recipes From a Southern Chef showcases the inventive cuisine on which the James Beard Award-winning chef has made his name. A dinner might include grown-up stir-fried rice (based on a snack from Bhatt's childhood in Ahmedabad, India), collard-wrapped catfish and Mom's rice pudding. Stories of Bhatt's mother, who kindled his early interest in food, pepper these pages. The book beautifully represents an individual immigrant's experience through food; at the same time, it is a welcome addition to the canon of elevated Southern cooking.
Chinese-ish
Rosheen Kaul and Joanna Hu, the two young Asian Australians behind the delightful Chinese-ish: Home Cooking Not Quite Authentic, 100% Delicious, encompass a wealth of identities and influences between them: Kashmiri, Singaporean, Filipino, Malaysian, Indonesian and, of course, Chinese. Their collaboration, born during the COVID-19 pandemic, dances merrily through all of that territory with insouciant verve and a dash of humor. There are sections called "Chinese-ish snacks that feel kinda wrong" (including Beijing hot chicken and prawn toast) and "A few desserts we don't hate" (such as mango pudding and pumpkin cakes). Hu's watercolor illustrations play so nicely with the vivid photography throughout, and the recipes are remarkably accessible. Get yourself a carbon steel wok (as my husband did recently; he's loving it), hit up the supermarket's international aisle or your local Asian market, and you'll be dishing up variations on fried rice, Sichuan-style noodles and chiffon omelets in no time.
Bread Head
"The bread I'm going to teach you to make is a little rough around the edges, a little louder than is polite, and stupid good." That's Greg Wade, head baker at Chicago's Publican Quality Bread, in Bread Head: Baking for the Road Less Traveled. Wade's bread is "an eff-you to the factory-farmed, industrially made versions" ubiquitous in supermarkets, as he often forges standard wheat for organic heritage whole grains such as barley, buckwheat and millet. Or how about a sorghum and rosemary ciabatta, or a rye naan? Wade's creations pull from around the globe; for example, there's khachapuri, a fermented dough stuffed with cheese and eggs that sounds like the stuff of my wheatiest dreams. Even if you burned out on sourdough during the pandemic, this book will make you want to try again.
Kiss the cook—but maybe buy them a present too. These five gorgeous cookbooks will wow any culinary artist worth their salt.
Bake
Though he's best known as the "Great British Baking Show" judge with an icy blue stare fit to scare any hopeful contestant, Paul Hollywood is also an exceptional baker in his own right. With BAKE, he shares his go-to recipes for all the classics, from cakes and cookies to doughnuts, pastries and pies. There is, of course, an extensive chapter on bread in which Hollywood really shows off his expertise.
Chetna's Easy Baking
The latest offering from beloved 2014 contestant Chetna Makan includes over 80 recipes for sweet and savory bakes. Chetna has always been known for her flavor combinations, and Chetna's Easy Baking showcases this skill with mouthwatering offerings like pear, chocolate, star anise and hazelnut tarte Tatin and mini saffron vegan cheesecakes.
Simply Vegan Baking
Freya Cox made a splash in 2021 as the first contestant to create all vegan bakes. Her first book, Simply Vegan Baking, takes 70 recipes for familiar treats—such as carrot cake, cinnamon rolls and jam doughnuts—and shows bakers how to make them without eggs, milk or butter, and without sacrificing that delicious, comforting flavor.
Read our review of 'Bliss on Toast' by "Great British Baking Show" judge Prue Leith.
Baking Imperfect
Lottie Bedlow felt underqualified and ill-prepared for her time as a contestant on "The Great British Baking Show" in 2020. With Baking Imperfect, she vows to tell the truth about her baking struggles and imperfections so that others might feel brave enough to give baking a go. Each recipe is rated on a scale of one to five broken eggs so that bakers of every skill level will know where to start.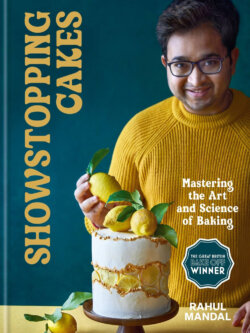 Showstopping Cakes
Winner of the 2018 season Rahul Mandal defied expectations when he awkwardly, endearingly rose to the top. His first book, Showstopping Cakes, captures the decorative pizazz he is known and loved for by breaking down each element of an eye-popping cake—from ganache to mirror glaze to marzipan—so that bakers can construct their own masterpieces at home.
Cook as You Are
Ruby Tandoh is one of the most published "Great British Baking Show" contestants, and Cook as You Are is her fourth release. This collection focuses on recipes that are easy, affordable and accessible to everyone, no matter what relationship you have to food or to your body. With recipes for whatever-you've-got fried rice and goes-with-everything groundnut soup, there's truly something for every appetite and energy level.
Bake, Make, and Learn to Cook Vegetarian
Winner of the 2019 season David Atherton thinks kids should be able to whip up their own meal, snack or treat when they're hungry. Bake, Make, and Learn to Cook Vegetarian will teach them how, with adorable illustrations by Alice Bowsher that break down each step of the process for creating vegetarian stir fry, cheesy rabbit crackers, jam tarts and more.
Giuseppe's Italian Bakes
When Giuseppe Dell'Anno won the 2021 season, fans everywhere shouted "Saluti!" Now he's packed all his favorite home bakes, inspired by his dad's recipes and notes, into Giuseppe's Italian Bakes. From polenta sponge cake to panna cotta and focaccia, every recipe is rustic, delicious and authentically Italian.
The contestants and judges of "The Great British Baking Show" share their signature styles, technical tips and showstopping skills.
Documentary filmmaker and historian Ken Burns believes that photographs are portals "not just to a different time and space but also to dimensions and possibilities within myself." Through photographs and illustrations, these books are guaranteed to transport you.
★ Apollo Remastered
Apollo Remastered: The Ultimate Photographic Record is a weighty, large-format coffee table book that beams readers right into its cosmic world. The original NASA film from the Apollo missions (which includes some 35,000 images) has been safely secured inside a frozen vault at the Johnson Space Center, but new technology has allowed digital restoration expert Andy Saunders to painstakingly remaster this treasure trove of photographs, many of which have never been published. The results are pure magic, full of clarity, sharpness and color that make readers feel like part of the team—a far cry from those grainy images that were broadcast on TV at the time.
During their spaceflights, many astronauts were shocked by how moved they felt looking back at Earth, and readers will see why. Apollo 14 astronaut Edgar Mitchell notes, "You develop an instant global consciousness, a people orientation, an intense dissatisfaction with the state of the world, and a compulsion to do something about it." Apollo 9's Rusty Schweickart recommends reading this book at night, surrounded by darkness and silence, to allow the gleaming spacecraft and spacesuits to shimmer and shine.
★ Our America
In the tradition of Walker Evans' groundbreaking 1938 book, American Photographs, Ken Burns has assembled a collection of his favorite images in Our America: A Photographic History. "I've needed forty-five years of telling stories in American history, of diving deep into lives and moments, places and huge events, to accrue the visual vocabulary to embark on this book," he writes in his introduction.
These black-and-white photographs are arranged chronologically from 1839 to 2019, with only one on each page for full visual impact. They're labeled by date and place (at least one for each state), with fuller explanations at the back of the book, and they are mesmerizing, drawing on a multitude of personalities, emotions and events. The images depict the brutally scarred back of an enslaved man, decomposing bodies at Gettysburg, frozen Niagara Falls, a 1909 game of alley baseball in Boston, the bombing of Pearl Harbor, Elvis onstage and, finally, a stunning portrait of Congressman John Lewis from 2019.
Illustrated Black History
For Illustrated Black History: Honoring the Iconic and the Unseen, artist, designer and creative director George McCalman created 145 original portraits spotlighting Black pioneers in many fields, each accompanied by a short biographical essay. Moving alphabetically from Kareem Abdul-Jabbar to cinematographer Bradford Young, McCalman uses a bold array of acrylics, watercolors, pen and ink and colored pencils, to capture each personality in an individualized way. "I document body language, I document exuberance, I document pain," he writes. "I draw like a reporter because I am a reporter."
McCalman began this project by challenging himself to paint one such portrait every day for a month, and the result overflows with energy and color. His choices are inspiring and well-rounded, running the gamut from Frederick Douglass and James Baldwin to activist Alicia Garza and food journalist Toni Tipton-Martin.
My Travels With Mrs. Kennedy
Despite the mountains of books already written about the Kennedys, I couldn't put down My Travels With Mrs. Kennedy, a conversational memoir and very personal photo album by Clint Hill. A former Secret Service agent who served under five U.S. presidents, Hill was present during John F. Kennedy's assassination and later assigned to the first lady and her children. He's written other books about those experiences, including several with his wife and co-author, Lisa McCubbin Hill.
This book was sparked by the process of cleaning out the garage of Hill's home in Alexandria, Virginia, going through boxes of memorabilia, including a forgotten steamer trunk. Dialogue between the co-authors makes the book immensely readable as they discuss their discoveries and Hill's memories. Numerous photos bring each scene to life, capturing intimate moments that reveal the first family's personalities, especially that of Jackie. Of their relationship, Hill writes, "It wasn't romantic. But it was beyond friendship. We could communicate with a look or a nod."
The Only Woman
The Only Woman is a unique gallery of group portraits that contain a lone female figure surrounded by men. There's Marie Curie, for instance, with her head in her hand, looking downright bored among a group of suited scientists at a 1911 conference in Belgium. There's 9-year-old Ab Hoffman, who earned a spot on a Canadian hockey team for one season in 1956 because her coaches hadn't noticed her gender. In a 1982 photo, a white male U.S. Army Diver candidate sneers at Andrea Motley Crabtree, a Black woman who made the training cut when he didn't. "Most of the men hated me being there," Crabtree recalls. "He couldn't understand how I was better than him."
Oscar-nominated documentary filmmaker Immy Humes provides concise commentary throughout her collection, which spans from 1862 to 2020. She speaks to "the pleasure of spotting them, and then, most of all, the mystery of them: What was she doing there?"
Affinities
In need of some creative downtime? Curl up with the hefty Affinities: A Journey Through Images From the Public Domain Review and lose yourself in a delightfully imaginative, visionary game. The book's 350-plus pages contain a miscellany of images arranged to showcase unexpected similarities. For example, one section features the shapes of outstretched arms as seen in a 16th-century drawing of a mechanical arm, an image of the Borghese Gladiator sculpture, a John Singleton Copley painting and—of all things—a photo of damage sustained to the bow of the HMS Broke during a World War I battle.
With images old and new from around the world, all selected from the archive of the Public Domain Review, this is a book designed for random perusal. Some images come with suggested paths to different pages, creating a sort of chutes-and-ladders effect. As explained in the introduction, the result is "a maze of rootlike cut-throughs that allow you to move through the book in different ways, to disrupt the sequence and carve through your own serpentine trajectory."
The armchair historian's wish list isn't a tough nut to crack. Just give them a great book.
All That Is You
Bestselling author Alyssa Satin Capucilli offers an imaginative series of rhymed metaphors for love. Her text playfully twists colloquialisms ("you're the wide in my world") striking on heartfelt truths rather than cloying sentimentality. Illustrator Devon Holzwarth's vibrant artwork matches the elegance and emotion of Capucilli's prose and elevates All That Is You from very good to breathtaking.
The Birthday of the World
A young girl's grandfather recounts how "the world of a thousand thousand things" was created when a beam of light pierced the darkness and scattered sparks into "everyone and everything." Author Rachel Naomi Remen adapted The Birthday of the World from a tale originally told to her by her grandfather, an orthodox rabbi. Remen writes in unadorned, moving prose about the power in finding the lights inside ourselves and others, while illustrator Rachell Sumpter's artwork is suffused with warmth and wonder.
The More You Give
Marcy Campbell's deceptively simple The More You Give follows three generations of a family as they share gifts and plant seeds both literal and figurative. Campbell anchors the story in wonderful specifics ("big hugs, and bigger laughter, and the very biggest Sunday-morning pancakes") and skillfully repeated phrases, such as the "wild and wooly caps" of acorns that each generation plants in the field surrounding their house. Illustrator Francesca Sanna's bold colors and stylized figures enable readers to track characters as they grow from child to adult, their faces clearly expressing the love they feel for one another.
For a gift that can be enjoyed again and again, consider one of these picture books.
Great Short Books
Anyone who's eternally time-strapped will treasure Kenneth C. Davis' Great Short Books. This nifty volume highlights 58 works of fiction chosen by Davis for their size (small) and impact (enormous). Each brisk read weighs in at around 200 pages but has the oomph of an epic.
"Short novels," Davis writes in the book's introduction, "have been shortchanged. They occupy the place of the neglected middle child of the literary world." With its eclectic roster of authors (Sandra Cisneros, Stephen King, James Joyce, Nella Larsen—the list goes on), his volume challenges this perception.
Davis' picks include something for every reader. Classic selections such as James Baldwin's If Beale Street Could Talk and Virginia Woolf's Mrs. Dalloway are spotlighted alongside contemporary offerings like Jenny Offill's Dept. of Speculation and Jacqueline Woodson's Another Brooklyn. The entry for each title consists of a plot summary, an author bio, suggestions on what to read next and—the perfect bait for hooking book lovers—the work's first lines.
Davis, the bestselling author of the Don't Know Much About series, delivers readerly insights and plenty of literary trivia in this handy guide. Outside of extra time, it's the perfect gift for busy bibliophiles.
Reading the Stars
Readers in need of a little inspiration should try tapping into the power of the zodiac. That's the premise behind Reading the Stars, the new release from the literary website Book Riot.
This quirky title encourages readers to connect with their astrological signs as a way to deepen and enrich their relationships with books. Astrology, according to Book Riot, can "give you some hints about what kind of books you like to read, what books can help you grow as a person, and how you engage with the reading world."
The volume covers the basics of astrology and provides an intriguing profile of every sign in the chart, with details on the characteristics and reading styles of each. Aries readers, for instance, focus on meeting their reading goals, while Virgos read to destress and love getting lost in a good fantasy. Cancers savor extended story arcs and happily ever after endings.
Filled with atmospheric illustrations, Reading the Stars offers sign-specific reading recommendations and reveals which signs are compatible with one another—from a literary standpoint. Sure to pique the interest of bibliophiles, this delightful title will give them a whole new way to think about books.
Marple
Here's a merry surprise for mystery fans: Miss Jane Marple is back. Marple is a collection of new stories featuring Agatha Christie's widely hailed detective written by some of today's top thriller writers. Ruth Ware, Lucy Foley, Dreda Say Mitchell and Alyssa Cole are among the dozen authors who salute the sleuth in this spine-tingling anthology.
Christie introduced Jane Marple in the 1927 story "The Tuesday Night Club." An elderly spinster and first-rate cracker of crimes from the quiet village of St. Mary Mead, England, Miss Marple appeared in 12 Christie novels, becoming one of the most beloved figures in detective fiction.
In the new volume, fresh mysteries take Miss Marple to far-flung locales. A cruise ship headed for Hong Kong is the setting for Jean Kwok's "The Jade Empress," which finds Miss Marple investigating the death of a fellow passenger. In Alyssa Cole's "Miss Marple Takes Manhattan," sinister events plague a Broadway rehearsal, where the lady detective is providentially in attendance.
Miss Marple logs many a mile in these new adventures, and fans will be elated to find that she remains a redoubtable force when faced with a case. The new stories are suspenseful and—of course—deliciously cozy. What's not to love about more Miss Marple?
★ Revenge of the Librarians
Bibliophiles will find a kindred spirit in cartoonist Tom Gauld, whose clever new collection, Revenge of the Librarians, is all about books and the literary life.
The setting of the volume's opening strip is a world taken over by librarians—a what-if tale of terrific proportions compactly recounted in five panels. "With superior organizational skills, they quickly seized power," Gauld writes. "Opponents were mercilessly shushed. Every building was converted into a library."
Gauld's perfectly pithy cartoons feature soft background colors and emphatic silhouettes. Arch humor abounds as he drops amusing author allusions, spoofs the literary establishment and plays with writer stereotypes. Ardent memoirist and precious poet, tormented novelist and cutthroat critic—none are exempt from his pen. Gauld also lampoons hallowed literary traditions. The titles in the cartoon "Summer Reading for Conspiracy Theorists" include Slaughterhouse 5G and The Old Man and the CIA. In "Waiting for Godot to Join the Zoom Meeting," Vladimir and Estragon sit expectantly before their computers, but alas: "Nobody comes. Nobody goes."
Gauld, whose work has appeared in The Believer and the New York Times, gets up to all manner of literary mischief in this quick-witted, must-have collection for book buffs.
If you're shopping for someone who always has books on the brain, we've got your gift needs all wrapped up.
Game On
Give this to a reader who has a competitive streak, whether it manifests on the field, in the classroom or at game night.
Game On: 15 Stories of Wins, Losses, and Everything in Between highlights the importance of "playing the game" to find yourself. In each tale, characters interact with a game, from sports and video games to neighborhood pastimes and more. Many stories illustrate the thrill of competition, even as characters grapple with why rivalries and the act of winning mean so much to them. Nearly all the stories capture the central game's emotional underpinnings, allowing characters to become closer to one another, to find courage in other aspects of their lives or to see something in a new light.
Standout story: Gloria Chao's "Mystery Hunt" follows two college freshmen who share an adorably nerdy passion for language puzzles as they embark on the linguistics department's annual scavenger hunt. As they race to piece clues together, Faye's growing friendship with her cute classmate, Pierce, inspires her to form deeper connections with other people in her life. The story's puzzles are challenging, the emotional stakes are high, the pace is fast, and by the end of the hunt, readers will be eager for more adventures with Faye and Pierce.
—Annie Metcalf
★ Tasting Light
Give this to a reader who yearns to expand the limits of what is possible.
Every story in Tasting Light: Ten Science Fiction Stories to Rewire Your Perceptions masterfully demonstrates how powerful science fiction can be. Whether the teens in these futuristic tales are sipping coffee in a spinning city, exploring parallel universes or experiencing bold new technologies, they're contemplating themes like race, class, disability and gender as thoughtfully as teens today, while dreaming up new and inventive ways to improve themselves and their worlds. As one character muses, "You can be a teenager and make things happen. They're not mutually exclusive at all."
Standout story: Junauda Petrus-Nasah's "Melanitis" begins in the middle. What's a FAN, and why is it a big deal that another one has been murdered by police? To give away more would spoil the experience: As narrator Amari processes the unfolding news, so do we. Petrus-Nasah takes a classical sci-fi theme—the perils of scientific overreach—and applies it to the disparity between joyous Black energy and the dangers of being Black in a white-dominated society. The result is daring and devastating.
—Jill Ratzan
Eternally Yours
Give this to a reader who is smitten with all things magical, mysterious and macabre.
In Eternally Yours, editor Patrice Caldwell collects 15 paranormal romance stories that feature supernatural suitors ranging from ancient immortals to undead high school students. Many of the tales have contemporary settings, their speculative elements intertwined with familiar teenage concerns like part-time jobs and parties. These realistic details—and the often relatable protagonists—give the collection a grounded core that allows readers to truly connect with larger-than-life dramas such as hunting vampires or making out with mermaids. This anthology will sweep romance-minded readers away into one otherworldly love story after another.
The standout story: Marie Rutkoski's dreamlike "Bride-Heart" follows a teenage waitress caught up in the ominous affections of a wealthy older man. As it becomes clear that there is far more to the rich stranger than anyone suspects, a test of agency, control and subtle magic unfolds. Rutkoski crafts an atmosphere of creeping dread as she upends many paranormal romance tropes. Her tense, twisty tale will keep readers guessing all the way to the end.
—RJ Witherow
Generation Wonder
Give this to a reader who knows exactly what they'd do if they woke up with superpowers.
Many of today's most successful superhero stories were dreamed up long before current teenage readers were born. The 13 tales in Generation Wonder: The New Age of Heroes introduce brand-new, contemporary superheroes across a range of genres, from comical adventures to fast-paced thrillers. In a clever touch, each story opens with an illustration in the epic style of a comic book cover by artist Colleen Doran. Diverse, imaginative and entertaining, these stories prove that extraordinary heroes can truly come from the most ordinary circumstances.
The standout story: In Nulhegan Abenaki author Joseph Bruchac's "Ordinary Kid," Leonard is a Native American teen just trying to survive high school—and figure out how to use his newly acquired superpowers, of course. After an encounter with a mysterious entity called Crow, Leonard becomes telekinetic and gains an "uncanny ability to sense when someone [is] picking on someone else." He decides to use his powers to disrupt his town's drug trade before turning his attention to an even more dangerous target. Leonard's self-deprecating humor and hunger for justice call to mind such well-known superheroes as Captain America and Spiderman.
—Hannah Lamb
Teens will discover whole new worlds within the short stories of these four anthologies.
Sign up to receive reading recommendations in your favorite genres!