Margaret Mizushima's latest mystery, Tracking Game, finds sleuth Maggie Cobb and her canine companion Robo on the hunt for both a murderer and a wild animal in the dangerous terrain of the Rocky Mountains. Here, Mizushima lists her favorite crime-solving, very good dogs in fiction.
---
Like many of you, my family and I love our dogs. My husband is a veterinarian, and he's happiest when we have a pack of dogs at our house. Right now we have four, all working dogs who either hunt birds or herd cattle. But our experience from years ago when we trained two of our dogs in search and rescue gave me the background I needed for developing the dog character in my Timber Creek K-9 Mystery series.
Robo is a German shepherd trained in patrol and narcotics detection, and he's Deputy Mattie Cobb's partner in the fictional mountain town of Timber Creek, Colorado. Along with veterinarian Cole Walker, Robo and Mattie solve crimes that involve animals and humans in their mountain community.
Robo plays a big role in every novel, staying busy with tracking fugitives, searching for evidence, sniffing out drugs and rescuing people. He stars in five books so far, with the fifth, Tracking Game, out today from Crooked Lane Books.
The number of dog characters in mysteries has blossomed over the past few years. I could go on and on listing these great stories, but to get you started on some enjoyable reading, here is a partial list of some of the most popular dogs in crime fiction.
Maggie from Robert Crais' Scott James & Maggie mysteries
Crais' Suspect introduces traumatized LAPD officer Scott James, who is recovering from an assault in which his partner was killed and he almost lost his life. He's barely fit to return to duty until he's paired with his new partner Maggie, a bomb-sniffing German shepherd that lost her handler in Afghanistan. Their partnership offers healing for both; and if you love Maggie as much as I do, Crais has written a sequel called The Promise that continues the story of this crime-fighting duo.
Hawk from Sara Driscoll's FBI K-9 mysteries
Lone Wolf is our intro to FBI Special Agent Meg Jennings and Hawk, her search-and-rescue Labrador. It's a thrilling novel in which this team races against time to track down a bomber who is one of the deadliest killers in the country. Driscoll will release the fourth book in the series, No Man's Land, later this month.
All of the dogs in Alex Kava's Ryder Creed mysteries
Alex Kava pens a series featuring FBI agent Maggie O'Dell and Ryder Creed, an ex-marine turned K-9 rescue dog trainer. In Breaking Creed, one of Creed's narcotics detection canines discovers a secret compartment on a commercial fishing vessel off the Pensacola Beach coast. But the Colombian cartel's latest shipment isn't drugs—it's people. There are five books in the series so far.
Elvis from Paula Munier's Mercy & Elvis mysteries
A Borrowing of Bones by Paula Munier features ex-soldier Mercy Carr and retired military K-9 Elvis, who were both traumatized when Mercy's fiancé—also Elvis's handler—was killed on their last deployment. Blind Search, the second book in this Vermont-set series, is out now.
Clyde from Barbara Nickless' Sydney Rose Parnell mysteries
Blood on the Tracks is book one in this thrilling series featuring railroad police Special Agent Sydney Rose Parnell and her Belgian Malinois partner Clyde, both haunted by their time spent in the military in Iraq. Set in the depths of an icy Colorado winter, Parnell and Clyde descend into the underground world of rail riders to solve a murder. There are three mysteries in this series so far.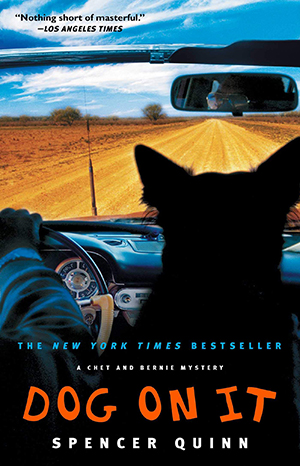 Chet from Spencer Quinn's Chet and Bernie mysteries
Spencer Quinn introduced a wise and lovable canine narrator in Dog On It, the first book of the Chet and Bernie mystery series. In this first episode, Chet teams up with Bernie, a down-on-his-luck private investigator, when they take on a new case involving a frantic mother searching for her teenage daughter. Currently, there are nine mysteries in this entertaining series.
The novels listed here offer reading pleasure to mystery lovers and dog lovers alike. I invite you to partake and hope you enjoy the twists, turns and adventures as much as I do. Here's wishing you happy reading!