Celebrating St. Patrick's Day and all things Irish during Women's History Month represents for me a perfect synchronicity. Let me explain.
While I was researching my Ph.D. dissertation in Dublin, it was the heroines of ancient Irish literature who elevated my sense of myself, both as a woman and as an Irish American. I was startled when I first encountered Queen Maeve, the Star of Ireland's Iliad, The Táin. She led armies, took lovers and insisted that any man seeking to be her husband pass three tests. First, he had to prove he was without meanness because she was "great in grace and giving." Second, he had to be without fear because "she liked a bit of contention." And finally, he couldn't be the jealous type because Maeve always "needed to have one man in the shadow of another." What a woman, I thought—so different from the stereotype of victimhood often projected onto Irish and Irish-American women in literature.
I realized Maeve was a mythological figure, but I'd learned that the Irish often made myths of their history and history of their myths, so making distinctions seemed less important than exploring the women who existed in the collective imagination of Ireland—goddesses and abbesses, saints and scholars, poets and queens. Many were listed in medieval Irish manuscripts in sections entitled "Ban Senchus," a kind of "Let-us-now-praise-famous-women" litany that inspired me to look for such figures in my own life past and present.
I found my great-great-grandmother Honora Keeley Kelly, who rescued her children from certain death during the Great Starvation and brought them from Ireland to Chicago. She became the central character in my first historical novel, Galway Bay.
In my new novel, Of Irish Blood, Honora's granddaughter, Nora, born in Chicago, embodies the next generation of Irish Americans. Though proud of being Irish, she has little real knowledge of her heritage until she stumbles into the Irish College in Paris and meets a scholar from Ireland. He introduces her to the same heroines who awakened me. But because Nora is fictional and lives in the early 20th century, she can also meet the revolutionary women of Ireland, such as Maud Gonne and Constance Markievicz.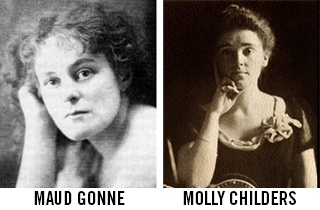 Nora finds that the female figures in early Irish literature inspired these women to leave behind the assumptions of their privileged backgrounds and join the struggle for Irish independence and women's rights. She becomes part of a sisterhood that includes poets such as Ethna Carbery and Alice Milligan, along with a range of activists, suffragists and labor leaders, as well as a crippled American woman, Molly Childers, who sailed a load of guns past the British naval blockade in 1914 to arm Irish volunteers. There is not a sad sack among them.
St. Patrick himself owes his success in christianizing Ireland to Fidelma and Eithne, the daughters of the High King who were his first converts. If you go to St. Patrick's Church in New Orleans, you will see their baptism portrayed in the large painting over the altar. The two wear gorgeous gowns fit for a royal French Court—not historically accurate, maybe, but somehow right.
So there are many reasons to rejoice in March, the month of St. Patrick and of women's history. Sáinte!
Photo of Molly Childers from the family of Robert Erskine Childers.