Alan Rabinowitz is a champion of wildlife conservation. He is president and CEO of Panthera, a nonprofit wildlife organization devoted to protecting big cats. As he shares in his charming picture book for children, A Boy and a Jaguar, Rabinowitz's passion for defending wildcats comes from the struggle to find his own words as a child.
My entire childhood and adolescence was characterized by the inability to speak. Until I finally was given the tools to manipulate the hard contacts in my mouth when I was a senior in college, I was not able to speak a full sentence or communicate a full thought fluently—except to my animals.
I remember feeling as if I lived in two very different worlds. The world of "normal people," in which I felt apart and dysfunctional, yet which dominated my waking hours, and the more comfortable world of my animals. Strangely, it was the world of my pets, whom I could talk to and express myself that was the real world to me. While I felt completely normal and fluent inside my own head, the only living things that seemed to understand that, who listened without judging me, were my animals.
Eventually it became easier to avoid even trying to speak, to avoid the uncomfortable looks, the snickers, the pity of the human world. I remember being sent home from school early one day after being taken to the nurse's office. Called on to speak in class by a substitute teacher, I had purposely dropped a pencil under my desk, bent down to retrieve it and stabbed the point of the pencil into my hand. Retelling the story to my animals that night, I thought nothing of the pain in my hand, but I reveled in the small victory at not having to be embarrassed and shamed once again in front of my classmates. The animal world saved me. And I made a promise as a child to help save them, to give them their own voices, if I ever found my own.
This book is not simply about my childhood and finding the voice that I so desperately sought to help my animal friends. This book is about all young people who feel discarded, misunderstood or ignored. Finding strength through adversity, young people need to see that what makes them different can also make them stronger. This book is about victory. The victory of realizing that what sets you apart empowers you to seek out your dreams and achieve any goal you set in life.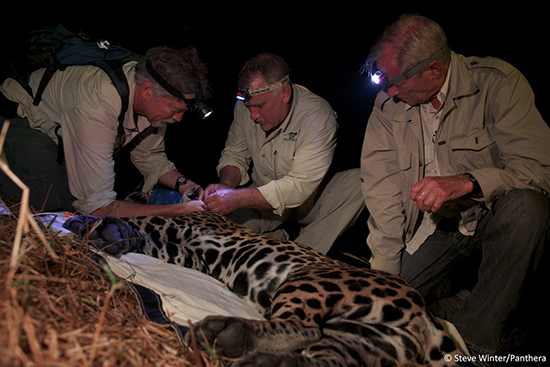 Alan Rabinowtiz collaring a jaguar in the Brazilian Pantanal.
Thanks, Alan!
Images © Steve Winter/Panthera.