When 24-year-old Bridge arrives in Portland, Oregon, to sort through her mother's belongings after her untimely death, she discovers a magical artifact in the back of the freezer. The "dreamworm," as her mother, Jo, referred to it, is the key to traveling between alternate realities, and Jo's seemingly delusional quest to find it defined Bridge's chaotic childhood. After eating the dreamworm, Bridge embarks on a universe-hopping journey to understand what really happened to her mother. We talked to author Lauren Beukes about the allure of the multiverse and what she's learned about herself since publishing The Shining Girls.
I love the idea of the dreamworm. How did you come up with the idea?
Oh god, it's the last decade(s) of turmoil in the world, the realization that we all live in completely separate and conflicting realities that feel true to us. I've been horrified by the tip towards fascism and far right politics of hate, anti-vaxxers and anti-trans legislation, the reversal of abortion rights, shareholders' profits-over-all, climate-change deniers. So, we already live in different dimensions to each other.
Also, psychedelic experiences like Dreamachine in London, which was hallucinatory without any additives except light and music, my lifelong love of Narnia and that simplest and most profound act of reading, which transports you into other worlds and other lives.
What about it appealed to you as a writer?
It's the appeal of the road not taken, all the might have beens in your life and the choices you didn't make. How useful would that be, to be able to audition other versions of you, correct your mistakes, learn from your successes?
This is a (mostly) plausible alternate reality story in that all the universes are compatible with ours, similar enough that it's easy to slip between the other lives and other versions of you. There are no Spider-Hams or sausage fingers, for example, to shout out those other two perfect multiverse stories of late.
This book required a fair amount of neuroscience knowledge. What was that research process like?
The research is the best part of writing for me! Any excuse to hang out with interesting people and pick their brains and have them geek out about their specialties, including Cape Town, South Africa, neurosurgeon Dr. Sally Rothemeyer who talked me through epilepsy and tumors and my friend Dr. Hayley Tomes, who lent her name to the fictional disease Tomesians. The chapter set in the neuroscience lab is based on my visit to Hayley's lab, and I couldn't resist including all the good science and weird trivia. I did pick up excellent facts, but my favorite thing to come out of this was a physical memento.
After spending half a day with Hayley looking at slices of rat brain and mushed-up tapeworm larva under the confocal microscope, she asked me if I wanted a piece of rat brain to take home. I said, "Obviously!" I keep it in my 1930s medical cabinet with other writing mementos like the vintage My Little Pony from The Shining Girls, the Zoo City-inspired sloth scarf I wore to the Arthur C. Clarke Award and the cheap "satanic" jewelry I was gifted by Detective "Auntie Ghostbuster" from South Africa's Occult Crimes Unit. My rat brain slice looks like a tiny piece of dried snot on a glass slide in a plastic case. Naturally, I named it Pinky.
The characters in Bridge have an impressively realistic balance of admirable qualities and concerning flaws. Did you have any core inspirations for Bridge and Jo? Did one come into focus earlier than the other?
Bridge is a departure from most of my protagonists, because she's so uncertain, so adrift in her life. Part of that is in reaction to growing up with Jo and Jo's obsession with a reality-switching artifact, partly it's being young in the 2020s in a world that feels very chaotic and scary right now. She's trying to come to terms with her mother's death, that the weirdness of her childhood was maybe real, not one of Jo's delusions, and who the hell she's supposed to be. She's always been paralyzed by choice, but the situation she's catapulted into is going to force her to make some really big ones.
Jo was easier to write because she's dead set on what she wants, but that single-mindedness exploring other realities has cost her a lot in this one, including her relationship with her daughter.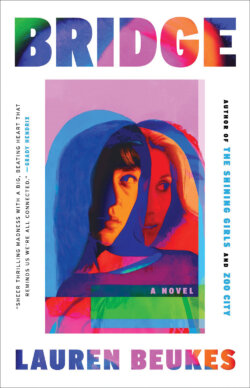 It's been 10 years since you wrote The Shining Girls. What have you learned about your writing along the way?
This is a big one. In the last year, I got my adult ADHD diagnosis! Which explains why I'm probably never going to write a sequel (because it's not shiny and new), the magpie nature of my novels, the weird places my research takes me and how it all comes together—and also why there were five years between Broken Monsters and Afterland.
Post-divorce in 2014, I was, like Bridge, lost, thrashing around, unable to settle on one thing, paralyzed by choices: wheel-spinning in the parking lot on the motorcycle of doubt. To be fair, I was also rebuilding my life from scratch, and I wrote two graphic novels and put together a short story collection in that time. But it turns out big life changes like divorce can throw people who have coped with their ADHD all their lives.
Since I've started medication and all the good lifestyle things around sleep and exercise and eating well, my depression and anxiety are basically gone and writing is a joy again. Still tricky, still sometimes like wading knee-deep through taffy swamplands, but doable. I think a lot of that experience is reflected in who Bridge is as a character, just as the creators of Everything Everywhere All at Once have talked about it as an ADHD allegory.
I don't know if I've learned anything new about writing. Rather, I've come back to something I always knew: the most important thing is to finish the work and allow yourself to be messy and rough in the first draft. Stop wheel-spinning, stop doubling back, stop wondering if you should have taken the other exit. There's a profane South Africanism that works here. Vokvoert. Literally fuck-forward, but really, fuck it, do it, go.
You've written several serial killer mysteries and, without spoiling too much, there are some measured and practical, yet still quite violent scenes in Bridge. What attracts you to these scenes and/or characters? Why is violence such a compelling artistic subject?
I grew up in apartheid South Africa, an incredibly violent society, and I've seen the repercussions of that kind of ruthless repression: the deep, historical, systemic issues that can't be magically undone with a democratic election, even almost 30 years later, even with one of the best constitutions in the world. It's the air we breathe, filled with knives. South Africa has the highest wealth inequality in the world and one of the highest rates of gender-based violence, especially against women of color and even more so if they're queer or trans. That goes back centuries, to colonialism, to the slave trade and capitalism and the channels of power. Violence—personal, systemic—has shaped the world. It always will.
The people who perpetrate violence will always find ways to justify it to themselves, as the antagonist does in Bridge. I'm interested in those moral contortions, in what violence is and what it does to us, the choices we make.
What are some of your favorite pieces of media you experience this last year?
There has been so much incredible TV, from season two of "The White Lotus" to the gleeful genre-mashup mystery of "The Afterparty." "Better Call Saul," "Barry," and "Succession" were perfect and I may be slightly biased here, but I thought "Shining Girls" was such a smart, beautiful, thoughtful adaptation by showrunner Silka Luisa that was true to the bloody heart of my book. But the best thing I saw this year was "Search Party." It's such a weird wonderful show that gets progressively more batshit but absolutely consistent with the characters. (Of course, of course, that is where they would end up.)
Movies: Everything Everywhere All at Once (natch), Triangle of Sadness, Men.
Books: Nick Harkaway's plutocrat mutant murder, Titanium Noir; Catriona Ward's meta mystery puzzle box, Looking Glass Sound; Lisa Taddeo's remarkable Three Women; two books by dear friends (again, slightly biased)—Sam Beckbessinger and Dale Halvorsen's '90s riot-grrrl small-town horror, Girls of Little Hope which wears its bloody heart safety-pinned to its teen punk T-shirt and Sam Wilson's The First Murder on Mars, a fast and sharp sci-fi thriller. Oh, and Louie Stowell's third middle grade Loki book, which she wrote and illustrated, is my favorite take on that excellent trickster (just like Lego Batman is the definitive Batman in my universe).
What's your favorite way to work?
I rent a studio space with a bunch of illustrators, animators, designers, filmmakers and writers in the hip East London neighborhood of Dalston. Writing is such lonely, in-your-head work it's really important to me to have other people around and specifically other artists. It's really social, but also focused and it means I can separate work and home, keep normal hours and get lots of freewheeling thinking time as I cycle in.
If you could pick one author from the past or present to have tea with, who would it be?
I'm lucky to have a lot of author friends and I'd jump at any chance to spend more time with them. But among people I don't know personally: Atwood, for her words, her insight, her curious mischief.
What's next for you?
I have an original TV show in development with two of my closest friends, Sam Beckbessinger and Dale Halvorsen (I did say I was slightly biased above) and I've just started germinating a new novel, but what I'd really love to do is write an immersive theater project. I was blown away by Swamp Motel's Saint Jude where you're assigned to help guide a coma patient through their memories, and Phantom Peak, which is Punch Drunk-meets-"Westworld" with less sex and murder and more cosmic platypuses.
Photo of Lauren Beukes by Peter Kindersley.