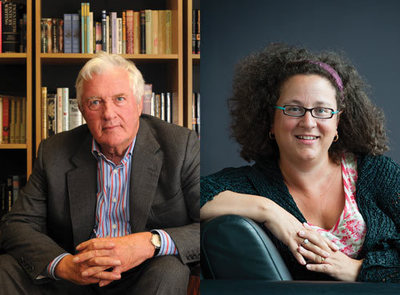 Agatha Christie's grandson, Mathew Prichard (left), gives the family seal of approval to the new Poirot mystery by writer Sophie Hannah (right).
Question: How does one possibly attempt to add to the crime canon of Agatha Christie, whose 80 mystery novels and short story collections have sold more than two billion copies, trailing only the Bible and her countryman William Shakespeare?
Answer: Very. Very. Carefully.
In fact, since Christie's death in 1976, Mathew Prichard, the only child of the only child of the queen of crime fiction, who has overseen her literary estate for decades, was dead set against the idea of any author attempting a Christie continuation novel.
But through "a very happy string of coincidences," the literary world—including those diehard Christie enthusiasts who were "a bit nervous" about the prospect—is poised to fall in love with Dame Agatha all over again, thanks to The Monogram Murders, a darkly twisted new Hercule Poirot mystery crafted by best-selling psychological thriller writer Sophie Hannah (Kind of Cruel).
The Monogram Murders transports us to a coffeehouse in 1920s London, where the idiosyncratic Belgian detective's supper has been interrupted by a woman who fears for her life. Poirot soon learns why: Three guests at a nearby hotel have been murdered by poison and carefully laid out with a single monogrammed cufflink tucked in their mouths. With Scotland Yard investigating officer and doubting-Thomas apprentice Edward Catchpool at his side, Poirot once again calls upon his "little grey cells" to suss the meaning of every delicious twist in the bizarre case.
Noted suspense writer Sophie Hannah puts her own spin on Christie's quirky Belgian crime-solver, Hercule Poirot.
Throughout, Hannah's pitch- perfect dialogue and mastery of misdirection combine to weave a tangled tapestry that delights with its period detail, flashes of humor and grim glimpses into our darker nature.
The novel's birth took an equally circuitous course, dating back several years to when Prichard was editing his grandmother's letters and photographs for The Grand Tour, a travelogue of Christie's 1922 yearlong tour of the British Empire.
"I suppose that editing those wonderful, charming letters of my grandmother that had never been published before drew my attention back and did have the effect of thinking about Agatha Christie anew," he admits.
Slowly, his resolve against authorizing further works under the Christie imprimatur gave way to the realities of modern publishing.
"Our advice was that if we took our courage in both hands and allowed a new Poirot to be written and published, one of the big spinoffs would be a renewal of interest in the real Poirot books," Prichard says. "So I think in some ways, this is a double event. Obviously, the publication of a new Poirot by Sophie Hannah is an event all on its own, but we also hope it will help renew interest in the real Poirot stories."
As luck would have it, Hannah's agent was speaking over lunch with a HarperCollins representative who mentioned in passing that the Christie estate was mulling over a continuation project.
"My agent knew I'd had a couple ideas in mind that I'd always thought of as Agatha Christie-ish, but I'd never quite gotten them to work in my regular titles," says Hannah. "So when my agent suggested that I write a historical, that's what won me."
The happenstance sent Hannah back to the Christie collection that had inspired her own career trajectory. She knew she wanted to set half the book in London, the other half in a rural English village, with Poirot on the case rather than Christie's venerable Miss Marple.
Prichard could not have been happier with the results.
"I think it's her portrait of Poirot that is certainly one of my favorite parts of the book," he says. "I think Sophie got Poirot exactly right; there is the humanity, the flashes of humor—and maybe, although she might deny this, even the occasional moment of irritation, which I think is very much a part of Poirot. Her great sensitivity to the various settings in the book, the hotel and the towns outside of London, are very like Agatha Christie. But some of my favorite bits are pure Sophie Hannah as well."
The process of re-reading the Christie novels to prepare for the daunting task of filling the shoes of the queen of crime fiction left Hannah a changed person.
"It definitely made me realize afresh what a brilliant writer she is, and it helped change my attitude toward my own life," she says. "If you do something very different from what you usually do, when you go back to what you usually do, you think about it more consciously. It's been really good in that sense."
One question weighs on everyone's mind: Is the world ready for more Agatha Christie?
"We have promised ourselves to give the first one time to get launched and get a reaction, not only from critics but from the real fans as well, before making up our minds on what we're going to do," Prichard explains. "It would surprise me if, occasionally, we didn't do something like this again, but don't worry; it won't be every year or anything like that. I don't think that would be right."
How would his famous grandmother have felt about The Monogram Murders?
"My grandmother was a very intelligent person, and I think if you had asked her five years ago whether she wanted someone to write more Poirot stories, she would unquestionably have said no," Prichard admits. "But if you had told her that if she wanted to prolong the enjoyment that her readers still have for the stories she herself wrote, and that one of the modern ways of doing this was to publish a new version of her character by somebody who is a great fan and admirer of hers, I think that at the very least she would have understood the reasoning."
So, somewhere Dame Agatha is smiling?
"I'm sure she's doing that," he chuckles. "She was very good at smiling."
This article was originally published in the September 2014 issue of BookPage. Download the entire issue for the Kindle or Nook.