Starter Villain by John Scalzi
Tor | September 19
John Scalzi returns with another sci-fi romp after last year's The Kaiju Preservation Society, and the plot sounds like a Tumblr thread come to life—which we mean as the highest of compliments. When Charlie unexpectedly inherits his uncle Jake's supervillain business (complete with "unionized dolphins" and "hyper-intelligent talking spy cats"), he also inherits his uncle's feud with a group of even more terrifying bad guys: ruthless corporate overlords.
---
The Fragile Threads of Power by V. E. Schwab
Tor | September 26
There are many wonderful entry points to the work of V. E. Schwab, and fantasy fans swear by her Shades of Magic trilogy, which travels between four alternate versions of Regency London. Schwab completed the trilogy in 2017 and ventured to other genres and categories, writing the popular Cassidy Blake middle grade horror series, a young adult fantasy and a little book called The Invisible Life of Addie LaRue. But now, Schwab will check back in with the heroes of the Shades of Magic trilogy in The Fragile Threads of Power, which takes place seven years later as new threats rise in two of the four Londons they call home.
---
Black River Orchard by Chuck Wendig
Del Rey | September 26
The vibe of Chuck Wendig's latest horror novel sounds like cottagecore, but make it terrifying, and we are very much here for that. The picturesque small town of Harrow is forever changed when its inhabitants become obsessed with some mysterious, beautiful and powerful apples that transform them into better versions of themselves. But as harvest draws closer, the true nature of the apples and the town's bloody history will be revealed.
---
Starling House by Alix E. Harrow
Tor | October 3
Alix E. Harrow's third novel appears to be a dark echo of her debut, The Ten Thousand Doors of January. Opal is another young woman in a mysterious house, but she's not trying to escape like January Scaller. Rather, Opal is determined to make a home in Starling House, no matter what dark and terrifying forces lurk within it.
---
The Dead Take the A Train by Cassandra Khaw and Richard Kadrey
Tor Nightfire | October 3
Cassandra Khaw made a name for themself with the ambitious and creative horror novellas Nothing But Blackened Teeth and The Salt Grows Heavy. Next, they'll be teaming up with urban fantasy writer Richard Kadrey for a duology following a burnt-out New York City magician who accidentally puts the world in jeopardy while trying to save her best friend.
---
Throne of the Fallen by Kerri Maniscalco
Little, Brown | October 3
YA powerhouse Kerri Maniscalco's adult debut, Throne of the Fallen, follows a prince of hell who falls in love with a painter. In a canny move, the novel is set in the same world as Maniscalco's Kingdom of the Wicked series, which will thrill the books' many adult fans who have been hoping for more mature content.
---
The Night House by Jo Nesbø, translated by Neil Smith
Knopf | October 3
There are complicated setups and then there are hooks like the one iconic Norwegian mystery writer Jo Nesbø employs in his first horror novel: What if you saw somebody die by getting sucked into a phone? That's what happens to 14-year-old Richard in Nesbø's The Night House and since no one believes him, Richard embarks on a quest to try and figure out why dark forces are targeting his small-town home.
---
Sword Catcher by Cassandra Clare
Del Rey | October 10
With the end of her iconic, megabestselling and wildly popular Shadowhunter Chronicles in sight (one more trilogy, then it's curtains!), Cassandra Clare is making the leap to adult fiction after 16 years as one of the reigning queens of YA. Sword Catcher will follow Kel, a nobleman's body double, and Lin, a physician with magical abilities, as they uncover a conspiracy at the very heart of the powerful city-state of Castellane.
---
The Reformatory by Tananarive Due
Saga | October 31
Iconic speculative fiction author Tananarive Due returns with The Reformatory, which is based on the same horrifying real school as Colson Whitehead's The Nickel Boys—a school to which Due has a family connection. It's 1950, and 12-year-old Robbie Stephens Jr. has just been sentenced to six months at the Gracetown School for Boys. But since Robbie can see ghosts, he begins to realize that something terrible is happening to the boys of Gracetown.
---
Bookshops & Bonedust by Travis Baldree
Tor | November 7
Travis Baldree's Legends & Lattes was a major hit last year, delighting readers in search of low-stakes cozy fantasies. His next book will move from a coffee shop setting to one just as soothing: a bookshop in a seaside town. As it turns out, Legends & Lattes' Viv once spent a summer recovering from a wound in the tiny beach town of Murk—and what happened to her there set her on the path to becoming the aspiring coffee shop owner with whom readers fell in love.
---
A Power Unbound by Freya Marske
Tordotcom | November 7
Freya Marske's beloved Edwardian historical fantasy series comes to an end with A Power Unbound, which tells the love story of privileged Jack Alston, Lord Hawthorn, and cynical writer and thief Alan Ross. The two men have the sort of enemies-to-lovers, opposites-attract dynamic that thrills romance fans, and if Markse's previous novels are any indication, A Power Unbound will be another perfect combination of love story and grand fantasy adventure.
---
System Collapse by Martha Wells
Tordotcom | November 14
Martha Wells' beloved Murderbot is back for another smart and hilarious adventure in System Collapse, only this time, there's something wrong with our stalwart hero's programming! Murderbot will have to fix its internal bugs and figure out what exactly is going wrong inside itself before it can save the day.
---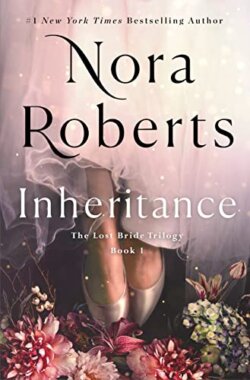 Inheritance by Nora Roberts
St. Martin's | November 21
The legendary Nora Roberts begins a new fantasy romance series with Inheritance, which will explore the haunted history of the Poole family. Sonya McTavish didn't know her father had a brother until her uncle died and left her a beautiful Victorian house on the coast of Maine. She has to live in the house for three years to claim it, but once she's there, she realizes the house may be haunted by the spirit of Astrid, a woman who was murdered after marrying into the Poole family in 1806.
---
The Kingdom of Sweets by Erika Johansen
Dutton | November 28
The Kingdom of Sweets is YA author Erika Johansen's first novel for adults and her first novel outside of the bestselling Queen of the Tearling fantasy series. A new take on The Nutcracker, The Kingdom of Sweets follows Natasha, a young girl who enters the Land of the Sweets and strikes a dangerous bargain with the Sugar Plum Fairy.
---
---