The Fraud by Zadie Smith
Penguin Press | September 5
We haven't had a novel from Zadie Smith since her 2016 bestseller, Swing Time, which was long-listed for the Booker Prize. In the interim, she's been busy with plays and arguably the only good COVID-19-related literature to be published during the pandemic's first year, Intimations. With The Fraud, Smith takes us to 1873 for the story of a Scottish housekeeper, a formerly enslaved man from Jamaica and the ways their lives intersect via the real-life "Tichborne Trial," in which an Australian butcher claims he's the heir of a sizable estate.
---
The Vaster Wilds by Lauren Groff
Riverhead | September 12
Calling all admirers of moss, devotees of fungus and fans of wilderness fiction: The next novel from Lauren Groff (Fates and Furies, Matrix) is a Colonial-era adventure story following a girl who leaves behind her village in Jamestown, Virginia, to live in the woods. Groff is a three-time finalist for the National Book Award, so all we're saying is, it's about time she won it.
---
Land of Milk and Honey by C Pam Zhang
Riverhead | September 26
The strength of the reimagined Westerns trend can, in part, be attributed to the originality and unforgettable voice of C Pam Zhang's first novel, How Much of These Hills Is Gold. With her second novel, Zhang dips into another popular arena: the realm of climate change fiction and "eat the rich" narratives. Land of Milk and Honey is the story of a young chef living in a world where food is rapidly disappearing whose life changes dramatically when she takes a job atop an elite mountaintop colony. We'd love a place at Zhang's table, please.
---
The Unsettled by Ayana Mathis
Knopf | September 26
Ayana Mathis kicked in the door with her bestselling first novel, The Twelve Tribes of Hattie (2012), which earned her comparisons to Toni Morrison. We're finally getting her follow-up, a multigenerational family saga that's divided between small-town Alabama and Philadelphia caught amid racial turmoil. Bonds between mothers and daughters are at the heart of The Unsettled, but part of the story is inspired by real history involving a group that split off from the Black Panthers and the 1985 bombing of Philadelphia's Cobbs Creek neighborhood.
---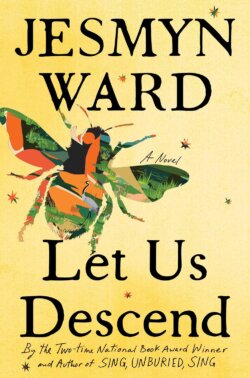 Let Us Descend by Jesmyn Ward
Scribner | October 24
Jesmyn Ward is a two-time National Book Award winner, the youngest winner of the Library of Congress Prize for Fiction and a MacArthur Fellow, but before now, she's never published a work of historical fiction. Let Us Descend draws on Dante's Inferno for the story of an enslaved teenage girl who, after being sold by her white father, journeys from a rice plantation in the Carolinas to a New Orleans slave market and finally to a Louisiana sugar plantation. It also opens with an absolute knockout of a first line: "The first weapon I ever held was my mother's hand."
---
The Maniac by Benjamín Labatut
Penguin Press | October 3
Chilean author Benjamín Labatut's novel When We Cease to Understand the World was a Booker Prize and National Book Award finalist. With The Maniac, the first book that Labatut has written in English, he continues to explore questions of genius, physics and mathematics through the tale of real-life Hungarian American polymath John von Neumann, inventor of game theory and the first programmable computer. A chorus of friends, family and rivals traces von Neumann's story and how he paved the way for AI.
---
Blackouts by Justin Torres
FSG | October 10
Twelve years after his bestselling debut, We the Animals (which was adapted for film in 2018), Justin Torres is back with a second novel, in which a young man cares for an important figure who, from their deathbed, has much to share. Torres was inspired by the musical Kiss of the Spider Woman, the first all-Black production of Macbeth (known as "Voodoo Macbeth"), the film Pedro Páramo and the 20th-century book Sex Variants: A Study in Homosexual Patterns, the latter of which factors into the novel in a major way.
---
America Fantastica by Tim O'Brien
Mariner | October 24
The author of The Things They Carried (a finalist for the Pulitzer Prize) hasn't published a new novel in 20 years, though he's dabbled in nonfiction in the interim. Tim O'Brien's grand return to fiction sounds like a classic dark-descent road trip novel, with a disgraced journalist's bank robbery leading to a cross-country saga that explores an American landscape amid the Trump administration of 2019.
---
The Future by Naomi Alderman
Simon & Schuster | November 7
Naomi Alderman's speculative 2017 novel, The Power, was a bestseller, won the Baileys Women's Prize for Fiction and was adapted for an Amazon Prime original series. With that novel, Alderman imagined a sudden female superpower that could reverse the patriarchal world order, and with The Future, she envisions another tale of radical disruption. This time, a group of friends conspire to take down the tech billionaires who are destroying our world.
---
The Liberators by E.J. Koh
Tin House | November 7
E.J. Koh is a poet, memoirist (her debut, The Magical Language of Others, won the Washington State Book Award), MacDowell Fellow and a writer on the Apple TV+ adaptation of Pachinko. This fall, she publishes her first novel, an epic saga that moves among two families, four generations and two continents. Newlyweds Insuk and Sungho leave South Korea for a new home in San Jose, California, along with their son, Henry, and Sungho's mother-in-law. Their dramatic experiences unfold alongside flashbacks to key moments in recent South Korean history, from the 1980 Gwangju Uprising to the 2014 Sewol ferry disaster, and eventually, all of their lives are changed when Henry falls in love with a North Korean defector.
---
---