Lesa Cline-Ransome is an acclaimed children's author whose first middle grade novel, Finding Langston, received a Coretta Scott King Award Honor. Being Clem completes a loose trilogy that began with Finding Langston and continued in Leaving Lymon. It's a poignant story of a young boy in 1940s Chicago who must deal with the tragic loss of his father while navigating challenges at school, complicated friendships and swimming lessons.
---
How would you describe Being Clem to someone who hasn't read the previous two books in the trilogy? What was different for you about creating this story compared to the earlier two?
Clem is smart, outgoing and funny. He is the cherished youngest child and only boy, with two bossy older sisters and an overprotective mother who are all striving to protect him, but it's not protecting Clem wants. He wants to be independent, brave and strong, like his father. His struggle to discover who he is as a young man finds him caught between a bully and a friend and never quite feeling that he can be honest about his fears without the risk of disappointing those around him.
Unlike the first two books, this story uses humor as a way of tackling many of the difficult issues Clem is facing. Being Clem also finalizes some of the loose ends of the friendship of Clem, Langston, Errol and Lymon, and readers will see how their stories ultimately play out.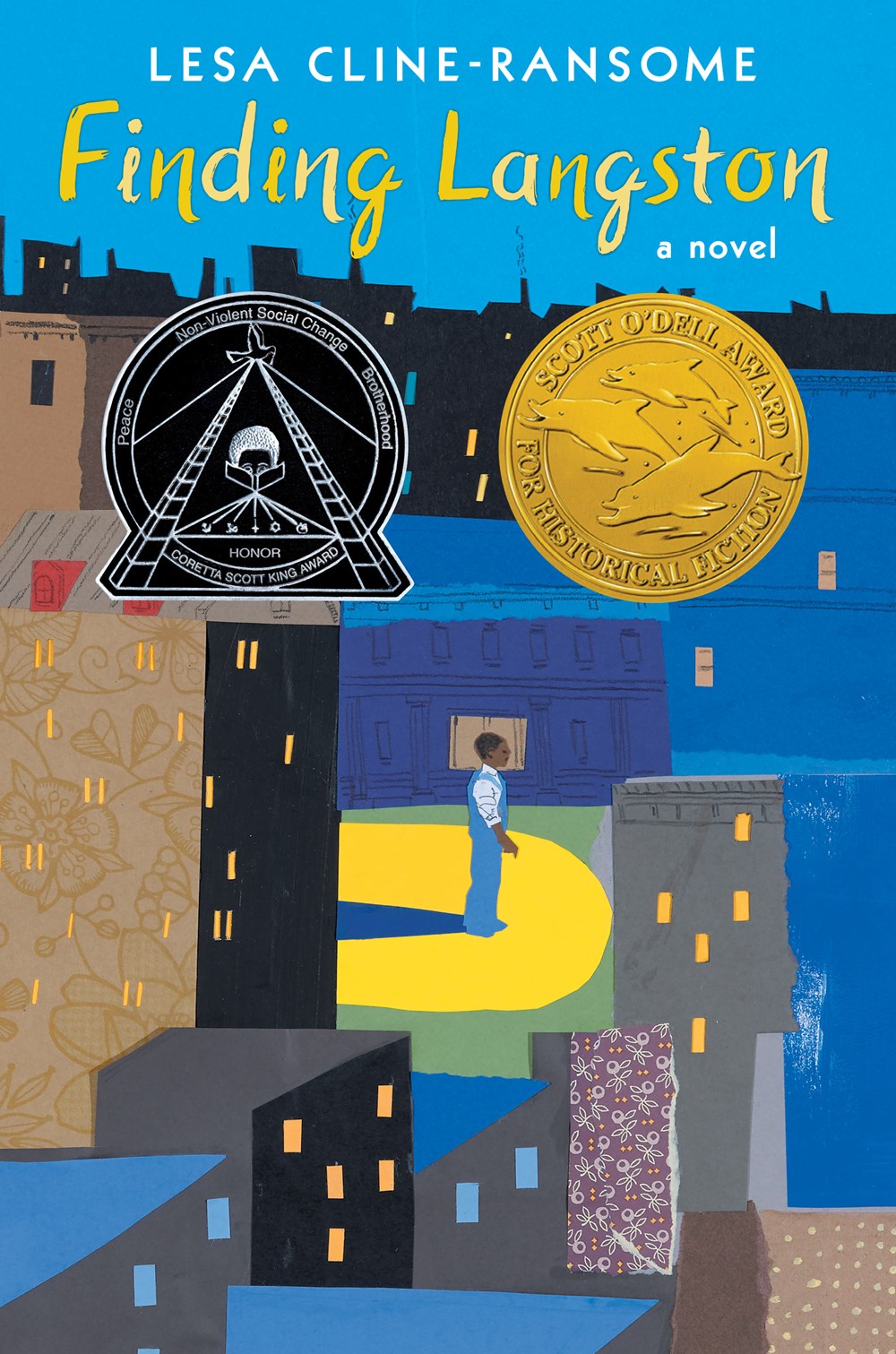 Were these books always going to be a trilogy? What was it like to revisit familiar characters in Being Clem?
Interestingly, Finding Langston began as a too-long picture book that my editor suggested I attempt to expand into a middle grade novel. I never intended the book to evolve into a trilogy, but my editor and I found that readers wanted to know more about the cast of characters introduced in Finding Langston.
The problem for me was that I had only a limited scope for the secondary characters I created, so for Lymon's and Clem's stories, I began by looking at the culminating events in their lives that I alluded to in the first book—Lymon's struggle with reading and the loss of Clem's father in the Port Chicago Disaster—and worked my way into their backstories until I fully understood their uniquely individual stories.
Clem has internalized gender stereotypes, including ideas that boys can't be librarians or talk to other boys about their inner thoughts. What drew you to exploring these stereotypes? How did you balance representing them while also challenging them?
I am a mother of three daughters and one son, and I have always encouraged my son to be open with his feelings and emotions. His sisters were so verbal and emotive, and I've always encouraged my son to be the same, but outside of our home, the messages he received were very different. I often worried about my son and wondered if there was a space for boys who are sensitive or cry easily. It made me wonder about how often boys are asked to hide their emotions—how emotions are often feminized. To this day, I feel so proud of my son who, I feel, is so emotionally evolved in his ability to be honest about his feelings, to gauge and adapt to others' emotions. I do believe that is because he had the space to freely express emotion as a child without being ridiculed. So it is my son I thought of when writing the characters of Langston, Lymon and Clem, who are all in their own ways sweet, sensitive, intuitive souls.
There were so many pieces of history that were presented inaccurately or incompletely when I was a student in school, so writing for me is often a way of relearning the truth of history, in particular the ways in which practices and systems directly impacted people of color.
In the book, Clem is given so many rigid messages about gender roles and what it means to be a man, but none of those definitions seem to apply to him. He begins to wonder, Can I ever be a man if I am afraid or not a fighter or smart or athletic? No one has told him that there are other ways to be a man. I think these are issues that so many young men are grappling with today.
Fear is another emotion that comes up repeatedly in the book. Expressing fear, Clem eventually discovers, is part of the journey toward conquering it. What do you hope young readers realize about fear through Clem's story?
In a world where Black boys are often painted as hardened, violent and to be feared, I know the opposite to be true. In fact, because of that perception, Black boys are often the target of daily slights and injustice and violence. I wanted readers to see that fear and courage are not mutually exclusive. You can experience and embrace fear while forging ahead. It doesn't have to immobilize you.
Many children's books that involve bullying focus on either the person being bullied or the bully themselves. Clem, however, finds himself caught between the two. How did you decide this would be his role?
There is always the temptation to paint the antagonist as all bad and the protagonist as all good, but the truth of it is, people are never all one. There's a little bit of both in all of us, so it is important to show readers that even good people can make bad choices on occasion and hurt others, which is what Clem does when he goes along with the bullying. Ultimately, when he is able to reflect on his own moral compass and inner strength, Clem is able to make better choices, but sometimes people can take longer to get to that place of awareness. I think these types of difficult choices that are nuanced and complex are the choices that kids are making every day, none of them simple. 

I want to ask specifically about Clem's mother, who struggles between her desires to both empower her children to succeed and protect them from adult responsibilities. I think she will be understood very differently by young readers versus adult readers. Can you talk a bit about creating her character and what you wanted to explore or represent through her?
As a writer, there was a part of me that wanted the opportunity to create a different mother than was presented in the previous two books in the trilogy. In the first novel, there was Langston's loving but deceased mother. In the second, Lymon was estranged from his difficult mother, and when they reunited, he discovered that she was far from maternal.
Clem's mother is loving and maternal, but she is also grieving and depressed, and her mental state shapes the ways Clem and his sisters interact with her. Even while she feels she is being protective of them as a mother, her fragility means that her children are forced to mother and protect her.
I don't think we talk enough about the challenges of motherhood and parenting through pain, depression, grief and loss, the lack of support available to mothers and what the reality looks like of having to provide ongoing daily care for children through it all. 

Your writing oeuvre includes middle grade historical fiction, picture book biographies and even a quilt-based abecedary, all united by your goal to "explore periods from America's past that were never discussed in the classrooms of [your] youth." Being Clem in particular focuses on the Port Chicago Disaster and is set against the background of the Great Migration. Do you usually begin writing with a story or a character and then choose a historical setting, or vice versa—or are the two inextricably linked?
Generally speaking, I discover a period or an event from history I am looking to explore and then I envision it through the lens of a child. There were so many pieces of history that were presented inaccurately or incompletely when I was a student in school, so writing for me is often a way of relearning the truth of history, in particular the ways in which practices and systems directly impacted people of color.
When I first began the Finding Langston trilogy, it was because I had just read Isabel Wilkerson's The Warmth of Other Suns: The Epic Story of America's Great Migration, which explores the stories of the 6 million Black people who left the South and travelled north in the 1900s. Reading that book led me to examine so many other historic events and touchstones that appear in the trilogy, including the Parchman Farm penitentiary, sundown towns, segregation and the Chicago Defender.
My own parents were part of the Great Migration and my father left Shelby, North Carolina, when he was 12 years old and moved to Providence, Rhode Island. I began wondering how, as a child, it would have felt as a child to leave behind everything and everyone you know and travel to a region so different in every way from your own. And by asking that question, I developed a character named Langston who finds he doesn't quite fit into the city of Chicago, is teased and called "country boy," but who eventually finds solace in the poetry of Langston Hughes and the Chicago Public Library. In that book, Clem from Being Clem becomes Langston's first friend in Chicago, in part because, like Langston, he has also lost a parent, a father in the Port Chicago Disaster.
Clem interacts with real events, objects and places, including the Bud Billiken parade, the Chicago Defender newspaper and his local high school's champion swim team. Can you tell us more about the process of researching these real-world elements?
Honestly, many of the real-world elements that I've included happened coincidentally and often took on a life of their own. For example, as I began researching segregated swimming pools in Chicago in the 1940s while trying to uncover where Clem might have been able to take lessons, I stumbled across one article about the undefeated DuSable High School swim team, whose members were all Black students, so I did some more digging until I had enough information to include it in the book and make it a central part of Clem's story. What began as a small portion of Clem's story revolving around his struggle to learn to swim ultimately evolved into a much larger social statement involving historic references to segregation, mentorship, newspaper delivery boys and the Chicago Defender.
Clem's friend Langston loves the poetry of Langston Hughes, and Clem is intrigued by him as well. How did you decide to highlight Hughes' work in the novel?
Hughes' work wasn't even included in the initial drafts until I discovered a lecture series featuring Black writers who would share their work at the George Cleveland Hall branch of the Chicago Public Library, which was the library Langston visited. As I looked up the writers, I began reading the works of Gwendolyn Brooks, Arna Bontemps, Countee Cullen and Margaret Walker, but when I read the work of Langston Hughes, I discovered many of his pieces had references to the South, specifically to red clay roads and coming north and missing his mother. That's when a light went on for me, and I decided to connect his work to my character Langston and his leaving Alabama.
---
ALSO IN BOOKPAGE: Read our review of Being Clem.
---
What do you enjoy about writing longer narrative forms like middle grade novels versus shorter forms like picture books?
I do enjoy both, but the beauty of writing in a longer form is that I have the opportunity to get to know my characters so deeply that they begin to feel like family. I am with them as they travel to school, spend time with their families or are in bed at night, so the way in which I inhabit their consciousness is very different from the way in which I write about a picture book subject.
Some writers love researching, some the initial draft and some revising. Do you enjoy one of these processes more than others? What do you enjoy about it?
I can tell you which one I enjoy the least: revision! Each provides its own rewards, but I have to say, there is no other feeling like when I begin getting that first draft down and the story begins to reveal itself to me. I know that I am going to have to change much of it, remove portions, rework entire sections, but it is so wonderful to meet the characters and find the settings and see where they will take me. 

We understand you've recently gotten a dog. Will you tell us about him?
Ah, Miles. Miles began as a foster dog from our local shelter. My plan was to keep him for just a few months until he was adopted. My family thought this was a terrible idea because they said I would become too attached and want to adopt Miles for myself.
Miles is an 8-year-old pitbull who has spent much of his life in shelters. There is nothing he loves more than a good couch and company, so he immediately set up camp in my office and happily stretched out, softly snoring behind me all day long as I worked or did my virtual school visits. We'd go for long walks, and at night he loved to watch movies as he stretched out on the couch next to me.
Miles is not easy. He cries too much, has arthritis and separation anxiety, is so terrified of rain that I have to coax him outside and cover him with an umbrella in order to get him to leave the house on rainy days, and you can never leave food on his level or he'll steal it. But just as my family predicted, we fell in love and now he's mine. I signed adoption papers two weeks ago.
---
Author photo of Lesa Cline-Ransome courtesy of John Halpern. Photo of Miles Cline-Ransome courtesy of the author.