Miranda Paul is kneading a lump of freshly risen pizza dough on a picnic table. We're celebrating the launch of yet another of Paul's children's books at an impromptu pizza party in her backyard in Green Bay, Wisconsin, where family, food and camaraderie are always at their best. While these celebrations are becoming a regular occurrence, they're a thrilling event for Paul, who is still a relative newcomer to the children's book world.
Twelve years in the making, Paul's first book, One Plastic Bag: Isatou Ceesay and the Recycling Women of the Gambia, came out last year. The book is based on one woman's attempts to clean up and recycle the many plastic bags littering her small rural community in Njau, Gambia. Now in its fourth printing, the "little book that could," as Paul calls it, "has significantly transformed the exposure and impact women are having in their community. It has legitimized their work. It has shined a light on how it happened."
Paul is no stranger to the struggles in the West African nation. After earning English and secondary education degrees from St. Mary's College of Maryland, the former teacher taught in Gambia more than a decade ago, where the seeds of inspiration for the book took root.
But Paul's passion for recycling and respect for the Earth is longstanding: She actively collects books for the Books for Africa organization; she collects rain for her garden in rain barrels; she's not averse to wearing thrift store clothing. And she and her husband once owned a local shop featuring imported clothing and gifts.
Her now-shuttered shop is actually how I met her more than 10 years ago. Today, in addition to being what my husband calls "a Miranda Paul groupie," I'm proud to call her a close friend. We share our writing successes . . . and failures. And our kids—including her 9-year-old daughter and 7-year-old son—play together, climbing up to their tree house, which overlooks the outdoor pizza oven, both handmade by her husband. "My husband is Superman," Paul says proudly.
While One Plastic Bag launched her writing and book-touring career—she loves crossing the country visiting schools and libraries and regularly posts about those visits on Facebook—it was also critically well received. Among its honors was a 2016 nonfiction Honor Book for the Green Earth Book Award, given by The Nature Generation. Not bad for a book she was initially told was "institutional" and "not salable."
After One Plastic Bag, Paul published Water Is Water, illustrated by Jason Chin, which received a lot of love in Mock Caldecott discussions nationwide, garnered multiple starred reviews and was eventually named to ALA's 2016 Notable Books list. Songwriter Emily Arrow loved the book so much that she recorded it as a song—which Paul now plays (and kids perform) at her events.
After Water Is Water, Paul's publishing career snowballed, with the release of Whose Hands Are These? and four more books pending publication in 2016 and 2017—Trainbots, 10 Little Ninjas, Are We Pears Yet? and Blobfish Throws a Party.
Yeah, it's all happening fast now. But Paul is quick to remind readers that she's not an overnight sensation.
"I'm not sure if everyone is aware of how much time can pass before something comes out," she laughs, reminiscing about writing 10 Little Ninjas (out this August) when her son was still in a booster seat.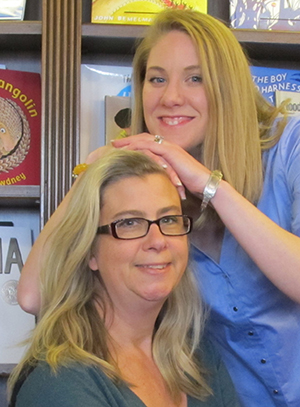 Miranda Paul (top) and Sharon Verbeten (bottom)
Sure, to those on the outside, it may appear to be a charmed life—and Paul would likely admit that while she's enjoying the ride, it's been one paved with revisions and rejections but also lots of rewards. "To me, my books are a direct extension of who I am, and I think kids will be interested."
And while publishers may gauge success in sales figures, multiple printings and glowing reviews, Paul is just as likely to gauge her success by the drawings and letters she gets from children on her travels.
As the sun sets on another Wisconsin spring night, the chill sets in, the kids don their sweatshirts and Paul and her friends and family settle in for another great gathering around the campfire.
For me, it's just another night at the Pauls for pizza. But as both a writer and a librarian, I still pinch myself (proudly!) to call her my friend.