Many children's books about divorce have a gentle, easy-does-it style, protecting kids from the toughest aspects of a parental split. In her new picture book, Divorce Is the Worst, Anastasia Higginbotham takes a different approach, avoiding the usual platitudes and offering a fresh, child-centered view that acknowledges a range of feelings.
With wonderfully inventive illustrations created through a combination of collage and photography, the book shows a child getting the news about an impending divorce and experiencing everything from anger and guilt to heartbreak. Higginbotham avoids a list of dos and don'ts for children of divorce but urges them to "Know your troubles as well as you can. Then let them be."
Divorce Is the Worst also includes appealing doses of humor, as when the child's parents try to buy an "outrageous gift" like a horse to compensate for the pain they've caused, or when the child endures the awkwardness of meeting a parent's new "friend." Higginbotham writes: "Contrary to the title of this book, meeting a parent's *friend* is WORSE than the worst making it the absolute worst, even if the friend turns out to be nice, sort of, later on."
An excellent resource for children and parents, as well as therapists and educators, Divorce Is the Worst ends on an uplifting note with tips on how kids can use collage to make books and tell their own stories.
We contacted the first-time author at her home in New York City to find out more about her debut picture book and her plans to expand it into a series on coping with Ordinary Terrible Things.
Why did you want to tackle a serious topic like divorce in a picture book?
I think childhood is difficult, even when you are loved and people are watching out for you. There's so much that kids can't control and I'm always interested in how they're coping with that. There's a scene in an old episode of "Mister Rogers Neighborhood" where Chef Brockett thanks Mr. Rogers for listening to him express sadness about losing a contest, and Mr. Rogers says, "I like important talk." Same goes for me, especially when it comes to childhood. I like giving kids credit for what they're managing at home, at school and in the privacy of their own minds.
What reactions have you gotten to the book so far, from children and adults?
Kids get it. They love the angry eyes, the bike crash, the horse and all the screaming about meeting a parent's "friend." They want to know how I made the art and if the kid in the book is me. Adults whose parents got divorced when they were kids tend to be surprised by the force of their feelings in response to the book, which is really the point. They've got this volcano of raw emotion they didn't even know was there. Then there are the adults who may be seeing for the first time what their divorce may have felt like from their child's point of view. How they react depends on how open they are to receiving that information.
Your approach to this issue is very straightforward; there's no sugarcoating the pain divorce can cause children and adults alike. Why did you decide to go in this direction?
My book does a few things differently from other kids' divorce books. One, it doesn't try to make kids feel better about the divorce. Two, it doesn't subtly insist that the child believe and accept that the divorce is in their best interest. I wanted to make a divorce book that demanded very little of children and instead holds up a mirror of understanding and compassion—period, the end. It's meant to help kids notice their life just the way it is and reinforce that the kid's experience is real and it matters. This makes it relatable to a lot of situations besides divorce.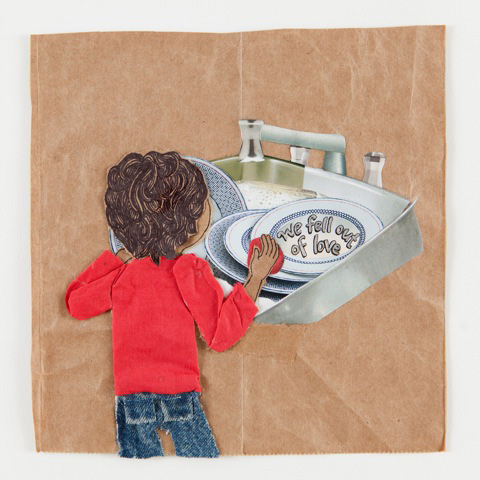 Do you have any personal experience with divorce that influenced the book?
I was shocked and heartbroken about my parents' divorce. My parents portrayed it in a positive way. They told us not to let it affect us. They said it was the solution to the problem, not the problem. But I was attached to our original family. I didn't want my parents to have new partners and I missed seeing my dad every day. That seemed selfish though, so I tried to just be supportive. My siblings and I made jokes about it constantly as if it was ironic instead of sad. But it was just sad.
Some of the coping strategies you suggest for children of divorce are unusual: "Start by creating a place where you can be all in one piece," for example. Why is nature an important part of the coping process?
Nature is always out there. It doesn't leave you. And if you're someone who believes that nature is alive and has spirit, nature can also bear witness for you and offer solace. If your family is falling apart or being mean, you can turn and look out a window and see what the sky is doing. Maybe you can even go outside and watch the sky change and see if your feelings may change along with it. You can get absorbed in the path of an ant or treetops swaying. Nature can pull you up out of yourself.
The illustrations for this book are really unique. Can you describe the techniques you use to create it?
I make collage illustrations on torn grocery bags, using grocery bag paper for people's faces and hands, and scraps of old clothing, ribbons and magazine images to create all the environments. I write the narration and dialogue by hand. I make the child's home comfortable and personal and enjoy building houses and furniture. I draw the child's face, hands and hair in pen and dress them in tiny clothes: jeans and a shirt, jacket, socks, bike helmet, etc. The illustrations are 3D, so the pages are photographed to preserve those dimensions and shadows.
Why did you choose to use brown paper bags extensively in the illustrations?
Brown paper bags are the toughest and prettiest of all paper and they're free! Brown bags can elicit strong positive associations with food, nurturing, surprising packages in the mail. You have to peek in to see what's in it for you. It also makes the people beautifully brown and we need more diverse books.
The blue jeans on the kid are the cutest! Did you sacrifice a favorite pair of your own jeans to make the kid's pants?
No need to sacrifice! The jeans are made from the bottoms that I cut off my own kid's jeans to make shorts. The black shirt that the kid wears at the very end is made from a pair of batman size 2 underpants. The plaid flannel shirt I'm wearing on the author page was my grandfather's and the pink flannel underneath was my grandmother's. Every page has something like this.
An endnote tells us that you've been "making books by hand" your whole life. How did you get started and how has bookmaking helped you "change and grow"?
I had an elementary school teacher who gave us lots of independence with our storytelling and I wrote and illustrated books in her class. I've made paper dolls for friends and cartoon books for my oldest sister Amy to try and make her laugh about bad things happening in her life. The Ordinary Terrible Things series comes out of my own desire to heal from experiences I had that are common to a lot of children. Making the books does heal me. I take care of the kid in the story and the kids who I imagine will read the book someday, and I can feel myself healing. It happens while I work.
What other topics do you plan to cover in future installments of the Ordinary Terrible Things series?
Next up is the death of a loved one, followed by confusion about sex, bullying/school violence, sexual abuse and chronic illness. I also want to do a book about white privilege and racism, another on money and another about birth stories (adoption, surrogacy, sperm/egg donors). I could go on and on. If I get the funding, I will.
All illustrations from Divorce Is the Worst copyright © 2015 Anastasia Higginbotham. Reprinted with permission from the Feminist Press at the City University of New York.