Inspiration can come from strange places, and for Nashville writer Mary Laura Philpott, it was the merger of two publishing powerhouses that got her creative juices flowing.
Philpott, who has written for the New York Times and many other publications and is currently the editor of Musing, the online literary journal of Parnassus Books, was puzzled and amused when she heard that Penguin Books and Random House were planning to join forces. What would be the name of the new company? Random Penguins? From that thought, a Tumblr was born, and Philpott's comic ruminations on penguins and their problems had a home.
Fans of her hilarious penguin sketches were soon flocking to the site, and not long after, Perigee, an imprint of the very same Penguin Random House, came calling with a book deal. We asked Philpott to tell us more about Penguins with People Problems, which shows the adorable, befuddled birds dealing with everything from hair extensions to health insurance forms.
When you started the Tumblr, did you ever think it could lead to a book deal?
Oh, no. I was just having fun drawing weird pictures. Around that time, I was actually trying to figure out what my next book might be, but I didn't think it would be this. When I heard from Penguin Random House, I thought they might be emailing to ask me to cease and desist.

When did you first realize your penguins were becoming a hit?
Shortly after I created the Tumblr, I got a text from a friend of mine that read, "THE PENGUINS ARE ON THE FUG!" The hilarious fashion blog Go Fug Yourself had linked over to my site in a roundup of things they liked. Right after that, the style site Refinery29 ran an article titled, "Is this our new favorite Tumblr?" That's when I realized that people other than my own friends and blog subscribers were even seeing them.

Why did you dedicate the book to Matt Damon?!
Only Matt Damon knows the real answer to that question.

No, honestly—that was just a placeholder. I jotted it there so I wouldn't forget to go back and write a real dedication. Then every time I opened my draft manuscript I saw it and it made me laugh. So in the end I just had to keep it.

Your penguins have a lot of first-world problems: Spanx, bad wifi connections, annoying co-workers. Which one of these penguins is most like you?
That's very true—there are no penguins in this book dealing with famine or global warming. These are just the little daily humiliations and slip-ups and curiosities that we all have. You can probably see me most in some of the more absurdly specific ones. The one trapped in a dress, the one pretending her keys jingling in her purse are a tiny bluegrass band … those are straight out of my actual life.

What would people with penguin problems look like?
I think that would be a much shorter book. Penguin problems probably pretty much come down to survival.

Will you draw yourself as a penguin below?
Sure. Since it's summer, I'll have to include my giant sunhat and sunglasses and cover-up. I'm pretty fair and my eyes are sensitive to bright sunlight, so this is the season where I walk around like a beach-ghost.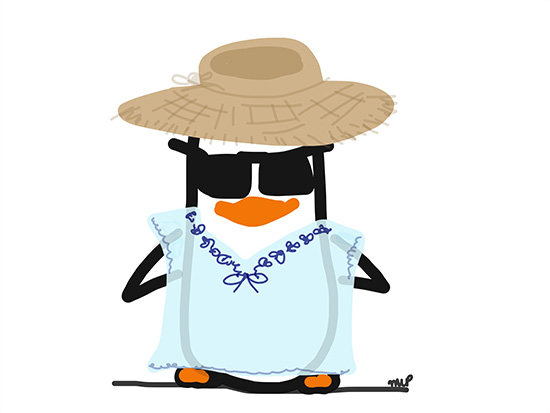 We hear you did a drawing of David Sedaris as a penguin and gave him a copy of it. What other author (or celebrity) would you like to draw as a penguin?
Yes! That was such a special moment. I had interviewed David before, just over email—we had never talked face to face. So when I got to meet with him before his event in Nashville, it was a real thrill. He was so sweet about his penguin. He was like, "Look! There's my FitBit!" I love to create little penguins of real people—in fact, I did a bunch as I was sending out copies of the book to authors I admire. [Readers can see a great selection of Philpott's author-penguins at Musing.]

What would it look like if Minotaur and Grove merged? Or Crown and Little, Brown?
The second one is easy — Little Brown Crown. Maybe you could put the little brown crown on a baby rabbit just to make it cute. As for the first… I'm envisioning "Minotaur Grove."


Do you have a background in art? Did you ever imagine you'd be a published artist?
You're very kind to ask, but no — I pretty clearly have no art background whatsoever. I have always loved drawing little stick people and faces, and if you talk to anyone I've ever worked with in an office, they will confirm that I doodled all over the whiteboards on every wall. And I like drawing little figures in the margins of my letters and notes to people. Most of these pictures look like they were done by a 5-year-old, but I think maybe some of the humor comes from that — from the fact that you have this little childlike doodle with a caption about a grownup situation. People have told me that they find the faces and gestures very evocative — they can somehow see the feelings on these little birds' faces. So, something's coming through despite my total lack of artistic skill, I suppose.

Your little doodles have really taken off—with their very own book and a line of greeting cards. What's next for the random penguins? Could they have their own reality show?
That would be a very weird show, but I would totally watch it.
All illustrations © 2015 Mary Laura Philpott.
Author photo by Cameron Philpott.