True-crime books are frequently framed as guilty pleasures. Often sensational or even lurid, they feed our inner rubberneckers. But in the hands of a tenacious reporter, true crime can also expose devastating truths about human nature.
★ We Carry Their Bones
We Carry Their Bones is Erin Kimmerle's firsthand account of the discovery, exhumation and identification of 51 bodies buried in unmarked graves on the grounds of the Dozier School for Boys in Marianna, Florida. Truthfully, it is obscene to call Dozier a school. The inspiration for Colson Whitehead's The Nickel Boys, Dozier was a prison where boys and young men were exploited, abused and often left to die from their injuries, beginning in 1900 and lasting until its closure in 2011. Kimmerle, a professor of forensic anthropology, led the team of volunteers and students who combed through layers of obstinate Florida clay to find and reclaim these lost boys, despite fierce opposition from townspeople and politicians.
Kimmerle's commitment to finding the truth was grounded in her identity as a scientist. She didn't fit facts to a predetermined answer but allowed the facts to lead her. Her dedication to clarity is reflected in her writing style as well. Without ever losing the thread of her story, Kimmerle outlines precisely, patiently and clearly each step of her task—including dealing with court appearances, bureaucratic battles and hostile town officials, as well as the myriad engineering and scientific difficulties she faced.
But We Carry Their Bones is not just a procedural: Kimmerle's account of how her investigation unfolded also illuminates why it was so important. Unearthing these boys' bodies likewise unearthed Dozier's history, forcing onlookers everywhere to confront the racism and classism that sanctioned the crimes Dozier employees committed against so many young people. And most of all, restoring the boys' names and returning their remains to their families brought both healing to the survivors and a measure of justice to the dead, demonstrating that something like peace is possible if amends are sincerely made.
★ Trailed
In 1996, Julianne Williams and Laura Winans, two young women deeply in love, were murdered while backpacking in Shenandoah National Park. Kathryn Miles, a journalist and science writer, learned about their murder several years later while teaching at Unity College, where Laura had been a popular student. An enthusiastic backpacker herself, Miles was fascinated by the case and set out to write an article about the double murder. Instead, she ended up writing her fifth book, Trailed: One Woman's Quest to Solve the Shenandoah Murders.
Reading Trailed is like taking an interesting and often treacherous hike with a friend who is not afraid to explore the side trails. The main trail in the book is, of course, the story of Julianne and Laura, their deaths and the investigation that followed. But as Miles became more immersed in their story, she discovered other trails that looped back to Julianne and Laura: similar murders in and around the National Park System, especially of young women, members of LGBTQ communities and people of color; the lack of law enforcement resources allocated to park rangers; the many flaws in the initial investigation of Julianne's and Laura's murders that eventually led to the prosecution and persecution of a man who was probably innocent; and the community of cold case investigators and exoneration attorneys who helped Miles hunt for the real killer.
Like Kimmerle, Miles uses a true-crime story to shed light on society's ills. Miles believes that Laura and Julianne weren't murder victims who happened to be lesbians; they were murder victims because they were lesbians. Similarly, the flawed investigation shows the disastrous impact that confirmation bias can have on an innocent man—while letting the guilty man remain free. Meticulously honest and lyrically written, Trailed is an elegy to two young women and an indictment of the system that failed them.
★ Rogues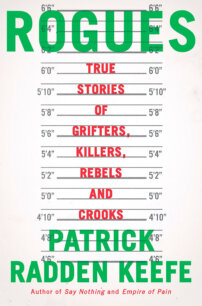 In Rogues: True Stories of Grifters, Killers, Rebels and Crooks, a collection of 12 articles previously published in The New Yorker, author and journalist Patrick Radden Keefe undertakes a different kind of sleuthing. There is no single crime that unites these pieces; for that matter, not every piece concerns a crime. The article on Anthony Bourdain, for example, is remarkably crime-free, if you discount his use of illegal drugs. Instead, Keefe focuses on "rogues"—not the jolly scallywags that the word often evokes but rebels, outliers, rule-breakers and operators who recognize no boundaries between themselves and the objects of their obsessions.
Keefe introduces readers to a notable rogues' gallery, including a woman who must spend her life in hiding after informing on her mobster brother, an assistant professor who went on a shooting spree after being denied tenure, an IT guy in a Swiss bank who spilled the beans on hundreds of tax evaders and a lawyer who defends only death penalty cases. "Buried Secrets," which details the struggle between an honest Guinean president and an unscrupulous Israeli diamond merchant over the world's richest iron ore deposit, could easily have come straight out of a John le Carré novel. "The Avenger," on the other hand, is a heartbreaking account of a man's search for his brother's murderer, the Lockerbie bomber.
Keefe has written several lengthy investigative books, including Empire of Pain, the comprehensive story of the Sackler family's complicity in the opioid crisis. By contrast, he is working within the confines of 10,000-word articles in Rogues, so there is little room for self-reflection or digression. Instead, he makes full use of journalistic tools for fact-finding: keen observation, meticulous research and insightful interviews with the rogues, their associates and their victims. As a result, each essay is a taut, highly honed yet powerful reflection on the creative and corrosive effects of obsession.