These six outstanding volumes of verse will remind readers of the magic of language and the marvels to be found in everyday moments.
---
A gift to celebrate growing older: Woman Without Shame by Sandra Cisneros
Sandra Cisneros' Woman Without Shame is an inspiring celebration of the self. The book's 50-plus pieces are alive with wit and wordplay, as Cisneros takes stock of the past, reflects on her Mexican American identity and ruminates on the experience of growing older. "I am Venetian, decaying splendidly. / Am magnificent beyond measure," she writes in "At Fifty I Am Startled to Find I Am in My Splendor."
Despite the passing years, Cisneros, now 67, displays an attitude of proud defiance. In "Canto for Women of a Certain Llanto," she bemoans the humdrum undergarments designed for older women: "Rage, rage. Do not go into that good night / wearing sensible white or beige." Ignited by flashes of humor, the poems in this buoyant collection find Cisneros accentuating the positive, living without regret and setting an example for us all.
---
A gift to provide comfort and encouragement: And Yet by Kate Baer
Kate Baer shares dispatches from the domestic front in her accessible, inviting collection And Yet. In poems that explore gender dynamics and the day-to-day grind of family life, Baer's voice is that of an intimate, confiding friend.
Across the collection, she takes her own measure as a parent and a wife, toggling between self-acceptance and self-loathing, triumphs and trials. "The weeks are long, and all my son / wants is a new skateboard and a different / mother," she writes in "Late Summer in a Global Pandemic." Baer rounds up snippets from horrifying headlines in "Daily Planet": "Return to school deemed not safe for / Un-vaccinated protests rise as / Hospital beds at capacity in these seven." To flustered mothers, the internet-weary and anyone bewildered by contemporary life, Baer's collection will be a balm.
---
A gift to illuminate the poetry-writing process: Weaving Sundown in a Scarlet Light by Joy Harjo
Weaving Sundown in a Scarlet Light: Fifty Poems for Fifty Years is a splendid survey of the career of three-time U.S. Poet Laureate Joy Harjo. A member of the Muscogee (Creek) Nation, Harjo draws from a rich well of family stories and myths in poems that explore the Native American experience and emphasize the importance of place.
In many of her poems, the landscape emits a kind of language, such as in "Are You Still There?": "hello / is a gentle motion of a western wind / cradling tiny purple flowers." In "Somewhere," she writes, "Our roads aren't nice lines with numbers; they wind like bloodlines / through gossip and stories of the holy in the winds." Notes on the genesis of each poem can be found at the end of the book.
For Harjo, "history is / everywhere," and the past is always present. Her vision and versatility are on full display in this majestic retrospective.
---
A gift to spark new ways of looking at our pasts: Golden Ax by Rio Cortez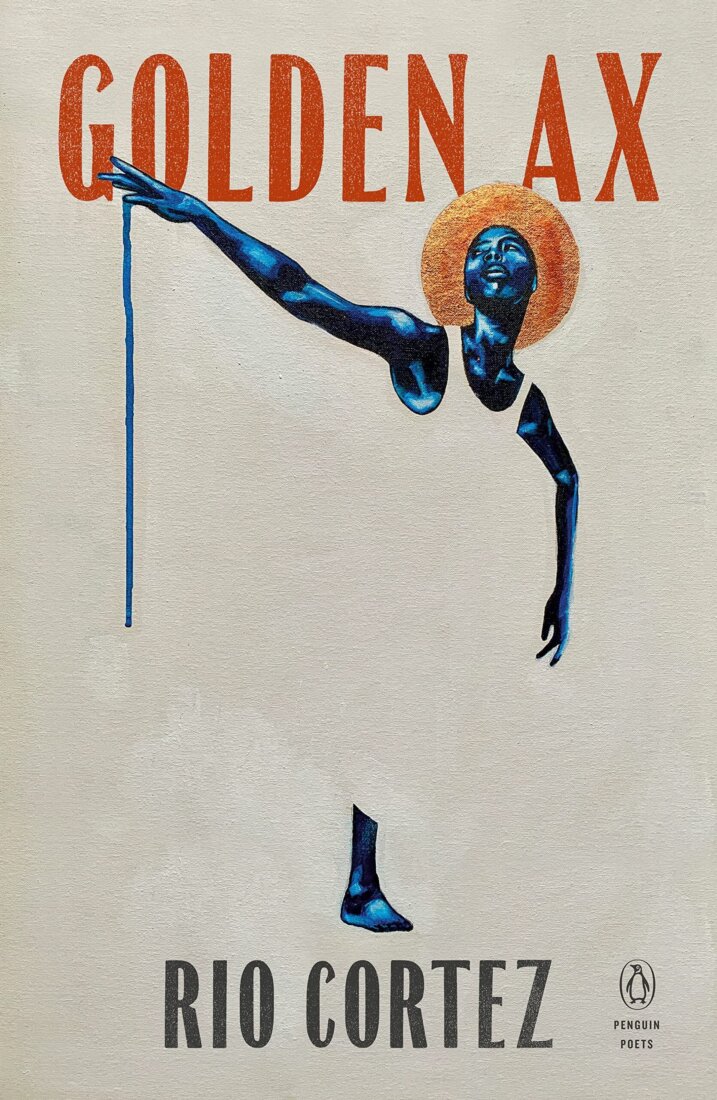 The poems in Rio Cortez's bold new book, Golden Ax, center on a foundational concept—what the author calls "Afropioneerism" or "Afrofrontierism," in reference to her ancestral connections to Utah and the ways in which Black people have shaped and were shaped by the region.
Throughout this ambitious collection, Cortez tangles with themes of genealogy and religion while evoking the otherworldly landscape of the American West. In "Covered Wagon as Spaceship," she wonders "whether it's aliens / that brought Black folks to the canyons . . . how do you come / to be where there are no others, except / science fiction?"
Through poems that probe the often painful connections between past and present, Cortez finds new ways of moving forward.
---
A gift to stoke a fire: ★ The World Keeps Ending, and the World Goes On by Franny Choi
A marked attentiveness to craftsmanship and the niceties of language enlivens the poems in Franny Choi's urgent, stirring The World Keeps Ending, and the World Goes On. A fearless shifter of form, Choi switches moods and modes to tackle such topics as social unrest, climate change and her Korean heritage. In "Toward Grace," she laments the digital landscape: "Online, blondes chirp tips, spin fidgets, get follows. / Old story: unequal distribution of grace." Formidable themes like the nature of tragedy and the human capacity for renewal lend a timelessness to her work.
Choi's collection will awaken and inspire readers. "I want a storm I can dance in. / I want an excuse to change my life," she writes, and her attitude is contagious.
---
A gift to transform darkness into light: Balladz by Sharon Olds
"Who says the forms of art require joy?" Sharon Olds asks in Balladz. While joy does feature prominently in these poems, Olds' mood is one of unease and ire as she explores national upheaval, life during quarantine and the need for intimacy. As the collection's title implies, the ballad is her favored form, a vessel for contemplating the past and celebrating everyday pleasures.
"Amherst Ballad 6" shows the precision of her poetic vision: "The Sill Imbued with Dust – Gave Up / A Maple Wing – of Brussels Lace." In "Grandmother, with Parakeet," elderly women have hair "fixed in / small breaking combers, battleship / curls like works of art." Again and again, Olds surveys the world and, through the filter of her poems, renews it for the reader. Filled with sustaining moments of recognition, Balladz is revelatory.
---