Need a heaping dose of joy this holiday season? Fix yourself a steaming mug of cocoa, put on your warmest, fuzziest pajamas, and cuddle up with one of these spectacular picture books.
The Eight Knights of Hanukkah
Leslie Kimmelman and Galia Bernstein's The Eight Knights of Hanukkah is a humorous adventure that features heroic cavaliers and a rascally dragon while drawing upon Hanukkah traditions.
Lady Sadie has invited her subjects to celebrate the final night of Hanukkah, but Dreadful the dragon is wreaking havoc and thwarting her plans. To stop him, Lady Sadie summons her children, the titular knights, and asks them to commit acts of courage and goodwill to get the holiday back on track. When the dragon's fiery breath fries a boy's dreidel, Sir Alex makes a new one. After Dreadful gobbles up the baker's doughnuts, Sir Lily helps replenish the supply. The knights pursue Dreadful with persistence and bravery, but when they meet him face to face, they discover he's not quite what he seems.
Bernstein's illustrations of the mischievous Dreadful, the bold knights and gracious Lady Sadie are friendly and energetic, and design features such as a map of the kingdom will transport readers to the story's medieval setting. In an afterword, Kimmelman explores the history of Hanukkah and the importance of performing mitzvoth—good deeds—throughout the year. It all adds up to a clever, thrilling journey that's lots of fun.
The Night Before Christmas
Bestselling author-illustrator Loren Long offers an inspired take on a classic tale in The Night Before Christmas. In stunning illustrations that capture just a few of the many ways we celebrate the holiday today, Long updates Santa's famous Christmas Eve visit with a contemporary sensibility that will resonate with readers of all ages.
Long stays true to the spirit of Clement C. Moore's poem even as he shifts its setting to the present day. His illustrations depict the holiday traditions of four diverse families in beautifully composed scenes executed in acrylic paint and colored pencil. Cozy mobile home, snug farmhouse, urban apartment, coastal bungalow—the homes may be different, but they're all ready for Santa's visit. Delightfully detailed paintings of children "nestled snug in their beds" and parents on the lookout for "the jolly old elf" capture the excitement and anticipation of the season. Endpapers show kiddos making crafts, putting up decorations, baking cookies and otherwise prepping for Santa's arrival.
Long's use of varied families and homes is a smart approach that truly modernizes the poem. Inclusive and human, warm and festive, his illustrations provide a wonderful complement to Moore's text, ensuring that the famous tale will continue to be a seasonal staple.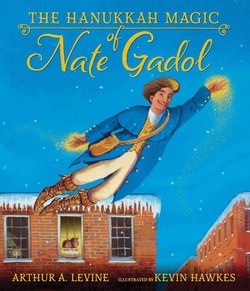 The Hanukkah Magic of Nate Gadol
Arthur A. Levine introduces a new holiday hero in the wonderfully original tale The Hanukkah Magic of Nate Gadol. Nate is a benevolent spirit with flashing eyes, a blue waistcoat, fancy boots and the unique ability to make "things last as long as they [need] to." A noble figure, he only uses his gift for urgent requests, like prolonging the freshness of a flower in a sick child's room or stretching a small quantity of butter for cooking.
Nate keeps a particular eye on two families—the Glasers and the O'Malleys—and helps them out if they fall on hard times. In the difficult winter of 1881, as the Glasers run short of food and the O'Malleys' new baby falls sick, the holidays look far from bright. But on Christmas Eve, Nate teams up with a recognizable jolly old friend to assist both families and bring unexpected joy to their seasonal celebrations.
In a moving author's note, Levine reflects on "the challenges of being a Jewish child during Christmas" and his desire to add to the mythology of the holidays. His sparkling story does just that. In Kevin Hawkes' swirling, whimsical illustrations, Nate is jaunty and beaming with glistening gold details on his buttons, eyes and hair—a captivating sprite who hovers in midair and soars over rooftops. His holiday adventure has an inviting, appealing spirit.
The Little Bell That Wouldn't Ring
Another inventive addition to the literature of the season, The Little Bell That Wouldn't Ring, written by Heike Conradi and illustrated by Maja Dusíková, is an imaginative fable sure to prompt reflection on the true meaning of the Christmas holiday.
In an old church tower, three majestic bells—one silver, one bronze and one gold—practice for the approaching festivities. The tower's newest addition is a small, unas- suming bell that refuses to make music, despite urging from the other bells. A friendly dove named Felidia notices the little bell's silence and, concerned, seeks out her friend Carol the crow. "Nice words will help," Carol advises.
And so Felidia embarks on a quest to discover words that might coax the little bell to ring. Checking in with her animal friends, Felidia solicits suggestions (Ringlebert the pigeon suggests "cake crumbs," while Maurice the mouse proposes "cheddar, camembert, gorgonzola"). Felidia's avian companions travel far and wide to gather words, but in the end, it's a traditional holiday phrase discovered close to home that finally prompts the little bell to chime out for all to hear.
A sweet story that stresses the importance of friendship and encouragement, the tale of the bell comes to life in Dusíková's lovely artwork. From the stately church tower to the bustling town square filled with market stalls, busy shoppers and rosy-cheeked children, her illustrations evoke a winter wonderland. The smallest bell, glowing and golden, has a magical aura all its own. Little ones will love ringing in Christmas with Felidia and her friends.