More than any other category in the romance genre, small-town romances promise warmth and comfort, the narrative equivalent of a security blanket in anxious times. Three romances deliver on that mission while also incorporating a surprising amount of contemporary social reality into the mix. They retain many hallmarks of the traditional small-town romance: conventional couples; tight-knit, if mostly culturally homogenous communities; and towns so tiny and remote they take extra effort to reach. But much like Sarina Bowen's popular True North series, they avoid presenting the small town as a bucolic paradise that renders a prodigal son or daughter whole. Instead, these towns have their own struggles and challenges, much like the books' protagonists. These are stories about communities and how they adapt and change in order to thrive.
The Cowboy Says I Do, Come Home to Deep River and Paradise Cove all begin with significant disruptions: a threatened real estate development, the discovery of oil, the closing of a factory, the death of a loved one or the scourge of new, deadlier drugs. These changes threaten relationships, livelihoods and the way of life. The path to happy ever after, which is the right of every couple in the romance genre, requires learning to cope with that change. In each of these books, that means both respecting the old ways and embracing the new; after all, there's as much comfort to be found in change as in tradition, and all three books skillfully negotiate this balance. All three are softly, swooningly romantic in traditional ways, but the modern and even feminist flourishes are clear too. The men may wear cowboy hats and work boots, but not a single one strictly embodies the traditional alpha male archetype. The women know how to lead, and the men know how to nurture.
In The Cowboy Says I Do, Dylann Crush explores the seamier side of small-town life, demonstrating that not all traditions are good, and sometimes you have to break with the past to secure a better future.
In Idont, Texas, corruption has been the custom for a very long time, and prospects are looking grim. The newly elected mayor, Lacey Cherish, is digging her way out from under the public embarrassment her father, the disgraced former mayor, created, and a major employer has just shut its doors. Lacey is determined to save both her family name and her town by rebranding Idont as "Ido," and transforming it into a one-stop wedding destination. It's a long shot, and Lacey is a real underdog—she's a waitress with no relevant experience, a shaky reputation and a chip on her shoulder—but she'll do just about anything to turn things around. Her older brother's best friend Bodie, the deputy sheriff, is her greatest ally and former crush, but she's not sure she can trust him.
With that setup, Crush effectively anchors the story in several familiar tropes that work well together. Bodie and Lacey grow from childhood frenemies to lovers, and there's also a fake relationship/fake engagement with a significant dose of best friend's little sister tension woven in. Lacey and Bodie's connection is undeniable, but so too are their conflicts, and it all makes for excellent banter. There's also an interesting subplot involving a pitbull rescue and suspected dog-fighting ring. It's a nice touch as it brings out Bodie's nurturing side as he takes on a foster dog whom he showers with loving care, and it begins a thread that will carry on through further books in the series.
What distinguishes this book the most, however, is its unexpected intrigue. For reasons that aren't at all transparent to her at the start, Lacey faces a lot of friction from Bodie's ethically challenged family members as she proceeds with her revitalization plan. Bodie's family is definitely hiding something and it's clearly not good. This creates a tug of war as Bodie is torn between his professional responsibilities, his burgeoning attraction to Lacey and family loyalty. As the deputy sheriff, Bodie must break from the way the good old boys in his family have used their stature and family name to skirt the law. With divided loyalties and high stakes, these external conflicts complicate an already fragile connection, and the crime and corruption provide a nice contrast to the novel's otherwise frothy romantic comedy vibe. There are no real cowboys in this story, just a well-crafted cocktail of romantic comedy and suspense in a struggling Texas town.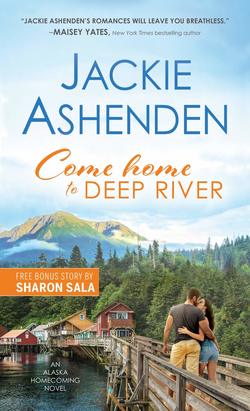 Jackie Ashenden's Come Home to Deep River strikes a more somber tone. In this second-chance romance, a bush pilot returns to his isolated Alaskan hometown for the first time in 13 years after the death of his closest friend. When Silas Quinn left Deep River to join the Army with his best friend Cal West, they both left their childhood friend, Hope, behind. Cal's connection, though, was never severed. The Wests have effectively owned the town for generations, and in the years since, Cal returned multiple times, while Silas intentionally stayed away. For Si, good memories were overshadowed by familial loss and unrequited love. But when Cal dies, he leaves Silas and their business partners both ownership of and responsibility for stewardship of the town.
The discovery of valuable oil reserves in Deep River further complicates the situation, putting the town on the cusp of change with the potential to destroy the environment and the very nature of the community as outside developers try to purchase the residents' property. It also thrusts Hope and Silas back into each other's lives. Thirteen years of absence means 13 years of simmering resentment and loneliness. There is a lot of drama there, but there's also deep, abiding (though unacknowledged) love and a chemistry that has been simmering and left unsated for over a decade. Silas is the most traditional of the three men in these small-town stories. He's got a subtly dominant streak, and it turns out that Hope likes it. But even in the most traditional of this trio of small-town stories, Silas puts Hope's future above his own.
Silas and Hope's story has a haunting tone. In their years without each other, it's unlikely that either Hope or Silas has ever felt whole or wanted, even though Hope stayed behind in Deep River to take care of her mother. She put every dream she ever had for herself aside, but it was never enough. This is a story about coming to terms with ghosts and grudges that no longer serve any purpose. The book's greatest strength is the chemistry between Hope and Silas. Alone, each one makes a semi-tragic figure. Together they ignite. Their love scenes are what romance writers dream of—arresting and affecting, sensual explorations of a deep emotional connection.
Jenny Holiday's Paradise Cove is the most personal and poignant of the three books, as both of its leads are recovering from life-changing loss. After a soul-crushing betrayal by her longtime partner, Dr. Nora Walsh leaves her big-city job and her expensive apartment to become the local family doctor in tiny Moonflower Bay. There she meets Jake, a grieving father who's short on words but generous in spirit. Holiday writes beautiful prose, and while her story is incredibly emotional, she leavens its heaviness with quirky secondary characters and generous helpings of humor.
Holiday also devises the most adorable of meet-cutes for her leads:
"The first time Nora Walsh saw Jake Ramsey, he was getting his hair braided. He was sitting in one of the chairs at Curl Up and Dye reading a copy of Field & Stream while a stylist did some kind of elaborate Maria von Trapp cross-scalp braiding thing to his long brown hair. The image was almost comical: this giant, beefy man sitting on a chair that looked like a piece of dollhouse furniture compared to him. It was like Jason Momoa's paler twin had shown up to play beauty parlor."
For that moment on, in Nora's eyes, the taciturn Jake is both Aquaman and man-god. She soon finds, however, that Jake is much more than his looks, and Moonflower Bay is more than a place to hideout and regroup. Jake becomes Nora's best friend and the community becomes her home. He cooks for her. He builds a deck for her. He takes care of her in every way he can, even as he still reels from the loss of a child.
Though the bones of this story are familiar, Jenny Holiday makes them fresh by giving Nora and Jake's friends to friends-with-benefits to lovers arc a rock-solid emotional rationale on both sides. Plus, the town has real, recognizable public health problems that Nora commits to helping solve. Jake and Nora's chemistry is red hot, and they suit each other more than a little right from the start, so their primary quest is overcoming their pasts to come together whole. Their love story will break your heart and put it back together again better than before, and you'll be grateful for having experienced it all.