You shall find no discourse about the merits and meaning of illustrated covers here, beyond me declaring which of them I think are pretty. (Although I find the raging debate about said covers and whether they're misleading or infantilizing to be endlessly fascinating.) And while we're on the subject of things I won't be doing, I'm not ranking these because I'm not an art expert. My very professional criteria for inclusion are how much I cooed over a cover when I first saw it and/or how quickly I lobbed it at my long-suffering BookPage colleagues' heads to try and make them also coo at it.
---
Nightchaser by Amanda Bouchet
Art by Craig White, art directed by Dawn Adams
Her eyes say, "I can and will kill you if I have to," but the colorful supernova explosion behind her tells you that Bouchet's sci-fi romance isn't all doom and gloom.
Bad Influence by Stefanie London
Designed and directed by Dawn Adams
Sometimes, all you need is an incredibly attractive man and a suitably suggestive title.
The Rose by Tiffany Reisz
Designed by Kathleen Oudit
Erotica can be tricky. Tantalizing, simple images often work best, but it's difficult to come up with something that will stand out in a sea of similarly restrained covers. The way that old-fashioned dress is carelessly slipping off the model's back perfectly evokes the book's blend of starchy humor and easy sensuality.
A Prince on Paper by Alyssa Cole
Designed by Nadine Badalaty, illustrated by Aleta Rafton, Mashala matching set by Trofina Joy, photograph by Shirley Green Photography (couple); © Zuboff—Dreamstime.com (balcony); © Mikel Trako/Shutterstock (city)
I don't know what sort of sexy alchemy is going on with Alyssa Cole's covers, but the chemistry between the cover models is palpable every single time. The gorgeous color scheme and very hot pose of A Prince on Paper make it my absolute favorite of all her books' covers.
Red, White & Royal Blue by Casey McQuiston
Designed by Kerri Resnick of Wednesday Books, illustrated by Colleen Reinhart
McQuiston's debut would have been a hit with or without its millennial pink cover, but the sheer Instagrammability of this jacket certainly helped. So did the fact that the title takes up practically the entire image, making it impossible to forget just which book caught your eye while you were scrolling through your feed.
The Bride Test by Helen Hoang
Art direction and design by Emily Osborne, illustration by Colleen Reinhart
The art for Hoang's sophomore novel is in conversation with the jacket of her debut sensation, The Kiss Quotient, but foregrounds heroine Esme and her journey to empowerment through education. Also, that dotted heart from the jet stream is too cute for words.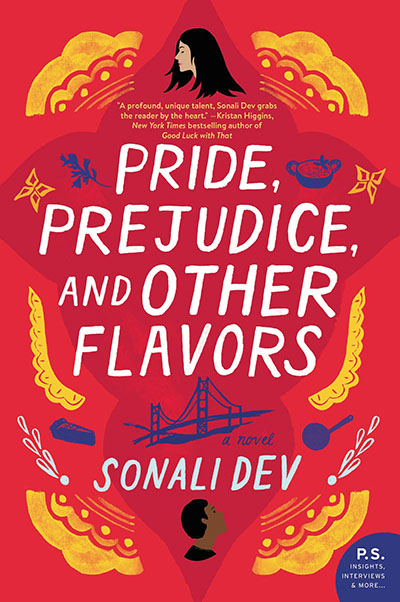 Pride, Prejudice, and Other Flavors by Sonali Dev
This is such a great use of the cartoon trend. The beautiful, somewhat old-fashioned design hints at the privilege and wealth of the Rajes, a family descended from Indian royalty who find love in Dev's latest series. And the little details in the rest of the cover tell you exactly what you're about to read—a modern, food-obsessed, multicultural update of Jane Austen's classic romance.
The Rogue of Fifth Avenue by Joanna Shupe
Illustrated by Jon Paul Ferrera, photograph by Michel Legrou/Media Photo
Whew. Now that is a clinch. Also, major points for not going the way of Ye Olde Ruffled Shirt That Is Inexplicably Open to the Navel. That suit is fabulous and hot.
Ayesha at Last by Uzma Jalaluddin
Art direction and design by Rita Frangie, illustration by Farjana Yasmin
Gorgeous but simple, Jalaluddin's cover art makes a statement about the religion and ethnicity of her characters in truly glamorous fashion.
Fix Her Up by Tessa Bailey
Designed and illustrated by Colleen Reinhart
Another fantastic illustrated cover—adorable, a great use of color and a fun nod to the novel's home improvement plot.
One Fine Duke by Lenora Bell
Designed by Guido Caroti, art by Paul Stinson, photograph © Fly Media Drone/Shutterstock (daisies); © Michael Frost Photography
This is just full-on, old-school romance fantasia to the extreme, and I love it. It's pitch-perfect for Lenora Bell's sparkly, fun-as-can-be historical romance.
Sapphire Flames by Ilona Andrews
Cover art © Gene Mollica
I cackled with glee when I saw this cover, and that is a high compliment. The GOWN. The COLORS. The SPARKLES. A good cover lets you know what awaits you, and Sapphire Flames is as balls-to-the wall, unabashedly and exuberantly fantastical as its cover.
Bringing Down the Duke by Evie Dunmore
Art direction and design by Rita Frangie, illustration by Farjana Yasmin
It was only a matter of time before historical covers also tried out the cartoon trend, and this cover makes a strong case for why they should continue. There are so many clever touches here—the cameo/silhouette treatment of the couple's faces, the old-fashioned sketch of the building behind them, the blazing bright modern colors. And the cherry on top is that adorable stamp treatment of the series name.
A Little Light Mischief by Cat Sebastian
Designed by Patricia Barrows, illustratated by Frederika Ribes, photographs © Jenn LeBlanc/Illustrated Romance
I don't know how to explain what I'm about to say but: This is a perfect visual representation of a sigh. Just utterly lovely, soft and soothing.
Once a Spy by Mary Jo Putney
Illustration by Jon Paul, art direction by Janice Rossi-Schaus
Every time I feature a Putney cover, I end up saying some variation of "Oh my dear god." But this has to be the most magnificent Putney cover yet. This woman is on a horse in a war zone in a bright red gown. This woman is serving us Napoleonic grandeur. I rest my case.
My Fake Rake by Eva Leigh
Designed by Amy Halperin, illustrated by Jon Paul Ferrara
Leigh's tropetastic new romance gets a fittingly over-the-top depiction on this jacket. The unabashedly neon 80s color scheme is unusual for the subgenre, and halo emanating from the "suddenly hot without his glasses" man is just delightful.