Whether they're set in an opulent country estate, a small town or within the arena of international politics, the best romances of 2019 refuse to shy away from the uglier, harder or more complicated parts of life—which only makes their happy endings that much more powerful.
---
10. Devil's Daughter by Lisa Kleypas
Real talk: My initial notes for this book simply read, "I think Lisa Kleypas is a witch." There is truly something magical about how every year, Kleypas delivers a rigorously researched, beautifully written, extremely sexy romance. Devil's Daughter is a light, frothy concoction in which every witticism lands with aplomb—many courtesy of hero West Ravenel, a self-reformed rake who is one of Kleypas' most endearing creations.
9. A Prince on Paper by Alyssa Cole
To be clear, Alyssa Cole's other 2019 release, An Unconditional Freedom, could easily be on this list as well. But I have to go with A Prince on Paper, not just because I love royal escapism and Prince Harry stand-ins, but also because I found Johan and Nya's relationship almost unbearably lovely. Two people who feel unknowable—Nya because she's been trained to fade into the background, and Johan because he's constructed a public persona at the expense of his interior self—finally being seen by one another? Swoon.
Over the course of this series, Anna Zabo has built a very special cast of found-family rock stars and the people who love them. You can feel Zabo's love for their characters radiating from each carefully chosen word, just as the love the members of Twisted Wishes have for one another spills out into their work. Reverb was a perfect capper to a delightful series.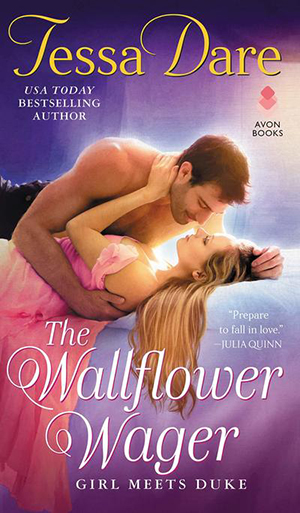 7. The Wallflower Wager by Tessa Dare
If I were to do a "funniest romances" list, Tessa Dare's work would consistently rank at or near the top. All of her novels are astonishingly funny, but her finest work demonstrates how humor can both hide and process pain, and how people who cling to light and joy are often the people who need it the most. All this to say, only Dare could pull off a book that contains a climactic baby goat birth, some truly horrible childhood trauma, many jokes about terrible vegetarian food and a very moving love story.
What do you do after writing an erotic novel so masterful, so impressively fearless that it becomes a genuine internet sensation? (Seriously, read The Red if you haven't yet.) If you're Tiffany Reisz, you write a sequel just as smart, just as sexy and even more boundary-pushing. The Rose takes all the baroque, purple-prose-delight of The Red, mixes it with equal parts Greek mythology and dry British wit, and throws in keen observations on sexuality and spirituality for good measure.
5. The Bride Test by Helen Hoang
Helen Hoang has proved that the fantastic Kiss Quotient was no fluke with the warm, charming The Bride Test. This funny, emotional tale of recent immigrant Esme and her potential groom, Khai, pays tribute to Hoang's mother's life experience, celebrates the resilience and love of single mothers and provides another fascinating, affirming look at life on the autism spectrum.
4. Evvie Drake Starts Over by Linda Holmes
Linda Holmes, the beloved host of NPR's "Pop Culture Happy Hour" and noted romance enthusiast, made her fiction debut with a love story that reads like if Nora Ephron wrote a Hallmark movie. Cutesy small towns are somewhere near the bottom of my list of preferred romance settings (yes, I also hate Hallmark holiday movies, COME AT ME), but Evvie Drake Starts Over won me over in approximately five pages. It's a marvelous, effortlessly funny romance, and hopefully Holmes will write many, many more.
I think about this book all the time—about how unassuming yet utterly magical it is. A poignant, aching slow-burn romance between two high school history teachers, Olivia Dade's Teach Me decries the pettiness and bureaucracy of the educational system while still celebrating the dedication and impact of its two leads. And the distinct unglamorousness of Teach Me only makes its romance that much more miraculous—two flawed, fascinating people falling in love, overwhelming workloads and terrible bosses be damned.
2. Get a Life, Chloe Brown by Talia Hibbert
Self-published phenom (and total joy on Twitter, just FYI) Talia Hibbert bestowed her talents on a whole new audience with her first traditionally published novel, Get a Life, Chloe Brown. Hibbert's buoyant wit and knack for detailed characterization shine on every page, to the point that I frequently muttered "dear god" to myself when yet another of her sentences metaphorically smacked me in the face with how good it was. It takes a real talent to craft characters so endearing and complex that you feel like you're falling in love with each of them as they fall in love with each other.
1. Red, White & Royal Blue By Casey McQuiston
Casey McQuiston's debut arrived with a bang this summer after months of hype—its tropetastic plot and Instagram-ready cover having catapulted it to the top of most-anticipated lists. And lo and behold, it was even better, richer and endlessly rereadable than readers could have hoped. As deeply cathartic as it is screamingly funny, as sweepingly romantic as it is incisively political, Red, White & Royal Blue is a book-long example of why romance is an important, vital genre. In creating a fictional world that readers fell in love with, it became a clarion call for a better, more inclusive reality.