The YA books we're most looking forward to in 2023 will push boundaries, revisit beloved characters and, above all, remind us why we love reading.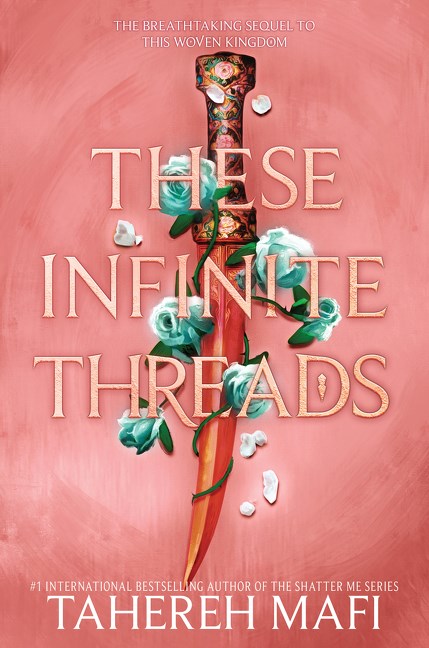 These Infinite Threads by Tahereh Mafi
HarperCollins | February 7
National Book Award-nominated author Tahereh Mafi's first YA high fantasy novel, This Woven Kingdom, was everything you could want from a writer known for her deep grasp of character psychology and world building. A retelling of "Cinderella" that became an instant bestseller, This Woven Kingdom ended on what BookPage reviewer Annie Metcalf called a "whopping cliffhanger," so we're eager to resume the story in These Infinite Threads.
She Is a Haunting by Trang Thanh Tran
Bloomsbury | February 28
If you haven't heard the buzz about this debut horror novel by now, you might want to plant more bee balm in your yard. The cover reveal for Trang Thanh Tran's haunted-house tale basically broke the bookternet last fall—and deservedly so, because artist Elena Masci's cover art is both stunning and deeply unnerving. As creepy as the novel's cover is, we suspect it's nothing compared to the nightmares that await within its pages.
Stateless by Elizabeth Wein
Little, Brown | March 14
Raise your hand if you've gasped and/or sobbed while reading one of Elizabeth Wein's historical fiction masterworks. We know we're far from alone in this, which is why we can't wait to soar away with Stateless, which follows a group of top-notch pilots on a weeklong race all over Europe in 1937. After a detour into code breaking in her previous novel, The Enigma Game, we hope Wein's incredible knowledge and passion for flying retakes center stage in Stateless.
The Witch and the Vampire by Francesca Flores
Wednesday | March 21
We'll be honest: Francesca Flores' debut fantasy novel had us from the title, but when we learned that it was a queer reimagining of "Rapunzel" with a friends-to-enemies-to-lovers story arc, we started counting the days until The Witch and the Vampire's late March publication date. Witches, vampires and all things paranormal are having another moment in YA, and we couldn't be happier about it.
The Quiet and the Loud by Helena Fox
Dial | March 28
Australian author Helena Fox's debut YA novel, How It Feels to Float (2019), has become a quintessential BookTok success story. Videos hashtagged with its title have been viewed hundreds of thousands of times, and many BookTokkers praise Fox's depiction of her protagonist's mental illness and grief. Readers have been patiently waiting almost four years for Fox to publish another book, and The Quiet and the Loud—which explores similar themes of mental health, family and hope—promises to be worth the wait.
Stars and Smoke by Marie Lu
Roaring Brook | March 28
If there's one thing we love, it's an author with range, and at this point, we're beginning to wonder if there's anything that bestselling author Marie Lu can't do. Dystopian thrillers? Check. Cyberpunk sci-fi? Check. Historical fantasy? Check. With Stars and Smoke, Lu adds "espionage thriller" to this list, as the novel follows a pop superstar-turned spy and the gifted agent posing as his bodyguard.
Blood Debts by Terry J. Benton-Walker
Tor Teen | April 4
A deadly curse, a magical New Orleans family, twins setting out to heal intergenerational trauma and solve a 30-year-old cold case—if you're thinking that debut author Terry J. Benton-Walker packed a lot into Blood Debts, you're not wrong. Benton-Walker's narrative and world building both seem incredibly ambitious and intriguing, and we can't wait to see how he untangles it all.
Funeral Songs for Dying Girls by Cherie Dimaline
Tundra | April 4
Vancouver-based Métis author Cherie Dimaline's 2017 dystopian YA novel, The Marrow Thieves, was an acclaimed bestseller in Canada, while her first book for adults, Empire of Wild, was one of our favorite debuts of 2020. Dimaline followed these with a Marrow Thieves sequel in 2021 (Hunting by Stars), but Funeral Songs for Dying Girls will be her first standalone YA novel in seven years. Although it contains similar speculative elements as her previous works (in this case, ghosts), its contemporary setting marks an intriguing departure from the Marrow Thieves world, and we love to see writers as gifted as Dimaline setting themselves new challenges.
Silver in the Bone by Alexandra Bracken
Knopf | April 4
Alexandra Bracken initially found success during the dystopian YA boom of the early 2010s with The Darkest Minds, the first volume in a four-book series that was eventually adapted into a movie co-produced by "Stranger Things" producer Shawn Levy. In the years since, Bracken has built on her early success with time-travel romances, a supernatural middle grade duology and 2021's Greek mythology-inspired blockbuster Lore. With Silver in the Bone, Bracken brings her considerable talents for breakneck pacing and complex world building to a new arena: Arthurian legend.
The Making of Yolanda la Bruja by Lorraine Avila
Levine Querido | April 11
They say you shouldn't judge a book by its cover, but . . . just look at the incredible cover of Lorraine Avila's debut YA novel and its gorgeous illustration by artist Blane Asrat. As soon as we saw it, we couldn't wait to learn more about The Making of Yolanda la Bruja, the story of a teen girl who, as she waits to be initiated into her family's magical brujería traditions, begins having upsetting visions about the son of a prominent local politician.
Imogen, Obviously by Becky Albertalli
Balzer + Bray | May 2
Becky Albertalli's 2015 William C. Morris Award-winning debut novel, Simon vs. the Homo Sapiens Agenda, helped to usher in a welcome wave of LGBTQ+ YA fiction that readers are still happily surfing today. Albertalli could have coasted on Simon's success for the rest of her career, but instead, she's explored new dynamics across three solo novels, a novella and three co-authored novels and established herself as one of contemporary YA fiction's most beloved writers in the process. Imogen, Obviously draws on some of Albertalli's own experiences to tell a story about identity, honesty and, of course, falling in love.
Warrior Girl Unearthed by Angeline Boulley
Holt | May 2
Angeline Boulley's Firekeeper's Daughter was one of the most exciting debut YA novels of 2021. Readers loved its gripping, twisty mystery and breathless prose, and the novel was optioned to be adapted into a Netflix TV series by Barack and Michelle Obama's production company. This year, Boulley returns with another thriller, which she has described as starring "an Indigenous Lara Croft" named Perry Firekeeper-Birch. Warrior Girl Unearthed also features a gorgeous cover illustration by Caldecott Medalist Michaela Goade.
Nigeria Jones by Ibi Zoboi
Balzer + Bray | May 9
Few authors combine vibrant, word-perfect prose and a keen grasp of narrative pacing the way Zoboi does, let alone across as many genres and categories as Zoboi has worked in: The author has written acclaimed bestsellers in every category of children's publishing, from picture books (The People Remember, a Coretta Scott King Honor book) to YA novels (American Street, a National Book Award finalist) to nonfiction (Star Child). The titular character in Nigeria Jones is the daughter of Black separatists, and she begins to question the very foundations of her life when her mother disappears.
The Grimoire of Grave Fates, created by Hanna Alkaf and Margaret Owen
Delacorte | June 6
The Grimoire of Grave Fates isn't a short story anthology as we usually think of them: a collection of contributions on a common theme. It's more like listening in as 18 of our favorite YA authors play a role-playing game inspired by Clue, each contributing a chapter about the magical Galileo Academy for the Extraordinary, where students are trying to solve the murder of a professor. Hanna Alkaf and Margaret Owen lead a contributor list that includes Darcie Little Badger, Julian Winters, Kat Cho, L.L. McKinney, Mason Deaver, Tehlor Kay Mejia and more.
Everyone Wants to Know by Kelly Loy Gilbert
Simon & Schuster | June 13
Ever since her debut novel, Conviction (a finalist for the 2015 William C. Morris Award), Kelly Loy Gilbert has been on our auto-read list—as in, we automatically want to read everything she writes. All of her books (and there are only three of them, so you could catch up between now and June) combine achingly beautiful prose with subtle storytelling that always leaves us in awe and often in tears. Everyone Wants to Know explores the impact of reality TV fame through the story of a teen girl who has grown up in the spotlight gets burned when a private conversation draws public ire.
---
---