Whether you love sprawling fantasies, gothic fables, jubilant rom-coms or page-turning mysteries, 2022 is guaranteed to be a YA lover's best reading year ever.
This Woven Kingdom by Tahereh Mafi
HarperCollins | February 1
Tahereh Mafi has written a bestselling six-volume dystopian series as well as middle grade fantasies and two devastating realistic novels set in the early 2000s. Her fans love her imaginative, emotional storytelling and razor-sharp prose. In 2022, she'll publish her first work of high fantasy for teen readers, a sprawling yet intimate tale with Persian and Muslim influences. If your ideal reading experience is being transported into an epic and magical story, you'll want to put This Woven Kingdom at the top of your TBR.
I Must Betray You by Ruta Sepetys
Philomel | February 1
The thing I love most about historical fiction master Ruta Sepetys is how unwilling she seems to be to simply rest on her laurels. At this point in her writing career, Sepetys could forge a comfortable path retreading familiar territory, but instead, she follows her unique instincts for sniffing out compelling stories amid locales and historical moments little-known to most of her American readers, from war-torn northern Europe during the final days of World War II to Barcelona at the height of the Franco regime. In I Must Betray You, she turns those instincts to 1989 Romania, and the result is a can't-miss read for fans of historical fiction and thrillers alike.
Mirror Girls by Kelly McWilliams
Little, Brown | February 8
Kelly McWilliams is the daughter of acclaimed children's author Jewell Parker Rhodes, and her 2020 debut, Agnes at the End of the World, proved that she's a talented storyteller in her own right. Mirror Girls is an ambitious step forward for McWilliams. A historical horror novel that reads like The Vanishing Half meets "Lovecraft Country," it's the story of biracial twin sisters who are separated at birth and reunite under mysterious circumstances in the small Georgia town where they were born.
Bitter by Akwaeke Emezi
Knopf | February 15
Akwaeke Emezi is one of the most exciting and visionary writers working today, and I'm thrilled that they're returning to YA shelves with this prequel to their 2019 National Book Award finalist, Pet. Bitter will reveal the story of Pet's mother, the eponymous Bitter, and add new dimensions to the world Emezi created in Pet.
All My Rage by Sabaa Tahir
Razorbill | March 1
It's hard to think of a more successful or more influential YA fantasy series of the past decade than Sabaa Tahir's Ember in the Ashes quartet, which ended in December 2020 with A Sky Beyond the Storm. All My Rage explores vastly different territory: It's a work of contemporary realism about two teens coming of age in a small town in the Mojave Desert. Like the novel's protagonists, Tahir grew up at her family's 18-room motel in the Mojave Desert, and All My Rage draws inspiration from her personal experiences. Changing genres and creating such a personal story is an ambitious move, but Tahir is a storyteller I'd follow just about anywhere.
The Rumor Game by Dhonielle Clayton and Sona Charaipotra
Disney-Hyperion | March 1
In December 2020, Netflix released the first season of "Tiny Pretty Things," adapted from Clayton and Charaipotra's 2015 YA novel of the same name. It was an addicting mix of a high-pressure environment (a ballet school) and a twisting, shocking plot that kept me up past bedtime on more than one occasion. Clayton and Charaipotra have both released books individually since publishing Shiny Broken Things, the sequel to Tiny Pretty Things, in 2016, but they're reuniting in 2022 for a brand-new standalone thriller about rumors, secrets and lies set at an exclusive prep school. It's got the makings of a late-night read written all over it.
Gallant by V. E. Schwab
Greenwillow | March 1
I'm going to throw some words and phrases at you right now: Fog. Gloom. Mysterious. Crumbling old house. Ghostly. Candlelight. A door to the unknown. Secrets. Haunting. Enchanting. If those are vibes you find yourself inexplicably drawn to, bestselling author V. E. Schwab has written a book especially for you. The less I say here about Schwab's return to the YA category, the better, because as with all tales of mystery and magic, half the pleasure's in the discovery itself.
Great or Nothing by Joy McCullough, Caroline Tung Richmond, Tess Sharpe and Jessica Spotswood
Delacorte | March 8
How many reimaginings and adaptations of Louisa May Alcott's beloved novel Little Women is too many for me? To quote an iconic scene from the 2004 teen comedy Mean Girls, the limit does not exist. I regularly sing along to the soundtrack of the 2005 Broadway show while driving to work. I inhaled Bethany C. Morrow's 2021 remix, So Many Beginnings, set in 1863 in a Virginia colony of newly emancipated people. Greta Gerwig's 2019 adaptation was the last movie I saw in a theater before the pandemic. (I loved it, obviously.) So I truly cannot wait to see what this reimagining will hold. The details are already tantalizing: It's set in 1942, with each March sister's perspective written by a different YA author. Jo builds planes! Laurie is an army pilot! Amy is a Red Cross volunteer in London! Beth's point of view will be in verse! I look forward to swooning, sighing and ugly-crying all over again when it hits shelves in March.
Right Where I Left You by Julian Winters
Viking | March 15
Julian Winters has published three of the most beloved LGBTQ+ realistic fiction YA novels in recent memory through a small, independent publisher called Interlude Press. This spring, Winters will release his first book from one of the so-called Big Five publishers, a move that's sure to make his rising star shine even brighter. Right Where I Left You has all the ingredients that readers loved in Winters' previous books, including authentic teen characters and heartfelt depictions of friendship, romance and the search to figure out who you are and what you really want.
Kiss & Tell by Adib Khorram
Dial | March 22
Adib Khorram's first two novels told the quiet but deeply powerful story of queer biracial teen Darius Kellner. Darius the Great Is Not Okay and its sequel, Darius the Great Deserves Better are master classes in creating a unique and authentic narrative voice. In his third book, Khorram seems to be interested in turning up the volume—literally. The protagonist of Kiss & Tell is the only gay member of a newly successful boy band, but he's struggling with his heart and with the pressures of the spotlight. Readers who enjoyed the showbiz romance of Sophie Gonzales and Cale Dietrich's If This Gets Out or the music-loving heart of Leah Johnson's Rise to the Sun won't want to miss it.
This Rebel Heart by Katherine Locke
Knopf | April 5
Although they've published two YA novels and two picture books (including What Are Your Words, which is the most accessible introduction to personal pronouns I've ever read) and edited two anthologies, Katherine Locke isn't a household name—yet. This Rebel Heart could very well be the book to change that. Set in the midst of the 1956 revolution in communist Budapest, the story promises an intriguing juxtaposition of history and magic that fans of Julie Berry, Naomi Novik, Gavriel Savit and Ruta Sepetys will love.
Nothing Burns as Bright as You by Ashley Woodfolk
Versify | April 5
While we're on the subject of authors who should be household names, allow me to get out my megaphone and sandwich board and stand out on the sidewalk to sing the praises of Ashley Woodfolk. Woodfolk's first two novels are two of the best works of YA contemporary realistic fiction of the past decade, and she was one of six contributors to Blackout, the collaborative YA romance hit of summer 2021. To read a Woodfolk novel is to lose all sense of time and be swept away in her character-driven storytelling and effortless prose, and Nothing Burns as Bright as You looks to be her most explosive novel yet.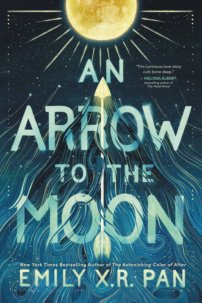 An Arrow to the Moon by Emily X.R. Pan
Little, Brown | April 12
Emily X.R. Pan's 2018 debut novel, The Astonishing Color of After, was a New York Times bestseller and received a number of awards, including a Walter Honor and a YA Honor from ALA's Asian/Pacific American Awards. It was the uncommon debut novel whose ambition was matched by its creator's skill, so while Pan's second book looks even more ambitious, I'm so excited to watch her pull it off. Like Pan's debut, An Arrow to the Moon will blend romance, emotional storytelling, Chinese mythology and fantastical elements for an unforgettable combination.
I Kissed Shara Wheeler by Casey McQuiston
Wednesday | May 3
Casey McQuiston burst onto bookshelves in 2019 with her adult romance debut, Red, White & Royal Blue, a book that reads like "The West Wing" meets "The Crown" but with much more kissing, and then didn't let their foot off the gas one bit in their second book, One Last Stop. So when, in the summer of 2021, McQuiston announced that she would be publishing her first YA novel, to say that it was exciting would be an understatement. I Kissed Shara Wheeler is set at a conservative school in Alabama and, like One Last Stop, will incorporate elements of both mystery and romance.
Our Crooked Hearts by Melissa Albert
Flatiron | June 28
The Hazel Wood, Melissa Albert's first YA novel, spent more than half of 2018 on the New York Times bestseller list. Since then, Albert's fans have devoured a sequel, The Night Country, as well as a companion set of short stories, Tales From the Hinterland. Our Crooked Hearts will capture the same intoxicating potion of dark magic and sharp prose that readers loved in Albert's previous books, but since it's a wholly original story unconnected to the Hinterland world, it's also a perfect entry point to Albert's work for new readers.