Get ready to place those holds and preoders, because 2022 is full to the brim with new releases from old favorites, such as Tina Brown, David Sedaris, Susan Cain and Philip Gourevitch; irresistible debuts from Silvia Vasquez-Lavado, Erika Krouse and Maud Newton; plus exciting nonfiction releases from fiction masters, such as Amy Bloom, Erika L. Sánchez, Ingrid Rojas Contreras and Kim Stanley Robinson.
Black Love Matters edited by Jessica P. Pryde
Berkley | February 1
Debut author Pryde is a librarian, podcast host, editor and romance fan who has long been aware of the lack of narratives featuring Black protagonists. For Black Love Matters, she has enlisted a stellar lineup of authors, scholars and critics—including Piper Huguley, Da'Shaun L. Harrison, Allie Parker and Carole V. Bell—to share their perspectives on Black love and desire, especially the ways they're portrayed in media. It promises to be a paradigm-shifting collection that will fundamentally change how readers engage with love stories.
In the Shadow of the Mountain by Silvia Vasquez-Lavado
Holt | February 1
You may know Vasquez-Lavado as the first Peruvian woman to ascend Mt. Everest; or the first gay woman to climb the tallest mountain on every continent; or the entrepreneur behind Courageous Girls, a nonprofit organization that helps young women recover from abuse. You probably don't know her as an inspiring author, but that will change this February. In Vasquez-Lavado's debut memoir, the narrative of her life—from horrific sexual abuse to immigration and professional success in San Francisco—beautifully mirrors her arduous but rewarding trip up each mountain. It's a testament to the power of high altitudes to help heal trauma, and a pretty great story to boot. Even Selena Gomez seems to think so, since she's already signed on to star in and produce a film adaptation of Vasquez-Lavado's book.
Heartbreak by Florence Williams
Norton | February 1
Williams is an accomplished science writer with an eternally curious mind—as demonstrated by her previous books, Breasts: A Natural and Unnatural History and The Nature Fix: Why Nature Makes Us Happier, Healthier, and More Creative, as well as by her work for Outside, National Geographic and more. So when her husband of 25 years announced that their marriage was over, her impulse was to take her devastation and study it. The result is Heartbreak, an exceptional blend of memoir and science that showcases elegant writing, raw personal narrative, fascinating research and even some cutting-edge self-experimentation. (The supervised use of MDMA makes an appearance.) Throw in some humor and wilderness adventures for good measure, and you get a rare and inimitable book.
Scoundrel by Sarah Weinman
Ecco | February 22
After her previous true crime hits, The Real Lolita and Unspeakable Acts, we have full confidence that a new Sarah Weinman joint is going to be good. In Scoundrel, she takes on 1960s murderer Edgar Smith, who used his devious smarts to fool the public, including conservative mogul William F. Buckley, into thinking he was innocent. He wasn't, of course—but thanks to his well-honed manipulation tactics, Smith was able to get his death sentence overturned, get released from prison and get a second chance at murder. Weinman lays it all out with page-turning propulsion: a master of the true crime genre coming into her own.
Sounds Wild and Broken by David George Haskell
Viking | March 1
Guggenheim Fellow and biology professor Haskell has an ear for poetry as much as he has an ear for bird calls and rustling tree branches. His 2012 book, The Forest Unseen, was a finalist for the Pulitzer Prize and the PEN/E.O. Wilson Literary Science Writing Award and went on to win a number of other nature writing awards—as did his 2017 book, The Songs of Trees. His latest masterwork is an investigation into the soundscape of the natural world: its symphonic beauty, as well as its troubling silences as climate change encroaches. Haskell's lyrical writing brings to mind the best of Terry Tempest Williams, Annie Dillard, Barry Lopez and Elizabeth Kolbert, but with his own arresting emphasis on paying attention, experiencing wonder and taking action.
In Love by Amy Bloom
Random House | March 8
Amy Bloom is best known and loved for her bestselling novels, such as Away, White Houses and Lucky Us. In Love is her debut memoir, and it will land on the literary scene with a wallop this March. In it, Bloom writes about her late husband, Brian, who was diagnosed with early onset Alzheimer's in his 60s. From the time of his diagnosis, it took Brian less than a week to determine that the "long goodbye" was not what he wanted—and so he and Amy made plans to visit an organization in Switzerland that offered accompanied suicide. The book moves back and forth between scenes of Amy and Brian's last week together in Zurich and glimpses of their life together before the diagnosis, as well as of Brian's eventual decline. All of it is heartbreaking but beautifully rendered, and well worth the tears you will likely shed while reading it.
Red Paint by Sasha taqʷšəblu LaPointe
Counterpoint | March 8
In her debut memoir, LaPointe offers a poetic narrative of trauma and healing through ancestral rites and punk rock. The wearing of red paint is a ceremonial act for the Coast Salish people, identifying the wearer as a healer. After realizing the trauma she accumulated through abuse and homelessness was a sickness of the spirit, LaPointe embarked on a quest to wear the red paint of her ancestors in the context of her own life as a poet and performer, using words, language, stories, ritual and community as the tools of healing. Along the way, LaPointe discovers how restoring the self to health is entwined with restoring the historical erasure of Native women's voices. Like White Magic by Elissa Washuta and Heart Berries by Terese Marie Mailhot, Red Paint will illuminate the voices and experiences of Indigenous women for a 21st-century audience.
In the Margins by Elena Ferrante, translated by Ann Goldstein
Europa | March 15
A slim collection of essays from Italian mystery woman and beloved novelist Ferrante will surprise, stimulate and delight readers this March. This book got its unexpected start when the author of The Lying Life of Adults agreed to give three lectures on writing and reading at the University of Bologna in August 2020. COVID thwarted the whole affair before she could deliver her address, but she had already written the pieces. Eventually the actress Manuela Mandracchia presented the lectures on Ferrante's behalf in Bologna in November of 2021—but in case you weren't in Italy in November, you'll be able to read Ferrante's musings in print this spring, along with one additional essay that she composed for the Dante and Other Classics conference. Together they sketch a fuller portrait of the brilliant but elusive writer behind so many elegant, intelligent books.
How to Take Over the World by Ryan North
Riverhead | March 15
The latest from comic book craftsman and funnyman North is a "spiritual successor" to his 2018 time-travel science book, How to Invent Everything. (As North puts it on his website, "Once you've invented everything in the world, you might as well take over the place.") As a writer for Marvel and DC Comics, one of his jobs is to plot new schemes for the villains—and these schemes need to be credible. This makes North something of an expert on dastardly plots and criminal ploys, and the real-life science and technology that could make them possible. How to Take Over the World lays out a hilarious, but totally factual, blueprint for all the ways aspiring supervillains could seize power, control minds and dominate the earth. It's a little dangerous, but all in good fun—so long as Pinky and the Brain don't catch wind of it.
Tell Me Everything by Erika Krouse
Flatiron | March 15
The buzz for fiction writer Krouse's debut memoir is so thick, the air around it feels static-charged. Lacy Crawford, author of Notes on a Silencing, said about it, "I am reading a forthcoming book right now that—if there is any justice (I know, I know)—will dismantle for good the racist, misogynist, capitalist concussionpalooza that is D1 college football." Melissa Febos called it "a real life feminist noir detective story. Very intense & beautifully crafted. It's out in March and I can't recommend it highly enough." When a lawyer unexpectedly offered Krouse a job as a private investigator in 2002, she began investigating a rape case involving a Colorado university football team, while beating back memories of her own experiences of sexual abuse. In Krouse's capable hands, the story reads like an elevated detective novel, full of personal intrigue and doled out with enviable control. It is not to be missed.
You Sound Like a White Girl by Julissa Arce
Flatiron | March 22
Memoirist Arce (My (Underground) American Dream) leans into her social commentary and cultural criticism chops in You Sound Like a White Girl. After feeling pressured to assimilate into white American culture since childhood—getting rid of her Mexican accent, pursuing traditional forms of educational and professional success, keeping her immigration status a secret from even her closest friends—Arce realized that assimilation was a moving finish line, and that the pressure to chase it was causing herself and others great harm. With bold, clear writing, Arce calls for immigrants and communities of color to reject assimilation, turn away from the white gaze and embrace their unique cultures, histories and identities, which deserve celebration. This book is a confident step forward for Arce as a writer and public thinker.
Ancestor Trouble by Maud Newton
Random House | March 29
Newton made a name for herself back in 2002 as one of the very first book bloggers, and her acclaim has only crescendoed since then. Now, with her first book finally on the horizon, readers are working themselves up into a frenzy of anticipation. Based on Newton's 2014 Harper's cover story, "America's Ancestry Craze," Ancestor Trouble looks through the lens of Newton's family (including her Confederate heritage-obsessed father and a grandfather who got married 13 times) at the wider world of genetics, intergenerational trauma and family secrets, both buried and spilled. Her approach is sweeping, even exhaustive, but for such a complex and far-reaching topic, Newton is certainly the one for the job. We suspect that the hype for this one is real, and then some.
Bittersweet by Susan Cain
Crown | April 5
Bestselling author Cain sounded a (gentle, soothing) alarm to homebodies everywhere with her 2012 book, Quiet: The Power of Introverts in a World That Can't Stop Talking. Her latest book promises an equally radical reframe, this time of the experience of sorrow, longing and melancholy. With a mix of research and memoir, Cain uncovers the value of sorrow as an essential component of creativity, empathy and wonder. Artistic, brooding types everywhere will feel seen by Cain's thoughtful analysis, and appreciated for their superpower of transforming pain into art and connection.
Gathering Blossoms Under Fire by Alice Walker, edited by Valerie Boyd
Simon & Schuster | April 12
The journals of National Book Award and Pulitzer Prize-winning author Walker, who turns 78 this year, are well worth anticipating. The selected entries in Gathering Blossoms Under Fire cover the years 1965 to 2000, and in them Walker records her experiences of everything from marching in Mississippi during the civil rights movement; to marrying a Jewish man in 1967, which defied laws about interracial marriage in the South at that time; to participating in and challenging the Women's Movement; to becoming the first Black woman to win a Pulitzer Prize for fiction for her novel The Color Purple. She also provides insights into all aspects of her personal life including parenthood, family, sex, spirituality and activism—not to mention her iconic 1990s romance with musician Tracy Chapman—all written in that clear, perceptive voice that made her an American icon.
Bomb Shelter by Mary Laura Philpott
Atria | April 12
Humorist, essayist, memoirist, turtle enthusiast and the internet's mom—Philpott made fans of us all with her warmhearted 2019 debut, I Miss You When I Blink. Her next memoir-in-essays brims with the same combination of anxiety and care as she examines the limits of her ability to keep her loved ones safe in a world where danger lurks, annoyingly, around every corner. It's a perfect book for 2022, honestly: existential dread, but make it hopeful.
Finding Me by Viola Davis
HarperOne | April 26
The first Black actor to win an Academy Award, an Emmy and a Tony (two, actually!), Davis has already reached rare and wonderful heights in her career on the screen and stage. Does she need another credential on her long, long list of accomplishments? No. Are we nonetheless glad she's adding "author" to that list in 2022? Yes, obviously. Davis' memoir will cover the breadth and depth of her life, from her childhood in Rhode Island, to coming of age among poverty and dysfunction, to attending Julliard, to launching a storied acting career. All signs point to a gripping, honest and moving new star in the pantheon of celebrity memoirs.
The Palace Papers by Tina Brown
Crown | April 26
Tina Brown is the former editor of Vanity Fair and The New Yorker and, perhaps even more notably, the author of The Diana Chronicles, that dishy, iconic 2007 biography of Diana Spencer. In The Palace Papers, Brown sets her sights on the royal family since Diana's death, and no one is left unexamined. (We're looking at you, Philip.) Brown writes with the sort of conspiratorial tone that almost makes you forget that you're reading a deeply researched work of reporting. It's like a sequel to "The Crown" that sticks closer to the truth, while remaining wildly entertaining.
I'll Show Myself Out by Jessi Klein
Harper | April 26
In 2016, comedian, TV writer and producer Klein's debut book, You'll Grow Out of It, became an instant classic among the best of the best comedic essay collections. Her second collection, due out in April, is one fans have been waiting on for years, and it seems their patience will be richly rewarded. In I'll Show Myself Out, Klein turns her attention from being a child to raising one, eviscerating the impossible standards of motherhood and the weirdly bittersweet reality of middle age. We're expecting a hilarious gut-punch, poignant and absurd in equal measure.
We Were Dreamers by Simu Liu
William Morrow | May 3
The star of Shang-Chi and the Legend of the Ten Rings, Marvel's first film with an Asian lead, will pivot from comic books to memoir this May. We Were Dreamers is the story of Liu's life, from living in China with his grandparents, to immigrating to Canada to live with his parents, whom he barely knew, to making the leap from accounting to acting in his 20s. He'll tell it all with heart and sly humor, which is hardly surprising if you saw him host "SNL" this past November. (The man has jokes.)
The High Sierra by Kim Stanley Robinson
Little, Brown | May 10
The author of the bestselling Mars trilogy, among many other works, Robinson is widely regarded as one of our greatest living science fiction writers—which is why it's notable that he's making the switch to nonfiction for the first time in 2022. Robinson is a California native who hiked the Sierra Nevada mountains for the first time in 1973 and has since returned over 100 times. This book is his ode to the landscape he knows better than any other, covering everything from geology to indigenous history to the environmental measures being taken to protect these mountains for future hikers and naturalists—all interwoven with events from Robinson's life that have intersected with his love of the Sierras. Readers of his sci-fi know that whatever Robinson tackles, he conquers—so we're excited to see this literary master venture into new terrain this year.
Ma and Me by Putsata Reang
MCD | May 17
Reang's family fled Cambodia when she was less than 1 year old, thanks to the grit of her mother, who spent 23 days on a crowded boat waiting for refuge to become available. When sanctuary was finally offered at an American naval base in the Philippines, Reang's mother rushed her sick baby to a military doctor, who saved Reang's life. This is the debt Reang owes her mother—and this is the reason Reang feels her mother's disappointment so acutely when Reang comes out as a lesbian and her mother, unable to accept Reang's sexuality, severs the relationship. Ma and Me is an important new entry in the growing body of American refugee and immigrant literature, shining a fearless light on the experiences of queer people whose families have survived the trauma of war. It also stands apart as a work of lyrical beauty, exploring culture, duty, guilt and family with heartbreaking clarity.
River of the Gods by Candice Millard
Doubleday | May 17
Bestselling historian and biographer Millard (The River of Doubt, Destiny of the Republic) is blazing a new path through history in 2022—and this time she may have to use a machete. River of the Gods is the story of three men, two Englishmen and one previously enslaved East African man, who trekked deep into jungles of central Africa to locate the place where the Nile River originates. Clashing personalities, relentless obstacles, imperialistic misdeeds—this story comes with a bottomless supply of drama, which Millard is adept at spinning into gripping narrative nonfiction. This could be her most tantalizing adventure story yet.
Embrace Fearlessly the Burning World by Barry Lopez
Random House | May 24
The National Book Award-winning nature writer, novelist and environmentalist Lopez has been sorely missed since his death in 2020. His final work, a collection of essays that includes five pieces that were never published, is a moving reminder of this literary giant's legacy. As Lopez takes readers along with him to California, New York, Oregon, Antarctica and beyond, their attention will be drawn over and over again to small details of natural beauty that Lopez was famous for noticing, vividly rendering and transforming into augurs of our shared environmental fate. Along the way, Embrace Fearlessly the Burning World offers a patchwork memoir of Lopez's life, from the pain of his childhood to the wealth of knowledge he gathered from scientists and Indigenous teachers throughout the world. It's shaping up to be a fine farewell to this powerful but tender soul.
Happy-Go-Lucky by David Sedaris
Little, Brown | May 31
A new Sedaris book is always cause for celebration. Happy-Go-Lucky will be his first essay collection since 2018's Calypso, and fans of Sedaris' writing—bitingly funny with a poignant, plaintive core—are eager to see how he'll render the personal and political developments of the intervening years, including the death of Sedaris' stubborn, complicated father, who has been a prominent character in the author's writings over the course of his 30-year career. Sedaris' work has always had an outsized capacity for catharsis, but after the last few arduous years, we're expecting this latest collection to hit the heart with a little extra force.
Down and Out in Paradise by Charles Leerhsen
Simon & Schuster | June 21
Since Anthony Bourdain's death in 2018, there have been a handful of books by and about him—including a posthumous world travel guide, an oral biography compiled by his assistant and a memoir from his longtime director about traveling and working with Bourdain. But there has yet to be a true biography of the late chef. The first one, carefully researched but "definitely unauthorized," comes out this summer from Leerhsen, the former executive editor at Sports Illustrated. Based on interviews with those who knew Bourdain best, Leerhsen will contextualize Bourdain's on-screen charisma and off-screen despair by revealing childhood traumas that shaped the man who was revered by some, feared by others and loved by all.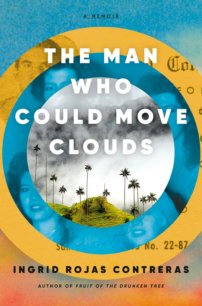 The Man Who Could Move Clouds by Ingrid Rojas Contreras
Doubleday | July 12
The acclaimed California-based Colombian novelist of Fruit of the Drunken Tree has a new magic trick up her sleeve in 2022. The Man Who Could Move Clouds sounds like an exemplary new entry in the library of "stranger than fiction" memoirs: a true story of Rojas Contreras' life that includes fortunetelling, amnesia, ghosts and a mother-daughter road trip. She'll weave together family secrets, Colombian history and personal narrative with the distinct skill of a novelist to create a book that, more than any other on this list, has the potential to convert readers who think they don't care for nonfiction.
Body Language edited by Nicole Chung and Matt Ortile
Catapult | July 12
An all-star list of contributors, including Bryan Washington, Bassey Ikpi, Destiny Birdsong, Jess Zimmerman and Toni Jensen, explore the beautiful, painful and political realities of life in a physical body: ability, race, gender, age, desire, fertility, illness, weight and more. Thirty essays, originally published by Catapult magazine and compiled here by Catapult executive editor Ortile (The Groom Will Keep His Name) and author Chung (All You Can Ever Know), showcase the power of candid personal essays to undermine stereotypes, defy expectations and refresh our assumptions about how bodies should look, function and move.
The Crane Wife by CJ Hauser
Doubleday | July 12
Based on Hauser's beautiful 2019 Paris Review essay by the same name, The Crane Wife is her debut work of nonfiction following two novels, Family of Origin and The From-Aways. A memoir-in-essays, The Crane Wife will build on Hauser's viral story—about traveling to Texas to study whooping cranes 10 days after calling off her wedding—with 17 additional pieces that explore how to cultivate an unconventional life, from robot conventions, to weddings, to John Belushi's grave. Hauser's wisdom radiated out of her viral Paris Review essay, which resonated with more than a million readers. What could be better than a whole book made of that same elegant, precise and perceptive stuff?
Crying in the Bathroom by Erika L. Sánchez
Viking | July 12
Sánchez's young adult novel, I Am Not Your Perfect Mexican Daughter, was a finalist for the National Book Award in 2017, and in 2021 it was announced that America Ferrera will make her directorial debut with a film adaptation of the novel for Netflix. So if you aren't already familiar with Sánchez's work, now is the perfect time to familiarize yourself—especially because she also has a memoir coming out this year. Crying in the Bathroom is a memoir-in-essays about growing up in Chicago in the 1990s and raising hell, in a good way. She touches on everything from the failures of white feminism and living with depression to loving comedy and being raised by parents who are Mexican immigrants. This book is bracingly candid, funny and pissed off. And not that this is the most important thing about it, but it's also got a gorgeous cover that you will look very cool with if you take it to the pool this summer.
Dirtbag, Massachusetts by Isaac Fitzgerald
Bloomsbury | July 19
The founding editor of Buzzfeed Books and Saeed Jones' best friend, Fitzgerald seems to pop up everywhere you look—as an editor, children's book author (How to Be a Pirate), essayist and tattoo enthusiast (Pen & Ink). This summer, he'll make his solo debut with an essay collection about his rough-and-tumble upbringing in Boston and rural Massachusetts and the choppy waters of his west-coast adulthood, learning to navigate the pitfalls of masculinity, body image, class and family strife. There will be tough stops along this journey—including discussions of violence, homelessness and trauma—but Fitzgerald's signature tenderness, humor and generosity will carry readers gently the whole way.
Butts: A Backstory by Heather Radke
Avid Reader | August 9
In the immortal words of Jurassic Park chief engineer Ray Arnold, "Hold onto your butts." Radiolab reporter and contributing editor Radke's debut book will tackle the ever-elusive, always-alluring topic of the female derriere. How did butts come to be sexualized and mythologized? Why do certain body types fall in and out of fashion? Which powerful institutions shape how we feel about ourselves and our bodies? Radke will tackle these questions and many more, creating a kaleidoscopic cultural history of a body part that just won't quit.
You Hide That You Hate Me and I Hide That I Know by Philip Gourevitch
FSG | September 13
Philip Gourevitch is a staff writer at The New Yorker and the author of We Wish to Inform You That Tomorrow We Will Be Killed With Our Families, which was published in 1998 about the Rwandan genocide. For his latest book, Gourevitch returned to Rwanda 20 years later to capture the ways that those who killed and those who survived have continued to live alongside one another since then. It's part travelogue and part investigative reportage, with personal narratives and political analysis all rolled in. Much like his first book, You Hide That You Hate Me and I Hide That I Know promises to be a groundbreaking exploration of the effects of genocide—nationally, politically and, most of all, personally.
Nerd by Maya Phillips
Atria | October 11
Poet and critic Phillips is known for her well-formed analyses of theater, TV, movies and books in the New York Times—but of course, professional popular media obsessives weren't born that way. Their nerd statuses were created through long, arduous hours of discovering, loving and devoting themselves to good stories. Growing up in the 1990s, Phillips put in the hours, from Star Wars, superhero cartoons and Harry Potter to "Doctor Who," Tolkien and "Buffy the Vampire Slayer." She writes about these influences and more in Nerd, exploring the way fandoms shape young people's perceptions of themselves and the world through their portrayals of race, gender, religion and other key components of fans' real experiences and identities. With humor and exacting criticism, Phillips serves up food for thought—a whole meal, really—for anyone who's ever struggled to see themselves as the hero.