2022 brings exciting releases from longtime favorites Jennifer Egan, Julie Otsuka, Mohsin Hamid and Kate Quinn, plus follow-ups from Namwali Serpell and Linda Holmes, and a slew of adult novels from stars of young people's literature: Jason Reynolds, Nina LaCour and Kelly Barnhill.
Black Cake by Charmaine Wilkerson
Ballantine | February 1
Did someone say "Oprah"? Debut novelist Charmaine Wilkerson's decades-spanning family drama will make its way to Hulu as a limited series, to be written and executive produced by Marissa Jo Cerar, creator of "Women of the Movement," who has teamed up with Oprah Winfrey's Harpo Films and Aaron Kaplan's Kapital Entertainment. But before we're completely submerged in media buzz, the novel itself stands out among upcoming family sagas, as it takes two estranged siblings from the Caribbean to London to California as they follow their mother's final request for them to reconnect, discover their family's secrets and, after all is said and done, eat their mother's famous black cake.
What the Fireflies Knew by Kai Harris
Tiny Reparations | February 1
The first fiction title from Phoebe Robinson's publishing imprint, Tiny Reparations Books, is the debut novel from Kai Harris, which is told from the perspective of an 11-year-old girl over the course of a seminal summer spent with her sister and estranged grandfather. We're feeling strong uplifting vibes from Harris' artist statement: "I want my words to be a safe space, a retreat, a giant bowl of comfort food (with ice cream on top). I want my words to be truth and light." You can read an excerpt from Harris' novel in Kweli Journal, in a special issue on Black girlhood that was guest edited by Nicole Dennis-Benn.
Nobody's Magic by Destiny O. Birdsong
Grand Central | February 8
The acclaimed poet (Negotiations) and BookPage contributor (!) turns to fiction with her first novel, a triptych that follows the lives of three Black women with albinism, each navigating romance, autonomy, grief and their own sense of power. We're feeling the emotional lyricism of Ocean Vuong's On Earth We're Briefly Gorgeous, set within a Southern milieu.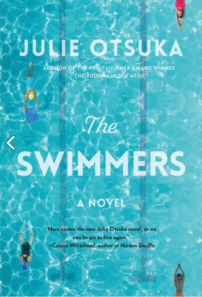 The Swimmers by Julie Otsuka
Knopf | February 22
Julie Otsuka writes compact, ferocious little novels that land with a wallop: Her first, When the Emperor Was Divine, won the 2003 Asian American Literary Award and the American Library Association's Alex Award, and her second, the internationally bestselling The Buddha in the Attic, was a finalist for the 2011 National Book Award and won the 2012 PEN/Faulkner Award for Fiction. Her third novel, which also clocks in at fewer than 200 pages, is her first in over a decade. It follows a passionate group of recreational swimmers after a crack appears at the bottom of their local pool, in particular one woman whose diminishing memory is exacerbated by the loss of her daily laps. By the time her estranged daughter returns home, the woman has been swept away into memories of childhood and days spent in a Japanese American internment camp.
The Unsinkable Greta James by Jennifer E. Smith
Ballantine | March 1
Readers of children's books and YA know and love bestselling author Jennifer E. Smith (The Statistical Probability of Love at First Sight), and now everyone else will know her, too, because she's making her adult fiction debut in March. The Unsinkable Greta James is about an indie guitarist who, after the death of her mother and an onstage breakdown, joins her father on what was supposed to be his wedding anniversary cruise in Alaska. Goodness knows we love emotional tales set at sea, and it's also pretty cute that Smith's novel is being published by Ballantine, where she worked as an editor once upon a time.
Booth by Karen Joy Fowler
Putnam | March 8
There is truly no way to predict what kind of book Karen Joy Fowler will write next. Her previous novel, We Are All Completely Beside Ourselves (2013), which won the 2014 PEN/Faulkner Award, the 2014 California Book Award for Fiction and was short-listed for the Booker Prize, was about a middle-class family raising a chimp. So naturally her next novel is a historical saga centered on the theatrical Booth family—as in John Wilkes Booth.
Glory by NoViolet Bulawayo
Viking | March 8
NoViolet Bulawayo made quite a splash as a first-time novelist a decade ago: In 2012, she was one of the National Book Award's 5 Under 35 honorees, and her 2013 debut novel, We Need New Names, won multiple awards and was a finalist for the Booker Prize. Her long-awaited follow-up is unlike anything else on this list, voiced by a chorus of animals who live in an unnamed African country and who must contend with the unexpected death of their leader, Old Horse. If this sounds Orwellian, it's because it is: Bulawayo was inspired by the Zimbabwean coup and resultant fall of the nation's president of nearly four decades in 2017, which led to online discourse and hashtags drawing a connection between the events and George Orwell's novel Animal Farm.
The Great Passion by James Runcie
Bloomsbury | March 15
The TV series "Grantchester," based on James Runcie's Sidney Chambers mysteries, is, I think it's fair to presume, universally beloved. (It's about a vicar who moonlights as a sleuth in 1950s Cambridge; if you don't love it, you just haven't read/watched it yet.) Along with penning his acclaimed, bestselling fiction, Runcie is also a documentary filmmaker, and his film resume includes a 1997 TV documentary about Johann Sebastian Bach, created for the BBC series "Great Composers." In 2016, Runcie wrote a radio play, The Great Passion, about Bach's writing of the St. Matthew Passion, and now we'll get to enjoy Runcie's creation in novel form, which follows the life of Bach from 1720 on, as well as the story of a 13-year-old boy who becomes a soloist for the great composer.
French Braid by Anne Tyler
Knopf | March 22
More and more writers are setting their novels—or parts of their novels—in the "pandemic present," and though we're not surprised, we are pretty wary. So much about living through the COVID-19 pandemic can't be fully understood yet, but we trust Anne Tyler to join Zadie Smith, Louise Erdrich and a handful of others in their incisive looks at our present challenges. The latest from Tyler, whose novel Breathing Lessons won the Pulitzer Prize in 1989, follows a Baltimore family from the 1950s to the present, returning her many fans to the sweeping style of one of her best loved works, A Spool of Blue Thread.
The Diamond Eye by Kate Quinn
William Morrow | March 29
We're big fans of Kate Quinn over here, but the synopsis of her latest historical novel is on a whole other level: It's a World War II novel . . . based on a true story . . . about a Russian librarian . . . who becomes the deadliest female sniper in history. She's called Lady Death! It's also worth noting that this is Quinn's first hardcover release from William Morrow, a clear sign of reaching that special level of publishing gold. Go Kate!
The Candy House by Jennifer Egan
Scribner | April 5
This one's another jaw-dropper: a "sibling novel" to Jennifer Egan's Pulitzer Prize-winning A Visit From the Good Squad. Coming to readers more than a decade after Goon Squad, The Candy House is the story of a brilliant man and his unique creation called "Own Your Unconscious," which is technology that allows you to access all your memories—and share your memories with others. We're intrigued, especially by the enigmatic (you might even say downright confusing) publishing materials' explanation for the link between the two books: "If Goon Squad was organized like a concept album, The Candy House incorporates Electronic Dance Music's more disjunctive approach. . . . With an emphasis on gaming, portals and alternate worlds, its structure also suggests the experience of moving among dimensions in a role-playing game." Sounds weird! We're in.
Sea of Tranquility by Emily St. John Mandel
Knopf | April 5
After the imaginative brilliance of both Station Eleven (recently adapted into a series on HBO) and The Glass Hotel (also in development for TV series), we're willing to trust Emily St. John Mandel implicitly, which perhaps goes against our code as critics, but oh well. The St.-J-M literary universe, which binds together all of her novels, expands with Sea of Tranquility, an epic tale spanning from 1912 Vancouver Island to a moon colony 200 years in the future. Plus, the version of Sea of Tranquility distributed to independent bookstores will include a special chapter, which is a cool bonus for readers dedicated to patronizing their local bookstores.
True Biz by Sara Novi​​ć
Random House | April 5
Sara Novi​​ć follows up her award-winning first novel, Girl at War, with a tale set within a residential school for the deaf. Its title is a phrase from American Sign Language that means "really, seriously, real-talk," and as Novi​​ć is herself a member of the Deaf community and an instructor of Deaf studies at Stockton University in New Jersey, we're expecting just that: real talk. Plus, there are already plans for True Biz to become a TV adaptation, produced by and starring deaf actor Millicent Simmonds, whom you may know from John Krasinski's 2018 horror film, A Quiet Place. Nović will also be an executive producer on the show, and the studio has expressed further commitment to hiring Deaf and hard-of-hearing individuals to fill many of the creative and leadership roles.
Young Mungo by Douglas Stuart
Grove | April 5
With Shuggie Bain, Scottish American author Douglas Stuart became the sixth first-time novelist and second Scottish writer to win the prize since it was founded 50 years ago. Naturally, we're bringing some very high hopes to his second novel, Young Mungo. It's a story of star-crossed lovers: two young working-class men, one Protestant, the other Catholic, living amid the violent gangs on a Glaswegian estate. In a secluded pigeon dovecote, they find a private world to explore their love, but the threat of discovery looms large.
Take My Hand by Dolen Perkins-Valdez
Berkley | April 12
Take My Hand is poised to be a big breakout for Dolen Perkins-Valdez, though her list of achievements is already quite long. She's the bestselling author of Wench and Balm, a PEN/Faulkner fellow, a finalist for two NAACP Image Awards and the Hurston-Wright Legacy Award for fiction, and winner of the First Novelist Award by the Black Caucus of the ALA. This is her first novel since 2015, and it was inspired by a true event: the 1973 Relf v. Weinberger case, in which three underage Black sisters were sterilized without their consent, and a social worker's whistleblowing blew the lid off the nationwide scandal. This novel fictionalizes those events through the story of a nurse in Alabama, and for readers of historical fiction, it's one to watch for sure.
Liarmouth: A Feel-Bad Romance by John Waters
FSG | May 3
The very first novel from legendary filmmaker John Waters (Mr. Know-It-All) is a "perverted feel-bad romance" starring a clever con woman who steals suitcases at airports. Other important John Waters news (because we don't have any further information about the book) is that he recently dedicated namesake bathrooms at the Baltimore Museum of Art and appeared on "The Marvelous Mrs. Maisel," plus there are murmurings about a new film project and an upcoming art exhibit. We love an irreverent, prolific genius!
Trust by Hernan Diaz
Riverhead | May 3
Hernan Diaz's debut novel, In the Distance, really put him on the map, earning him a finalist spot for both the Pulitzer Prize and the PEN/Faulkner Award for Fiction in 2018. Published by Coffee House Press in 2017, it was an exceptional entry in the recent list of great novels reimagining the narrative of the American West, garnering comparisons to Jorge Luis Borges' work. Diaz's follow-up, Trust, is an imminently intriguing story-within-a-story centering on a 1938 novel titled Bonds, about the immense fortune cultivated by a Wall Street tycoon and his aristocrat wife. Comparisons to Amor Towles are already swirling, so keep your eyes peeled.
Vigil Harbor by Julia Glass
Pantheon | May 3
In her seventh novel, the 2002 National Book Award-winning author of Three Junes takes us 10 years into the future, where locals in a small coastal town are doing their best amid an increasingly terrifying world of escalating storms and domestic terrorist attacks. Then two outsiders come to Vigil Harbor, one of whom is a woman determined to solve the disappearance of a long-lost lover. Plus, there's a secret involving a selkie! That's a lot to unpack, so we're looking forward to seeing Julia Glass' navigation of it all.
When Women Were Dragons by Kelly Barnhill
Doubleday | May 3
2022 will be a big year for Newbery winner Kelly Barnhill, who in March returns with her first book for young readers since The Girl Who Drank the Moon (read about it in our list of most anticipated children's books), and then in May delivers her first novel for adult readers, When Women Were Dragons. During the Mass Dragoning of 1955, hundreds of thousands of women, scattered all around the world, spontaneously transformed into dragons. At the story's center is a girl who wants to understand why.
The Cherry Robbers by Sarai Walker
Mariner | May 17
Sarai Walker's debut novel, Dietland, was one of our Best Books of 2015, and with her second novel (finally!), she moves into historical fiction with a tale inspired by a tourist attraction near San Francisco: the Winchester Mystery House, a spooky mansion built by a turn-of-the-century American firearms heiress. The Cherry Robbers is a subversive gothic novel that follows the story of Iris Chapel, who attempts to escape her family's multigenerational curse, in which each daughter is fated to die on her wedding night.
You Have a Friend in 10A by Maggie Shipstead
Knopf | May 17
Hot on the heels of Maggie Shipstead's finest novel and one of our Best Books of 2021, Great Circle, comes her first book of short stories! If Great Circle displayed her tremendous ability in crafting a tale of immense breadth, a story collection will swing the other way, allowing fans to revel in her talent for brevity.
Either/Or by Elif Batuman
Penguin Press | May 24
Fans of The Idiot, New Yorker staff writer Elif Batuman's absurdist take on the campus novel, have waited five years to find out what's next for her brainy but awkward heroine, Selin. In Either/Or, Selin returns for her sophomore year at Harvard determined to continue her search for self-knowledge (and possibly her pursuit of Ivan, her freshman crush).
The Latecomer by Jean Hanff Korelitz
Celadon | May 31
Is Jean Hanff Korelitz on the cusp of becoming the next Liane Moriarty? It certainly feels like she's close, consistently proving that she can hook readers with her well-balanced literary thrillers and family dramas. You Should Have Known (2014) was adapted as HBO's 2020 series "The Undoing." And her 2021 novel, The Plot, was one of those books we kept hearing about from other authors; clearly, Korelitz touched on something deeply true about the writing and publishing processes. Her next novel centers on privileged triplets who, on the cusp of leaving for college, discover a shocking family secret: There was a leftover embryo after their parents' in vitro fertilization, and now they have a fourth sibling, just born.
Yerba Buena by Nina LaCour
Flatiron | May 31
YA fiction superstar Nina LaCour is making her first foray into the realm of adult fiction, and the world has stopped on its axis while we wait for the quiet power of Yerba Buena. It's the story of two young women, shouldering more than their share of trauma and pain, who find their way to each other, so I suppose we could all just start crying and hugging now.
Tracy Flick Can't Win by Tom Perrota
Scribner | June 7
Tom Perrotta (Mrs. Fletcher) is the defining satirist of suburban politics, and if you haven't read his 1998 novel, Election, you at least are likely familiar with the movie adaptation, starring Reese Witherspoon as the ambitious lead, Tracy Flick. To many, Tracy was a villain; to others, a feminist hero. Well, Tracy Flick is back, and she's got her sights set on a promotion to high school principal. Perrotta will surely line her path with darkly comic hurdles and razor-sharp critique of the school culture—and larger world—around her.
Flying Solo by Linda Holmes
Ballantine | June 14
"Pop Culture Happy Hour" host Linda Holmes' feel-good, utterly enjoyable bestselling debut, Evvie Drake Starts Over, earned an easy spot on our list of the Best Romance of 2019. We're thrilled to learn about the upcoming publication of Holmes' second novel, Flying Solo, which sounds like pure joy—and pure gold. It's about a woman named Laurie who has recently canceled her wedding and returned to her Maine hometown. She's in charge of her adventurous aunt's estate that has a mysterious wooden duck among its treasures, and then the duck is stolen, so of course Laurie must discover her great-aunt's secrets. Sure, the premise isn't breaking any new ground, but that doesn't matter, because Holmes knows how to deliver exactly what you want in the most satisfying way.
Horse by Geraldine Brooks
Viking | June 14
The acclaimed and beloved author of five previous novels (including the Pulitzer Prize-winning March) returns with a historical novel inspired by the true story of the thoroughbred sire horse named Lexington. Spanning from Civil War-era Kentucky to present-day Washington, D.C., the novel explores hidden legacies, the bonds between human and horse and the secrets held within art, the last of which fans will recall was also an element of Brooks' novel People of the Book. Plus, we love a title that gets right to the point.
The Twilight World by Werner Herzog
Penguin Press | June 14
Werner Herzog's range as a filmmaker is massive, though I'll always think of him as the documentarian who captured the saddest penguin moment of all time. (View Encounters at the End of the World at your heart's own peril.) Considering the intensity of his storytelling, Herzog's first novel inspires both excitement and trepidation. It's based on the true story of a Japanese soldier named Hiroo Onoda who defended a small island in the Philippines for almost 30 years after the end of World War II, and whom Herzog met in 1997 during a trip to Tokyo. The novel is described as "part documentary, part poem and part dream."
Tomorrow, and Tomorrow, and Tomorrow by Gabrielle Zevin
Knopf | July 12
The bestselling author of one of all our all-time favorite books-about-bookstores, The Storied Life of A.J. Fikry (whose film adaptation will star Kunal Nayyar, Lucy Hale and Christina Hendricks), returns! Gabrielle Zevin's latest novel sounds gently provocative and wonderfully redemptive: Spanning 30 years, it follows two childhood friends who reunite in adulthood to create a video game "where players can escape the confines of a body and the betrayals of a heart, and where death means nothing more than a chance to restart and play again."
Mercury Pictures Presents by Anthony Marra
Hogarth | July 19
World War II meets Hollywood in the third novel from Anthony Marra, whose first two novels, A Constellation of Vital Phenomena (which won the National Book Critics Circle's John Leonard Prize and the Anisfield-Wolf Book Award, and was long-listed for the National Book Award) and The Tsar of Love and Techno, earned both critical success and book club popularity. Of course, everyone loves an escapist Hollywood story, but it's all the better when those bright lights shine on something deep and true, so we're looking forward to Marra's epic novel of reinvention, politics and the lengths to which we'll all go to survive.
Calling for a Blanket Dance by Oscar Hokeah
Algonquin | July 26
Here's another debut we're especially excited about: With solid Tommy Orange vibes, the first novel from Oscar Hokeah is a coming-of-age tale told from a chorus of multigenerational voices. Ever Geimausaddle is at the story's heart, and as his family navigates the ups and (many) downs of life, they also have strong opinions about how young Ever's future will look. Hokeah is a citizen of Cherokee Nation and the Kiowa Tribe of Oklahoma from his mother's side and of Latinx heritage from his father's, and he works with Indian Child Welfare in his hometown of Tahlequah, OK. Plus, his writing creds are no joke: He has a BFA in Creative Writing from the Institute of American Indian Arts (IAIA), with a minor in Indigenous Liberal Studies. He's also a winner of the Taos Summer Writers Conference's Native Writer Award. One to watch, for sure.
The Many Daughters of Afong Moy by Jamie Ford
Atria | August 2
Throughout Jamie Ford's previous three novels, including his acclaimed debut, Hotel on the Corner of Bitter and Sweet, readers have been transported to historical Seattle to discover the stories of Japanese and Chinese Americans grappling with buried memories, the fragile bonds within families and found families, and the choices we make to survive. Ford's fourth novel tangles with many of these same themes through the story of Dorothy Moy, former poet laureate of Washington, who reconnects with her female ancestry as she searches for a way to help her daughter. It's based on the story of a real person—Afong Moy, the first Chinese woman to set foot in America in 1832—but with a speculative twist.
The Last White Man by Mohsin Hamid
Riverhead | August 2
Booker Prize finalist and bestselling novelist Mohsin Hamid's Exit West is one of those spectacular novels that we urgently recommend to everyone, so news of his first book since that 2017 novel literally made me gasp so hard that I ran out of air. Like Exit West, The Last White Man has a dollop of the fantastical, as it's set in a world where white-skinned people wake up with darker skin. Hamid is one of those writers who can package really complicated, difficult issues and make them reach anyone, even someone who maybe isn't ready to hear about them. Also, it must be said that he has a great reading voice, so we hope that he'll read this one on audio, as well.
Afterlives by Abdulrazak Gurnah
Riverhead | August 23
When Tanzanian novelist Abdulrazak Gurnah won the 2021 Nobel Prize in Literature, he became the first Black laureate since Toni Morrison in 1993, and the first Black writer from Africa to receive the award since Wole Soyinka (of Nigeria) in 1986. After Gurnah's win was announced, it was incredibly hard for readers to acquire copies of his books—partly because of supply chain issues, and partly because his books had never found an audience in the U.S., and so were often out of print or just plain hard to find. Last fall, Riverhead announced plans to publish three titles from Gurnah: the novel he published in the U.K. in 2020, Afterlives, and then two out-of-print novels, By the Sea and Desertion. Coming in August, Afterlives promises to be brutal, sweeping, intimate and necessary, a multigenerational saga unfolding amid the colonization of East Africa.
Haven by Emma Donoghue
Little, Brown | August 23
We're living for this historical kick from bestselling Irish novelist Emma Donoghue! In her latest novel, she combines the spirituality of The Wonder (currently being developed as a film starring Florence Pugh) with the deep historical research of her timely 2020 novel, The Pull of the Stars (about the 1918 flu pandemic), for a tale about early Christianity. In seventh-century Ireland, a priest and two young monks journey down the river Shannon in search of a place to found a monastery, but they soon drift out to the Atlantic Ocean and arrive at a rugged island inhabited by huge flocks of birds, known today as Skellig Michael.
The Furrows by Namwali Serpell
Hogarth | August 30
Namwali Serpell's debut novel, the expansive yet intricate genre-bending saga The Old Drift, received piles of love—as it should've. Along with being one of our Best Books of 2019, it also earned a number of literary prizes, including an L.A. Times Award. Naturally our expectations are high for The Furrows, which is out to break even more literary rules. It's set in 1990s Baltimore and will explore "different kinds of Black identity, as well as different modes of Black speech."
Signal Fires by Dani Shapiro
Knopf | Fall 2022
Dani Shapiro is best known for her memoirs, such as Inheritance and Devotion, but she's also a fabulous novelist and story writer. Signal Fires, her first work of fiction in more than a decade, is about a catastrophic event that utterly transforms the lives of two families over several generations. The fateful day occurs in 1985, when a car crash results in the death of a young woman. As Shapiro explains in a release from her publisher, the epiphanies within her own family history, as explored in Inheritance, led to the writing of this novel: "There's a haunting question at the center of the book," Shapiro says. "Is the past ever really past, and what is the price of denying our own history? In Signal Fires, each character is haunted, their lives shaped by what they can't allow themselves to know or feel."
The Mouthless God and Jesus Number Two by Jason Reynolds
Scribner | TBD
NAACP Image Award winner, Newbery Honor recipient and former National Ambassador for Young People's Literature Jason Reynolds (Look Both Ways) is one of the greatest writers of children's and YA literature, and we're beyond excited that he'll bring his gifts to a new readership, hopefully sometime this year. His first novel for adult readers is set within a carnival town that's home to a boy named Mm who was born without a mouth. Says Reynolds, "I'm honored to tell the story of this boy, Mm, who has lived in my imagination for years, and has also been in the back row of every school auditorium I've visited."
A Spell of Good Things by Ayọ̀bámi Adébáyọ̀
Knopf | TBD
Nigerian author Ayọ̀bámi Adébáyọ̀'s award-winning first novel, Stay With Me, came out in 2017, and people continue to ask us about it nearly five years later. It's so wonderful when a truly great book has such staying power! Her second novel is rumored to come out this year, and it's about "two families in Nigeria at opposite ends of the economic spectrum, whose lives collide when political turmoil erupts in their city." In a statement from the publisher, Adébáyọ̀ said the book was conceived "after a detour compelled me to realize what remained invisible to me in a town that I had long called home. While it has taken a few years to write a novel I hope illuminates the tangled longings of its characters, I'm excited to share it with readers."
Wandering Stars by Tommy Orange
Knopf | TBD
Tommy Orange's 2018 debut, There There, was a groundbreaking work of fiction that well deserved all the love it received. Along with being one our Best Books of that year, it won the 2018 Center for Fiction First Novel Prize, was long-listed for the National Book Award for fiction 2018 and the Carnegie Medal for Excellence in Fiction 2019, and was a finalist for the Pulitzer Prize. His follow-up to that smash hit is rumored to hit shelves sometime this year.