Lovers of classic children's literature cherish the narratives of Stuart Little, the Little House series, Charlotte's Web and more, and these beloved characters came so vividly to life through Garth Williams' illustrations. A new biography of the artist, written by literature scholars (and husband and wife) James D. Wallace and Elizabeth K. Wallace, explores his journey, from the postwar suburbanization that heavily influenced his work to details of his private life.
---
"Mister Dog! I loved him when I was a kid!" That was the response of our colleague. And then we knew we had written the biography we had wanted. We were counting on our readers to connect with their favorite childhood characters—Stuart Little, Wilbur the pig, Miss Bianca, Chester Cricket—and to be curious about the man whose pencil had brought them to life.
In the beginning there were those who thought a biography of Garth Williams could not be written. Rumors circulated that the Williams Estate was unfriendly to researchers, and besides, Williams had left no archives, no papers, letters, documents. But these rumors turned out to be unfounded. The estate of Garth Williams couldn't have been more supportive and helpful, from the family lawyer, Richard Ticktin, to Williams' youngest daughter, Dilys. And it turns out that Williams did leave an extensive archive, one that carefully documented nearly every step of his life. From a letter of recommendation written for him as a teenager through the contracts for his work, he saved everything. He also made several attempts at an autobiography, though only one short version was eventually published.
But we didn't know about the archive when we started out, and so our early research was rather like detective work. What did Williams do when he returned to New York in 1941? Did he really meet Winston Churchill, as he claimed, during the Second World War? How much money did he make off his illustrations? How did he wind up living in Mexico? One of the most exciting aspects of our research was the opportunity to travel and explore the places where Williams and his various families lived at different times in his life—New York, London, Tivoli, Aspen and Guanajuato. Along the way, we were generously assisted by Williams' relatives. His second daughter, Bettina Shore, welcomed us into her home in Montreal and took us to meet her mother (and Williams' first wife), Gunda Lambton, who was then still alive. The eldest of Williams' children, Fiona, kindly met us in Edinburgh. She showed us a handwritten note from her father to her on the iconic drawing of Fern cradling Wilbur from Charlotte's Web: "Hope you recognize yourself in this picture." Dilys Williams of Querétaro, Mexico, not only gave us access to the five towering boxes of archives, but also offered up some amazing hospitality and introduced us to fantastic Mexican cuisine: We even ate escamoles (ant eggs)!
It's really quite odd to try to bring to life someone whom you've never met. All along we were aware of the need to be honest, but also to be fair. We worried about the necessity of sharing unpleasant truths. But in the end we discovered we really liked what we were learning about Garth. Certainly he had his faults—he could work too slowly and exasperate his collaborators; he made a lot of money but spent a lot of money; he paid little attention to the details of the contracts he entered into; and he was never quite as good at drawing human figures. But he was quick-witted and wonderfully generous, a man with a passionate sense of justice and a love of life. And above all, the genius of his artistry brought tender sensitivity, manic energy and lightning insight to stories for children. Who else could have convinced you that a cat, a mouse and a cricket were all best friends living together in the subways of New York? That under the magic of a full moon, two rabbits could celebrate their wedding by putting dandelions in their ears, or that a bear could sit on the stoop of his city apartment building, playing the harmonica?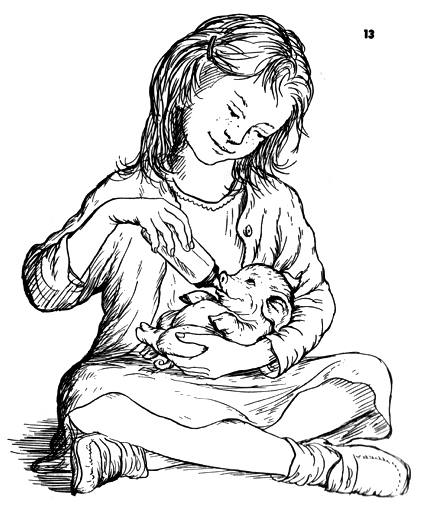 We grew to appreciate his genius all over again, his unique ability to give life and concrete reality to the most extravagant story idea. There was Stuart Little, hammering the faucet in the bathroom of his family's New York apartment. There was Wilbur the pig, turning somersaults in his barnyard, and Templeton the rat fetching Charlotte's egg sac from the barn ceiling. There was Sailor Dog, "born in the teeth of a gale," building himself a shelter after being wrecked on a desert isle. There was Miss Bianca, pleading with the carousing Norwegian mice to lend their help to the Prisoners' Aid Society or coolly facing down Mamelouk the cat. There was little Laura Ingalls, skipping through the big woods, twirling her straw hat with abandon. Scores of stories and scores of memorable pictures, delighting both children and their weary parents.
We wrote this biography because we ourselves have long loved Williams' art and wanted to get to know the man who made it. We hope that other readers will find him as engaging and enchanting as we have.
---
Mister Dog. Illustrations by Garth Williams; from Mister Dog by Margaret Wise Brown, copyright ©1952, renewed by Penguin Random LLC. Used by permission of Golden Books, an imprint of Random House Children's.
Cricket in Times Square from Cricket in Times Square Copyright 1960 by George Selden. Reprinted by permission of Farrar, Straus, and Giroux, LLC. All Rights Reserved.
Charlotte's Web by E.B. White. Copyright 1952 by E.B. White. Text Copyright renewed 1980 by E. B. White. Illustrations by Garth Williams used by permission of HarperCollins Publisher.